Get to Know Sunisa Lee: 5 Facts About the Youngest Olympic Gymnast on Team USA
Sunisa Lee made headlines this year as the youngest competitor on her team in the Tokyo Olympics. So far, she's had an incredible run. She competed in all of the women's gymnastics events, including Women's Artistic Individual All-Around, Women's Artistic Team All-Around, which involved the events of vault, floor, balance beam, and uneven bars. For the individual all-around competition, she won a gold medal and helped her team earn a silver medal in the team all-around. She also won the 2021 Winter Cup and this year's U.S. Gymnastics Championship for uneven bars, as well as a number of other awards nationally and internationally.
Sunisa Lee's dad suffered partial paralysis following an accident in 2019, but he's still able to watch her compete
Before Suni Lee competed in the 2019 National Championships, her dad John Lee fell. He was on a ladder trimming a tree, and after his fall, he was paralyzed from his chest down. Her coach Jess Graba advised she shouldn't compete since she might become distracted, but John believed in her abilities. She ended up winning a silver medal in the all-around competition, and her dad was able to watch her from his hospital bed. Despite his paralysis, he still watches her compete and cheers her on in the many victories she's had since.
Sunisa Lee is of Hmong descent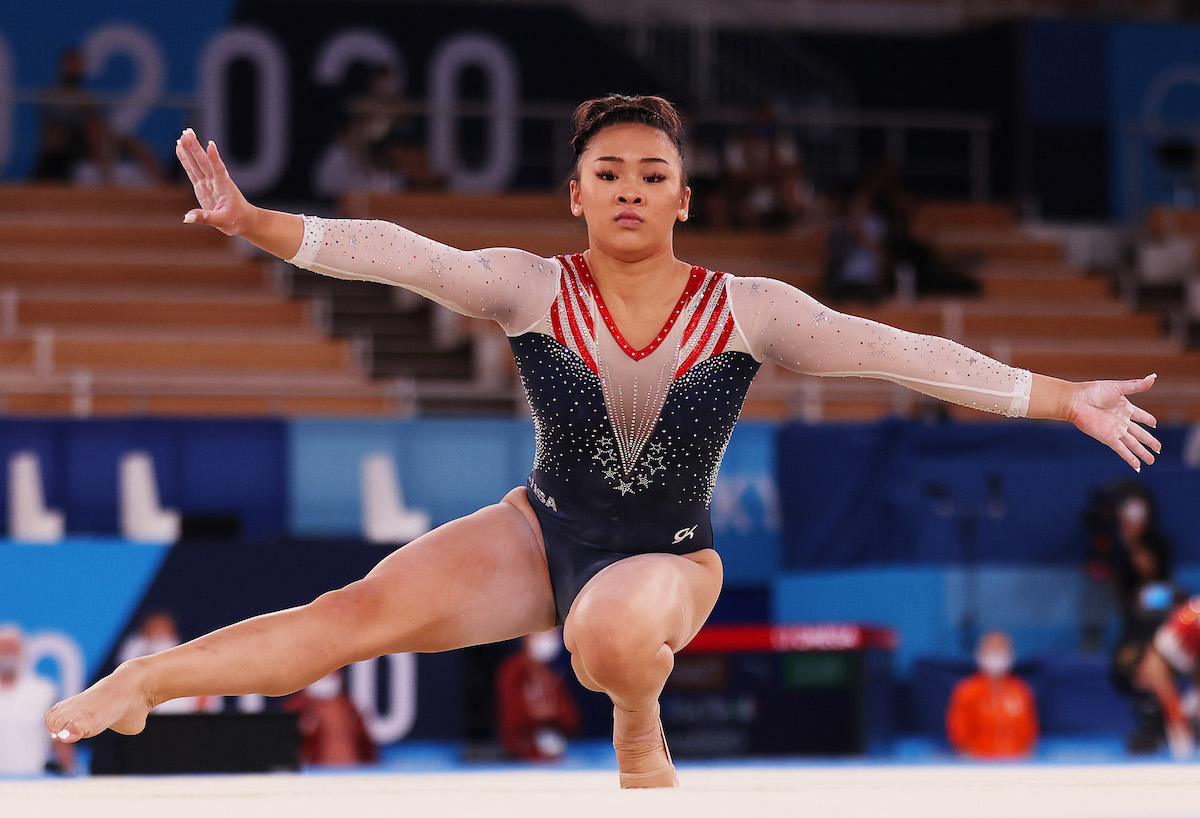 Lee, along with being the youngest team member, is also the first Hmong American Olympic gymnast. Her parents emigrated from Laos. The Hmong are a group from Southeast Asia and China who allied with the U.S. in the Vietnam War and later fled the region as refugees. After resettling in the U.S., the largest Hmong community now lives in St. Paul, which is Lee's hometown.
According to Elle, her community is close and supportive: "More than 300 people come to her family's annual camping trip, and she can't go to a local Asian store without someone asking after her dad." She's also considered somewhat of a local celebrity there, with many of them cheering on her gymnastics victories.
She learned gymnastics in her backyard on a mattress-turned-balance beam
Lee has been obsessed with gymnastics since 2009, though she didn't have any gymnastics equipment at the time. Her dad John built her a 4-foot long balance beam from an old mattress and a piece of plywood, which she used for practice. She also practiced her flips on the bed and in the yard. After this, she caught her coach Graba's attention. She saw Lee's potential despite her age and DIY equipment and noted her lack of fear when going upside-down. Today, Graba is still her coach at the Midwest Gymnastics Center in St. Paul.
Suni lost her aunt and uncle to COVID-19 in 2020
Along with her dad being paralyzed, she also faced some family struggles last year during the pandemic. Her aunt and uncle both died due to complications from COVID-19 a little over a week apart. She was very close to her aunt and uncle since they babysat her when she was a child and visited often. Her uncle also used his skills as an Hmong shaman to heal her foot with herbal remedies. In spite of this struggle, Lee has stayed strong. She's especially leaned on the support of Simone Biles, which, after being her rival, is now one of her closest friends.
Suni is one of six children
Suni is one of six children. She has two sisters, Shyenne and Evionn, and three brothers, Jonah, Lucky, and Noah. Her younger sister Evionn is also in gymnastics, according to USA Gymnastics.
RELATED: Get to Know Jordan Chiles: 5 Facts About Simone Biles' Olympic Gymnastics Bestie on Team USA