The Suns Suddenly Have a Championship-Sized Dilemma on Their Hands Ahead of the NBA Trade Deadline
The Phoenix Suns appeared to make a somewhat sensible move when they declined Jalen Smith's $4.7 million team option for the 2022-23 season. Now, however, Smith is making that decision look rather rash. He's also giving the Suns what amounts to a headache of a problem just over a month before the NBA trade deadline on Feb. 10.
Phoenix's frontcourt has been depleted as of late. Frank Kaminsky remains sidelined indefinitely with a knee injury, while Deandre Ayton and JaVale McGee both entered health and safety protocols last week. Smith is filling the void impressively and significantly boosting his trade stock in the process.
However, the particulars of trading Smith make his future in Phoenix a real dilemma for the Suns.
Jalen Smith is giving the Suns a major boost
Jalen Smith's draft spot (No. 10 overall in 2020) might have suggested he would play a significant role in the Suns' future. However, his rookie season hardly inspired notions that he could contribute to a championship contender.
Smith spent most of the 2020-21 campaign in the G League. He did appear in 27 games for Phoenix but averaged under five minutes. It looked like things would be much the same in his sophomore season.
The former Maryland Terrapin showed flashes of brilliance in the Summer League. Still, he could barely get off the bench through the first couple of months. But Smith stayed the course, and he's been a revelation for the Suns with Ayton and McGee in health and safety protocols.
In his last five games, Smith is averaging 15.2 points, 9.4 rebounds, and 1.2 blocks while shooting 56.3% from the field and 36.4% from beyond the arc on 2.2 attempts per contest. Those numbers aren't dissimilar from what Ayton averaged for Phoenix last season, though Ayton's increased production makes him a borderline All-Star.
From a skill perspective, though, Smith has the added upside as a shot-blocker and floor-spacing big. Sure, it's a small sample size. But Smith has been a net positive player (+9.0) in the past five games. Even in a Dec. 27 loss to the Memphis Grizzlies, he finished the game +19 in terms of plus-minus.
The 21-year-old's emergence comes at an interesting time. With the NBA trade deadline rapidly approaching, he's given the Suns a legitimate asset to dangle as they look to bolster the roster for the second half.
Rival teams could show interest in trade packages including Smith, but there are important financial considerations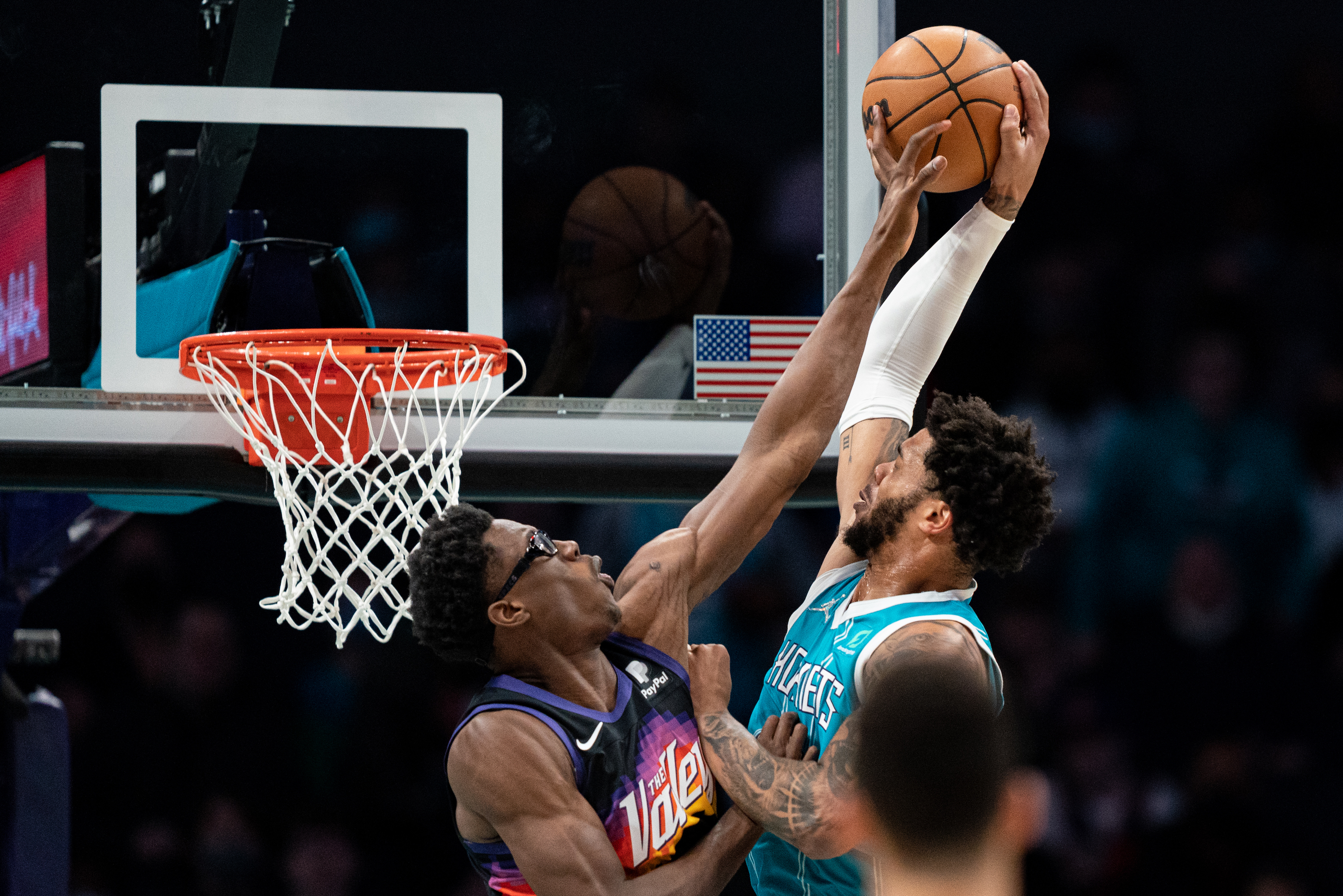 Smith's strong run of play and his two-way upside could intrigue a myriad of rival NBA teams should the Suns engage in trade discussions before the deadline. But there are financial complications.
Because the Suns declined Smith's $4.7 million third-year option, they cannot offer him more than that amount in free agency this summer. The same applies to any team hypothetically acquiring the 21-year-old before the trade deadline.
Well, that complicates things for Phoenix, doesn't it?
On the one hand, it might seem obvious for the Suns to trade Smith. They'd almost assuredly want to get at least some value from him rather than allow him to walk for free. But if you're a rival executive interested in Smith, might you hold out on acquiring him and merely try signing him at a value above $4.7 million?
There are other considerations for the Suns. What if they don't feel confident about re-signing Ayton? Is it possible Smith is already a much better frontcourt option than the injured Dario Saric, who is only under contract through next season? The answers to those questions are unknown, but they could result in Phoenix possibly retaining Smith and hoping another team does not exceed its offer in free agency.
Potential targets to watch if the Suns do try to move Smith
There are several trade targets to watch if the Suns try to shop Smith. One such guy is San Antonio Spurs forward Thaddeus Young.
Like Deandre Ayton, Young can spring ball-handlers with his tendency to get screen assists. He has tremendous vision and passing ability for a big and can make an enormous impact on the offensive glass, something the Suns desperately need. He lacks Smith's athleticism and shooting ability but still could be an ideal target.
Phoenix could capitalize on the Indiana Pacers' expected selling spree by bringing back Torrey Craig or adding Justin Holiday. Both men would likely be even cheaper than Young, as well.
The Suns have options in the trade market. But Smith's contract considerations and inspired play combine for one sizable dilemma. Phoenix might have to concede certain draft considerations to move him, if it even trades him at all.
It should be interesting to see how general manager James Jones proceeds over the course of the next month.
Stats courtesy of Basketball Reference.