Super Bowl 50: Panthers vs. Broncos History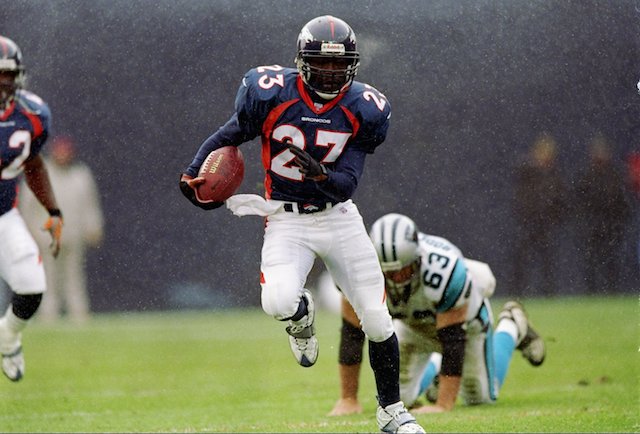 The Carolina Panthers and Denver Broncos will meet next Sunday in Santa Clara, Calif., to battle it out for Super Bowl 50. The milestone contest could end up drawing the most television viewers in the big game's history, and part of that stems from the compelling story lines seeded within. Will Peyton Manning ride off into the sunset with his second championship? Can the Carolina Panthers win their first Super Bowl title in franchise history?
For a match-up as hyped as this one, the Broncos and Panthers have a stunning lack of history between them. In fact, the two teams have only faced each other four times ever, with Denver currently holding a 3-1 edge. True, the small amount of head-to-head contests is primarily due to two factors. First, the teams are obviously in different conferences and aren't squaring off every season. Second and most notably, the Panthers have only been around since 1995 and are one of the newer NFL franchises.
Interestingly, from the Broncos' side, there is no other team in the league that they have faced fewer times than the Panthers. For Carolina, the only other team that they have played as few times as Denver has been the Houston Texans. Talk about two teams that will need to watch a lot of film before Feb. 7. With this in mind, let's review each of the four Broncos/Panthers games in chronological order.
1. November 9, 1997: Broncos 34, Panthers 0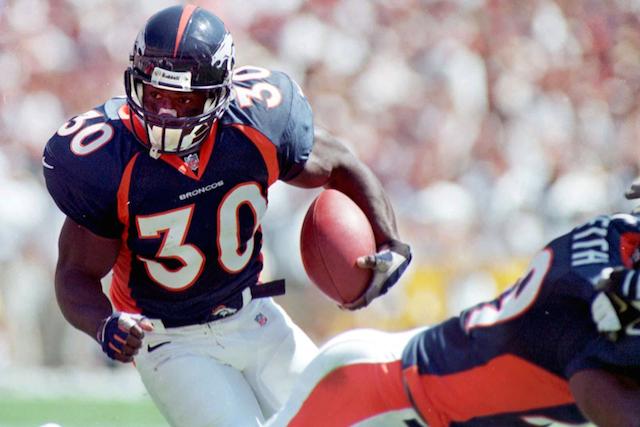 Not only would a Broncos victory in Super Bowl 50 be an upset, but if it were a 34-0 blowout like this Week 11 contest in 1997, it would perhaps be the most stunning result in NFL history. Of course, this premiere game between Denver and Carolina was nearly two decades ago and both teams are completely different. For fun though, let's take a look inside the box score from this Broncos beatdown.
Denver in the late 1990s was led by its high-flying offense consisting of Half-of-Fame quarterback John Elway, All-Pro running back Terrell Davis, beast tight end Shannon Sharpe, and stud wide receiver Rod Smith. All four of these guys had a significant impact in this one. Elway, who was matched up against Kerry Collins on the other side, went 14-of-23 for 227 passing yards and a touchdown. Davis rushed 21 times for 104 yards and caught a pass for an additional 12 yards, Sharpe hauled in eight receptions for 174 yards, and Smith had four catches for 40 yards and a touchdown. Collins had a rough go of it, connecting on just 13-of-29 pass attempts for 141 yards and throwing three interceptions.
The win improved Denver's record to 9-1 on the year, but they would stumble to a 12-4 finish, earning a wild card berth for the postseason. Then they went on to run the table and take home Super Bowl XXXII against the Green Bay Packers. Carolina meanwhile, still in its infancy, would finish the season at 7-9.
2. October 10, 2004: Broncos 20, Panthers 17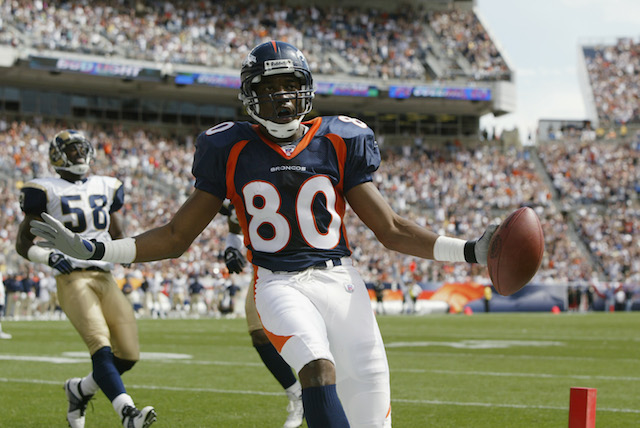 As sports journalists and fans, we can only hope for a result this close at Levi's Stadium come next weekend. Of the four head-to-head games in these teams' histories, this was the only close one. In Week 5 action of the 2004 season, the 1-2 Panthers traveled to Colorado to face the 3-1 Broncos. Coming into this mid-season tilt, Carolina was still only eight months removed from a heartbreaking loss in Super Bowl XXXVIII to the New England Patriots, so they were trying mightily to right the ship and make a push back to the playoffs. Unfortunately for Head Coach John Fox and company, this was just the second in a string of six consecutive losses that put the Panthers in a 1-7 hole that they would never be able to recover from. The Broncos, on the other hand, were in the midst of an early-season four-game winning streak that would ultimately help them reach the playoffs as a wild card team again.
Longtime Denver kicker Jason Elam would provide the only scoring of the opening quarter, booting a pair of field goals to give his team a 6-0 lead early. Within the span of three and a half minutes though, Carolina would retake the lead on a Jake Delhomme-to-Keary Colbert 26-yard touchdown pass and a John Kasay 53-yard field goal. Broncos running back Reuben Droughns capped the first half scoring with a five-yard touchdown reception from Jake Plummer and his team led 13-10 at the break. Following a Julius Peppers 97-yard interception return, Delhomme gave his team the advantage again in the third frame, after a one-yard QB keeper made it 17-13. With 9:42 left in regulation though, Broncos wideout Ashley Lelie caught a 39-yard TD strike from Plummer to conclude the scoring and give Denver the 20-17 victory.
Colbert was the offensive star for Carolina, snagging four catches for 115 yards and the touchdown. Plummer went 17-of-29 for 226 yards, two touchdowns, and two interceptions. Droughns outdid them all though, picking up more than 200 all-purpose yards on the day, including a monster 193 on the ground.
3. December 14, 2008: Panthers 30, Broncos 10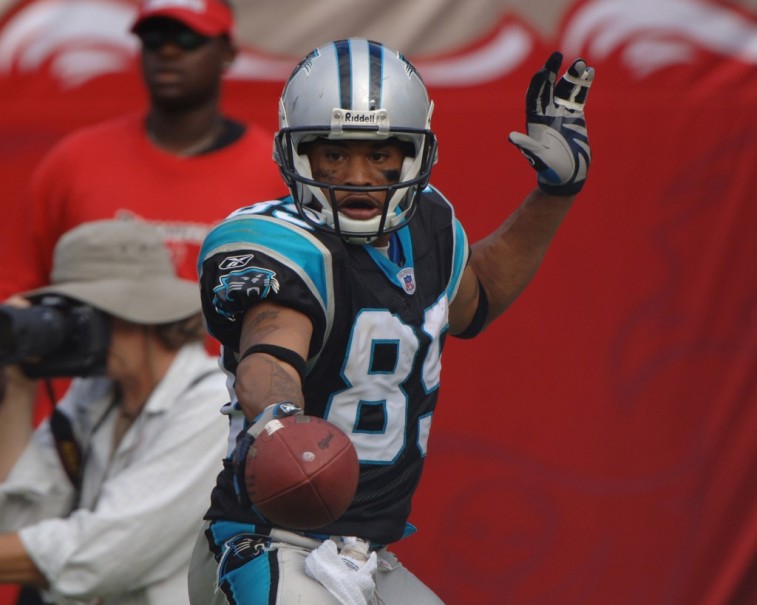 Toward the end of their 2008 season in which they won the NFC South at 12-4, the Panthers' offense was firing on all cylinders. This Week 15 battle with the Broncos saw Delhomme's squad enter at 11-3 and in the middle of a run where they scored at least 28 points in seven straight games to close the regular season. Denver was having a rare down year and although they entered this game at 8-5, they would slide to 8-8 by season's end, miss the playoffs, and part ways with Head Coach Mike Shanahan.
Propelled by a Jay Cutler-to-P.J. Pope connection in the end zone and a Matt Prater 43-yard field goal, the Broncos actually had a 10-7 lead in the first quarter of this game. Then the Panthers offense took over. Kasay would kick field goals in the first, second, and fourth quarters, but they would be sandwiched by a short TD run from Jonathan Stewart and a 56-yard scamper and score from DeAngelo Williams. In the end, Carolina produced 400 yards of total offense and Delhomme was not sacked once. The quarterback finished 17-of-26 for 253 yards, one touchdown, and one interception, while Steve Smith racked up 165 receiving yards and a touchdown on nine catches.
4. November 11, 2012: Broncos 36, Panthers 14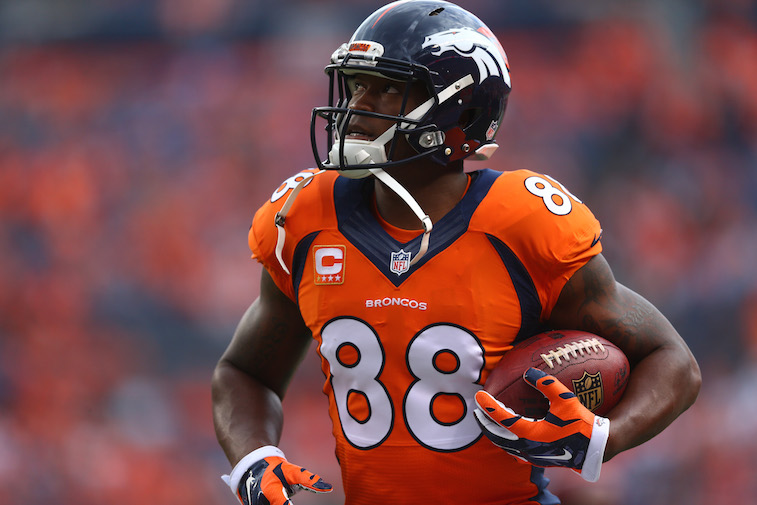 Here's the most recent game between the two Super Bowl 50 participants and the only time that Peyton Manning and Cam Newton have ever faced each other. Considering that this contest was a little over three years ago, there are still a good amount of familiar faces from the Week 10 showdown in 2012. The Broncos still have Manning, Demaryius Thomas, Derek Wolfe, Von Miller, and Chris Harris among others, while the Panthers still had Newton, Stewart, Greg Olsen, Luke Kuechly, and Josh Norman as well as some more. Of course, this was a very different time for both signal callers and their respective teams though.
Manning was in the middle of his first masterful campaign in Denver where he won the Comeback Player of the Year award and Newton was only in his second season, still an unproven NFL talent. After starting the year 2-3, the Broncos then rung off 11 straight Ws to finish at 13-3. The Panthers would start the season 3-9 before recovering a bit to finish at 7-9, but out of the postseason.
Olsen got things started with a touchdown catch midway through the first quarter, but from there it was all about Manning, Thomas, and the Denver D and special teams. After a Manning-to-Brandon Stokley touchdown pass near the end of the first, Trindon Holliday took a 76-yard punt to the house in the opening minute of the second. Prater had field goals in the second and fourth quarters, while Tony Carter picked off Newton and returned it 40 yards for six points in the third frame. A safety against the Panthers made it 29-7 early in the fourth before Olsen caught his second TD of the game to make it 29-14. Ronnie Hillman's five-yard TD run with 3:23 left in regulation closed the scoring and made it a 36-14 final. Denver's defense sacked Newton seven times, forced two fumbles and two turnovers, and had Carolina go 0-for-12 on third down conversions. Manning threw for 301 yards and the touchdown, while Thomas hauled in nine receptions for 135 yards.
Statistics courtesy of Pro-Football-Reference.com.
Follow Victor on Twitter @vbarbosa1127.