Super Bowl 55's Ratings Plummet Should Have the NFL Concerned
The Super Bowl is, was, and will forever be America's most-watched television spectacle of the year. That will not change this year. Super Bowl games have only each other to measure themselves against for sheer pull and numbers. With that said, this Sunday's rout by the Tampa Bay Buccaneers did not deliver the kind of numbers either the NFL or CBS were hoping for.
Unflattering numbers for the NFL and CBS
This morning, CBS Sports finally released their viewership figures for Super Bowl 55. In total, the game drew 96.4 million viewers across all platforms, 90.8 million of which came from the CBS network itself. This makes it the least-watched Super Bowl since 2007's Super Bowl 41, which also aired on CBS and drew approximately 93 million.
This represents a 15% drop from last year's game. Super Bowl 54, which aired on FOX, pulled in 102 million viewers across all platforms. According to The Wrap, 99.9 million of those viewers tuned into the FOX broadcast.
Usually, ratings for the Super Bowl come in the morning after. However, for whatever reason, television ratings provider Nielsen did not provide them until Tuesday morning, citing "incorrect metrics". Affiliates received a spreadsheet of data Monday morning, only to have it revoked due to faulty information.
Some positive notes amid the gloom
While viewership on CBS's linear television platform dropped considerably, streaming services reported record-high numbers.
"Cord-cutters" had plenty of ways to watch the big game on Sunday. CBS All Access — soon to be rebranded to Paramount Plus — carried the Super Bowl, as did Yahoo Sports, the NFL's streaming partner. Any over-the-top television service that carried CBS also carried the game.
If there's a silver lining for CBS, it's that Super Bowl 55 became the most live-streamed event in history. According to Deadline, the game averaged 5.7 million views per minute, a 69% increase over last year's game.
Also, although Tom Brady has left New England behind, Patriots fans still have a soft spot in their hearts for no. 12. According to Sports Business Daily, Super Bowl 55 actually pulled in higher ratings in the Boston television market than in the Tampa Bay market. Boston generated a 57.6 rating — meaning 57.6% of TVs in the area were tuned into the broadcast at some point. Tampa brought in a 52.3.
Still, even with streaming numbers tacked on, total viewership numbers for this year's game fell by about 5%.
Why would the ratings drop for this Super Bowl?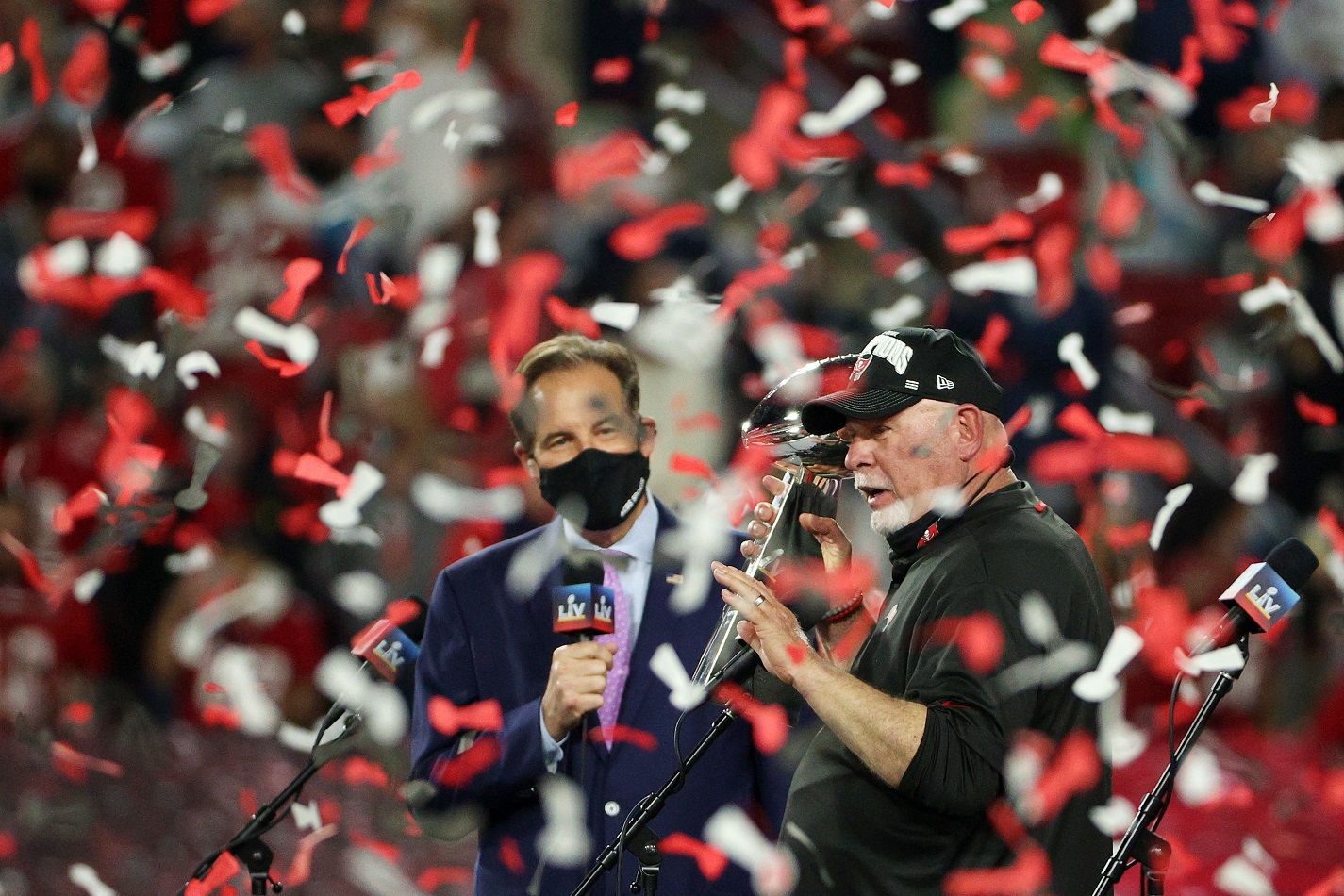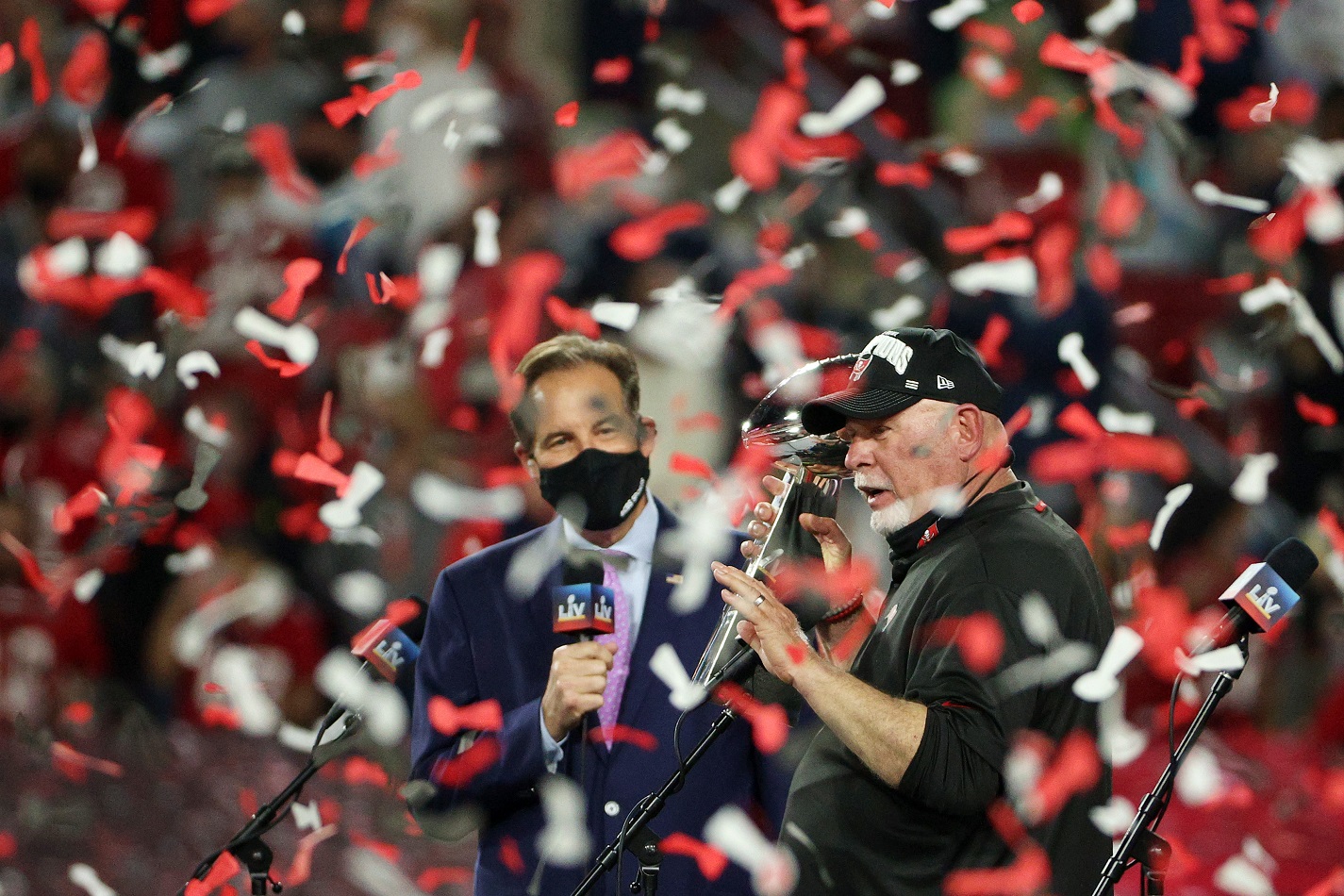 On paper, this looked like a matchup that everyone would want to watch. The two best quarterbacks in the NFL going one-on-one for the championship? Who wouldn't want to watch that? And of course, no one knew in advance what a stinkburger the actual game would turn out to be.
But the warning signs of a decline were there from the beginning. According to Forbes, television ratings for the NFL's regular season declined by 7% on average. Even NBC's Sunday Night Football, the titan of primetime television, saw declining numbers.
There is no doubt that COVID-19 has at least something to do with this. The pandemic wreaked havoc with the league's schedule this season, forcing at least one game to be played on every single day of the week. Others will no doubt point to the increased social justice messaging during sporting events, which was especially prevalent during this year's Super Bowl.
However, the elephant in the room is that much of America is just too exhausted from the past year to care about football. It's often said that sports is an escape from our problems, but we learned in the past 12 months that sports is just as vulnerable to real-world problems as every other function of society.
This pandemic is not going away anytime soon. If this Super Bowl has proven anything, it's that compelling storylines don't guarantee a ratings boost.