Super Bowl Champion Michael Schofield Met His Wife, Olympic Gold Medalist Kendall Coyne Schofield, in the Sweetest Way
It's not uncommon for pro athletes to fall in love and even get married. They're in a relatively small bubble compared to the general population; they often have similar interests and many chances to cross paths. In the case of NFL player Michael Schofield and Olympic hockey player Kendall Coyne Schofield, the story of how they met and fell in love is sweet.
The careers of Michael Schofield and Kendall Coyne Schofield
Offensive guard Schofield was the Broncos' third-round pick in the 2014 NFL draft. He spent three seasons in Denver before spending three years with the Chargers and the 2020 season with the Panthers. In his second season with the Broncos, he won Super Bowl 50.
Coyne Schofield is a pro hockey player who's found quite a bit of success in women's hockey. Her accomplishments include earning six gold medals at the IIHF World Women's Championships. But, most notably, she was part of the 2018 U.S. Women's National Team that took home gold at the 2018 Winter Olympics in Pyeongchang, South Korea.
How the Schofields met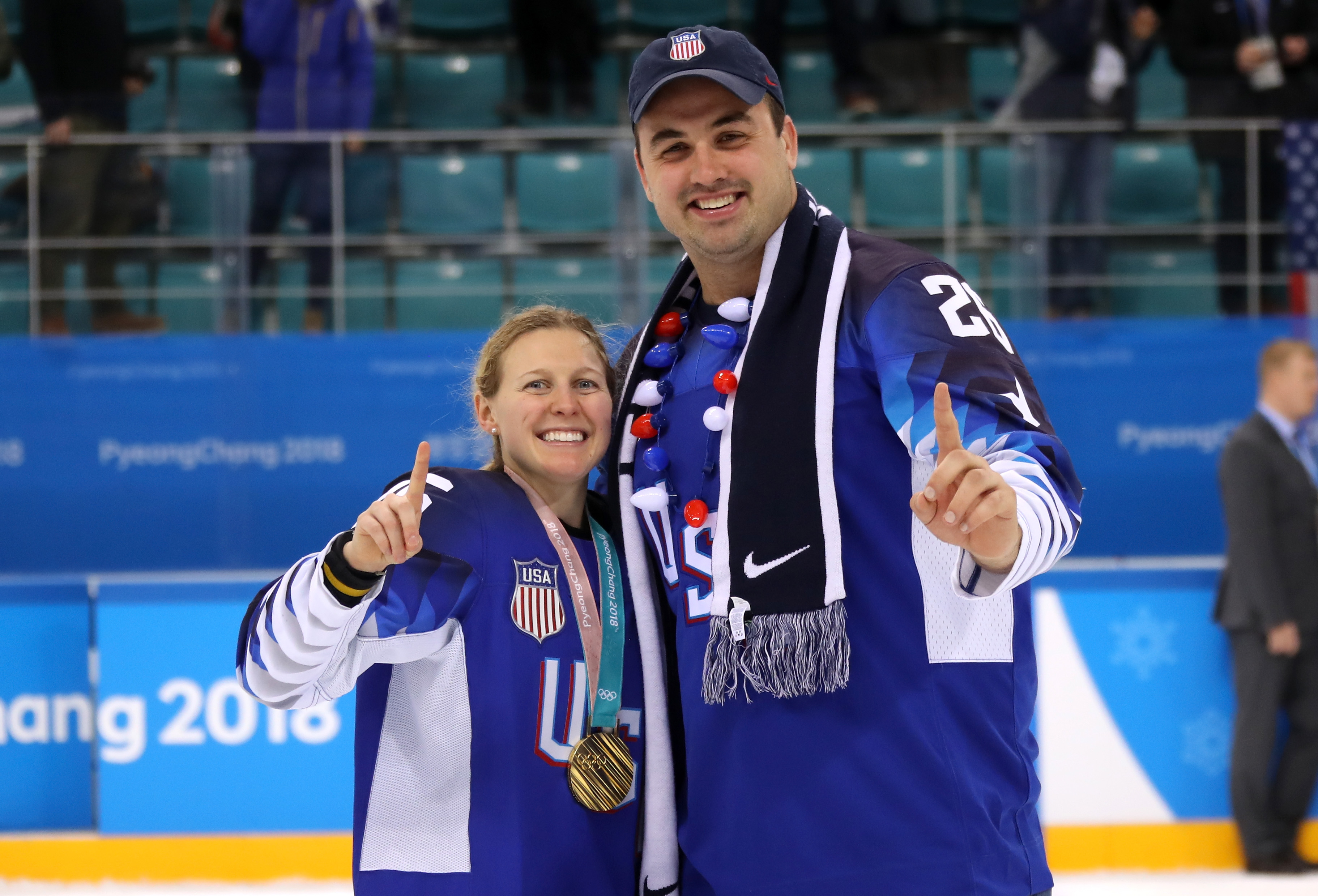 The then-engaged couple discussed their relationship shortly after Coyne Schofield won her Olympic gold with The Players' Tribune. They revealed that they lived 10 minutes apart from each other growing up but didn't know it. They even went to the same suburban Chicago high school.
The future couple met when they were college-age while working out at a gym in their hometown. Schofield didn't have a car and asked her for a ride. She said yes. In the car, they both said they had nothing to do, so he asked Coyne Schofield if she wanted to do nothing together.
They went out to lunch after the workout. She ordered just a salad — which caught him by surprise — because, by her admission, she was nervous.
The couple is there for each other in their biggest sports moments
RELATED: Gisele Bündchen and Other Famous Women Who Make More Than Their NFL Husbands
Coyne Schofield was there for his Super Bowl appearance in February 2016, according to NFL Films. When the Broncos won the game she recalls "jumping up and down continuously" and running with his parents to get to the field. She was ecstatic to see him living out his childhood dream.
When Kendall was in the Olympics two years later and her team won the gold, it was Michael's turn to celebrate. As the team took pictures after receiving their gold medals, Schofield recalls people yelling at him to go on the ice, which he hesitated to do. But he did finally jump onto the ice, with "about 30 other family members" following him. Once there, he picked her up in the air.
Michael Schofield and Kendall Coyne Schofield's engagement and marriage
RELATED: Tom Brady Gets Real About Skipping Practices for Gisele Bundchen
Mile High Sports reports that the couple got engaged in 2017. Schofield announced it in an Instagram post with a picture of his Super Bowl ring next to her engagement ring. The caption read, "I got a big ring last year. So I made sure to get her one this year @kendallcoyne26 #Coyneflip."
The offensive guard proposed to her at her favorite ice cream shop near their hometown, and she obviously said yes. The wedding also took place in the Chicago area in July 2018, and Team USA's website wrote about the couple tying the knot. The morning of the ceremony, Coyne Schofield tweeted: "There's no doubt the greatest honor of my life will happen today. I can't wait to be your wife @SchoBlue75!! Happy Wedding Day! #SchosLuckyCoyne."