How Super Bowl Heartbreak Made Tom Brady Unstoppable for the Patriots and Buccaneers: 'Had We Won That Game Maybe the Desire Is a Little Bit Different'
Tom Brady is the greatest quarterback of all time because he's made a career of winning Super Bowls, but a Super Bowl he lost may have actually played a massive role in his success.
The GOAT was actually on one of the greatest teams of all time. The 2007 New England Patriots were the first NFL team to post a perfect 16-0 record. Brady was the league MVP, and the Pats rolled through the playoffs to a matchup with the New York Giants, a wildcard team, in Super Bowl 42.
That was a game the Patriots lost. It was one of the greatest upsets in sports history, and the heartbreak of that loss fueled the Brady we know today.
The New England Patriots' loss in Super Bowl 42 fueled Tom Brady 
The Patriots were hoping to become the perfect team. The 16-0 regular season was followed up by two wins in the playoffs. A 19-0 Super Bowl-winning season was realistically in reach. The Giants were 10-6 in the regular season, and New England had already beaten New York just a few weeks earlier, 38-35.
The Patriots were 12.5-point favorites, and they even had a 14-10 lead with 2:39 to go in the fourth quarter. 
Brady, Bill Belichick, and the Patriots were that close to securing immortality, but Eli Manning, David Tyree (and his helmet), and Plaxico Burress helped the Giants pull off the miracle last-second win. Manning found Burress in the end zone on a 13-yard strike with 35 seconds to go, and the rest was history. New York won the Super Bowl, beating arguably the greatest team of all time, 17-14.
"Had we won that game — I don't know, I'm not a big hypothetical guy — but maybe the desire is a little bit different if you're looking at the silver lining," Brady said, looking back at the Super Bowl loss. According to NESN, this was said in a snippet from his "Man in the Arena" documentary.
"Maybe the desire to reach that point, maybe I would have been fulfilled — not to stop playing at that time, but I don't know. Maybe I'd play another seven or eight years, and maybe I'm fulfilled. Maybe not."
Brady developed a chip on his shoulder after he lost perfection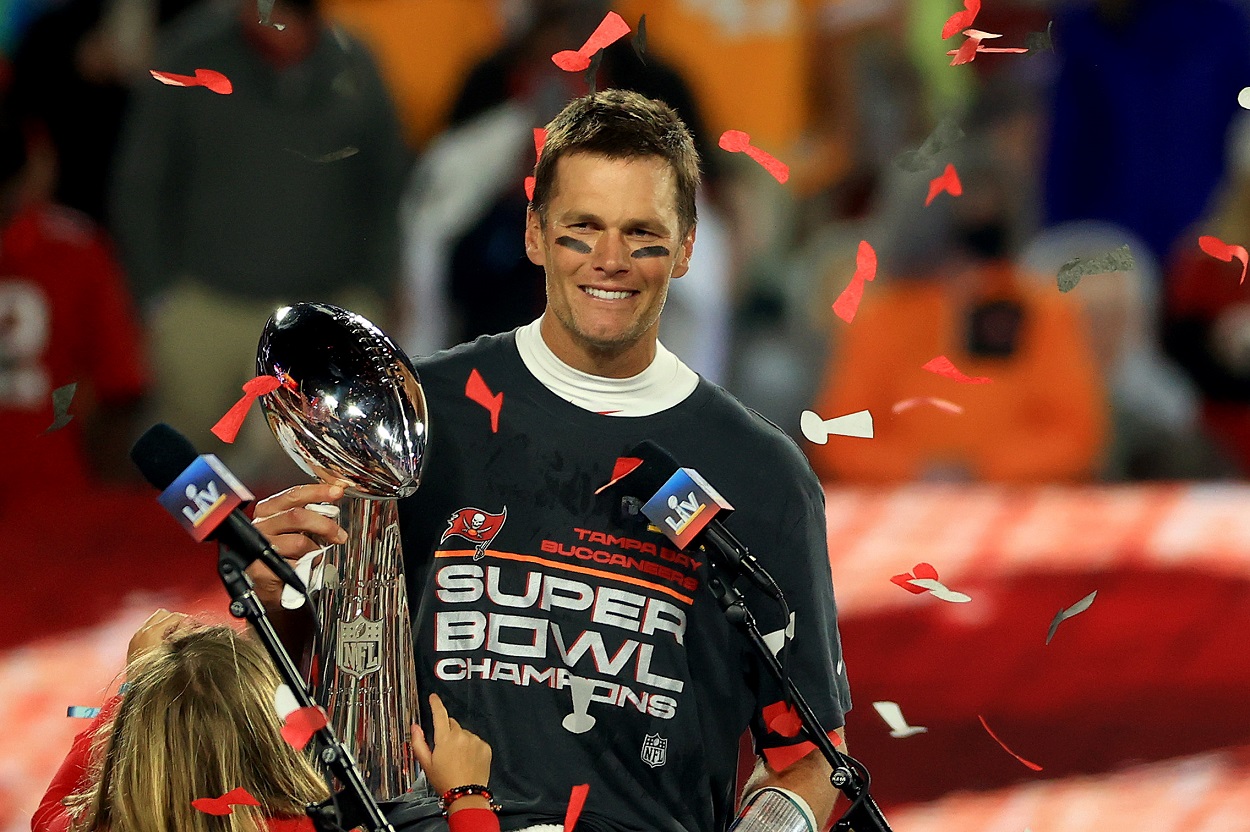 Every little bit of added motivation helps great athletes like Brady, especially when excellence is the goal. It's not normal to wake up and ooze the killer mentality that makes players like Brady, Tiger Woods, and Michael Jordan click. 
Yes, there is a sense of internal striving. There is that inner dialog that pushes one always to want to be the best, never to be satisfied. Kobe Bryant famously called it the "Mamba Mentality." Still, a lot of that is actually contrived by great athletes and often driven by actual or perceived slights that become internal motivation.
Look at Aaron Rodgers using his draft day-skid as motivation for him to be great in his career. Brady even has some of that in his story. Remember, he started his career as a backup to Drew Bledsoe. The Patriots drafted him in the sixth round, likely never expecting him to become a superstar.
The Super Bowl 42 loss was a massive moment for Brady in his career. Yes, he had already won three Super Bowls at that point, but the Patriots didn't make it back to another Super Bowl for seven seasons after that loss. In fact, New Englands 28-24 win over the Seattle Seahawks in Super Bowl 49 was Brady's first championship win in a decade.
He added two more with the Patriots after that before winning one in his first season with the Tampa Bay Buccaneers in 2020.
Had the Patriots beat the Giants and achieved perfection, who knows how Brady would have responded? In a sense, that would have been the pinnacle of his career. How do you strive to achieve something more than perfection?
The 2007 Patriots were an incredible team
"I still think that it was the best team I ever played on, even though we didn't win the Super Bowl," Brady said of the 2007 Patriots. "It wasn't the most accomplished team, but it was probably the best team. It was the best team."
It's hard to argue with Brady's thoughts on the 2007 Patriots. It was a squad that boasted players like Randy Moss, Wes Welker, Vince Wilfork, Mike Vrabel, Tedy Bruschi, and Asante Samuel. Belichick was in charge, but his staff featured assistants like Bill O'Brien, Nick Caserio, Brian Flores (a scout at the time), Matt Patricia, and of course, offensive coordinator Josh McDaniels.
As mentioned, Brady won the NFL MVP for his play in 2007, a season that saw him throw for 4,806 yards and 50 touchdowns with just eight interceptions. It was also a banner season for Moss, who caught 98 receptions for 1,493 yards and 23 touchdowns. His 23 touchdowns put him one above Jerry Rice as the NFL's all-time leader for receiving touchdowns in a single season. That's a record that still stands to this day.
The Patriots averaged 36.8 points per game that season and gave up only 17.1 on the defensive side of the ball. 
"It was probably the best team in NFL history," Brady said, looking back. "In my mind, the greatest football team that ever played."
Stats courtesy of ESPN and Pro Football Reference.