Super Bowl LIV Champion Charvarius Ward Earned the Highest NFL Performance Bonus
The Kansas City Chiefs' Super Bowl LIV victory over the San Francisco 49ers established them as the best team in the NFL. And from all indications, their reign of greatness won't just be a one-year phenomenon. On the contrary, the Chiefs are loaded with the kind of young talent that could turn them into a dynasty.
Quarterback Patrick Mahomes receives a lot of focus, but plenty of other players have also made a big impact. Cornerback Charvarius Ward is the perfect example. His stellar play in the 2019-20 season also earned him a huge performance bonus. Let's look at Ward's season and the huge financial incentive it earned him.
Charvarius Ward's 2019-20 season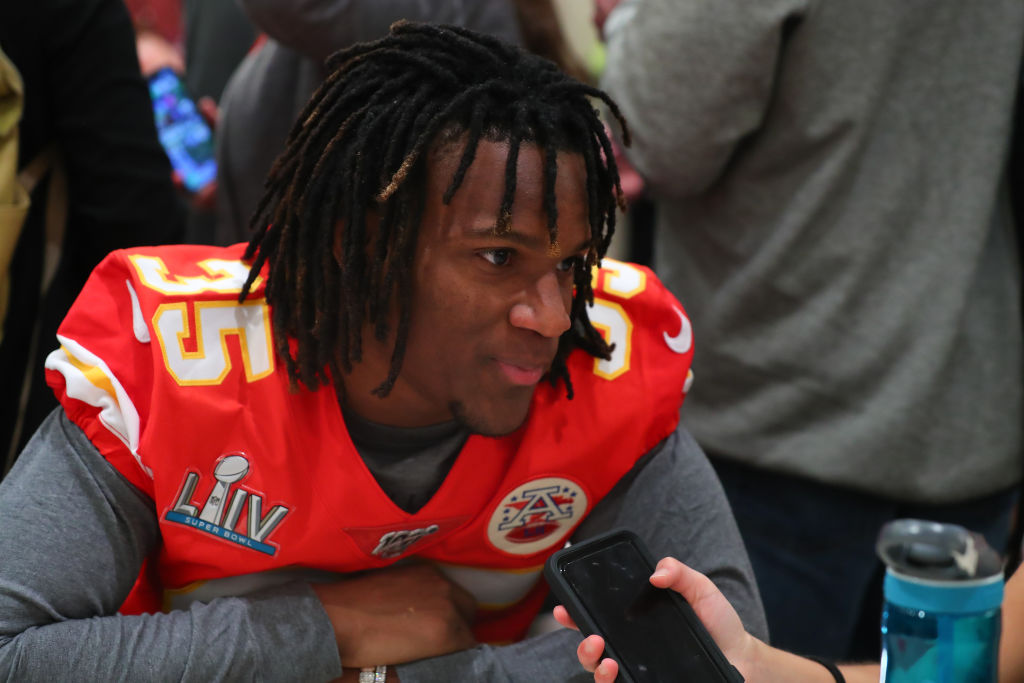 RELATED: Chiefs' Star Tyrann Mathieu Overcame Addiction to Make More Than $47 Million in the NFL
The 2019-20 season was just Ward's second year in the NFL. As a rookie, he mostly played a limited role coming off the bench. Last year, however, he moved into a full-time starting position, playing in all 16 regular-season games, according to Pro Football Reference. He was one of the Chiefs' most consistent defenders, racking up a defensive snap count of 1,048 — second on the team only to Tyrann Mathieu, who had 1,080.
Across the entire league, only 10 cornerbacks broke the 1,000 snap count in 2019-20. Of those 10 players, Ward ranked first in terms of the passer rating he allowed in coverage, with a rating of 67.3%. He was also first in reception percentage, with a rating of 47.6%. Ward placed third in total yards allowed, with 634. And he tied for third in terms of yards allowed per coverage snap, at 1.00.
As you can see, Ward's performance placed him in elite territory. He proved his ability to deliver consistent results on a high-usage basis. He also finished the regular season with 2 interceptions and 74 combined tackles. Many analysts felt that Ward's season was more than deserving of a Pro-Bowl selection, although ultimately he didn't make the cut.
Ward's postseason performance
When it came to postseason performance, Ward turned in a solid if unspectacular performance. His fellow cornerback Bashaud Breeland received a bit more attention, thanks largely to a Super Bowl interception that led to a Chiefs field goal. Breeland also racked up 15 individual tackles during the playoffs.
Ward, by contrast, had seven individual tackles and two assisted tackles in the postseason. Four of those tackles came in the Super Bowl, where Ward continued to apply solid defensive pressure. While he might not have stolen the show in terms of playoff performance, Ward continued to exhibit the characteristics that made him one of the Chiefs most consistent players all year.
A hefty performance bonus for Charvarius Ward
RELATED: The Kansas City Chiefs Cut Their Longest-Tenured Player to Save $2 Million
At the start of the season, few commentators would have guessed that Ward would become the league's top earner of performance-based bonuses. Yet that is exactly the way the season played out. Ward took home a total bonus of $428,335, reports USA Today — pretty impressive for a player who, just two years ago, was an undrafted free agent.
Ward earned those bonuses for a variety of reasons, with the quality of his performances being a key one. But the single largest factor was Ward's durability and playing time. Historically, players with lower starting salaries who rack up large amounts of playing time tend to take home the largest bonuses.
With a league minimum salary of $570,000, Ward's bonus was almost as large as his normal paycheck. In addition to the $428,335 Ward earned in Performance-Based bonuses, he also took home an extra $226,415 from the Veteran Pool. If Ward can continue his stellar play next season, he should command a hefty new contract once he comes a free agent in 2021.