Super Bowl Showdown: Von Miller vs. Luke Kuechly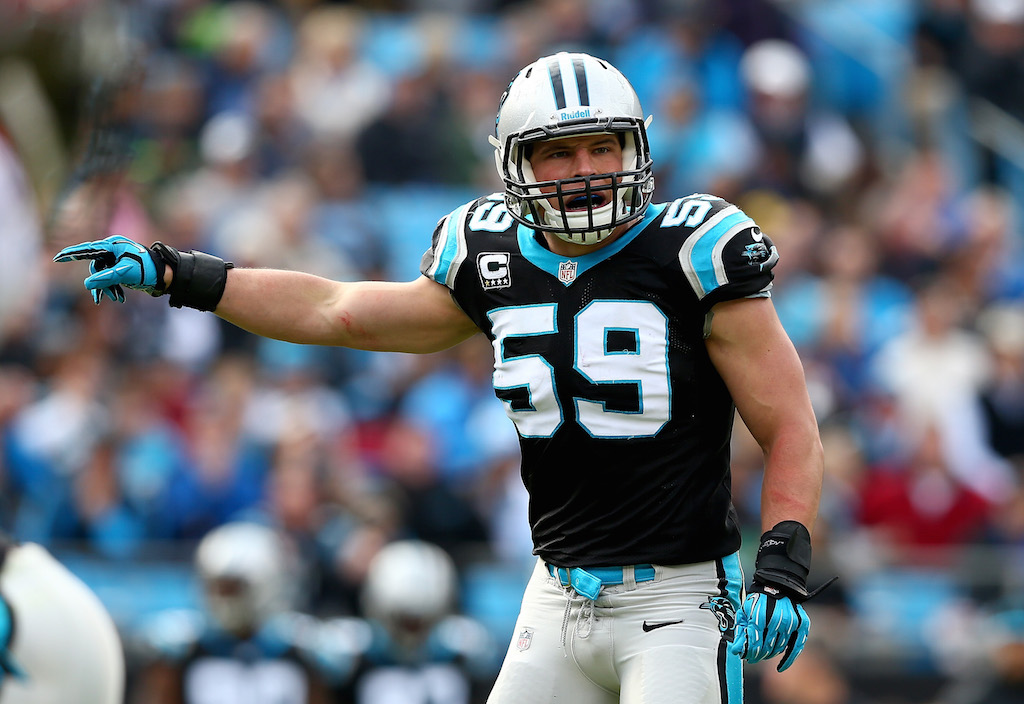 It makes perfect sense that most of the talk leading up to Super Bowl 50 is likely going to surround each team's starting quarterback – Peyton Manning for the Denver Broncos, and Cam Newton for the Carolina Panthers. Manning is quite possibly preparing to play in the final game of his illustrious career and the 10-time All-Pro would love nothing more than winning another ring and going out on top. Newton, meanwhile, is a rising superstar with a skillset unlike anything the league has ever seen, and will likely be named the 2015 NFL MVP in the very near future. With all of the hype and discussion surrounding both quarterbacks, it can be easy to forget that this game will also feature the league's two premier linebackers in Von Miller of the Broncos and Luke Kuechly (pictured above) of the Panthers.
Read more: The 5 Most Exciting Super Bowls of All Time
Before going on, we feel that it is necessary to point out that Miller and Kuechly play completely different positions, and both are tasked with vastly different roles. Miller is an outside linebacker who, despite occasionally dropping back into pass coverage, is responsible for pressuring and harassing opposing quarterbacks while also being a strong run defender. Kuechly, on the other hand, is a true inside linebacker, who excels at literally every aspect of the position but is rarely called upon to rush the passer. Both players are just entering the prime of their careers and are highly decorated – Miller is a four-time All-Pro and won the 2011 NFL Defensive Rookie of the Year award, while Kuechly is a three-time All-Pro and the winner of the 2013 NFL Defensive Player of the Year award. Knowing this, we thought it would be a fun lead-in to Super Bowl Sunday to examine and decide which of these two star linebackers we would rather have if we owned a team. Here's what we came up with.
Read more: 11 Fastest 40-Yard Dashes in NFL History
We'll start this off by looking at what Miller (pictured above) brings to the table. At 6-foot-3 and 250 pounds, Miller isn't overly physically imposing by NFL standards. What separates him from the rest of the players around the league at his position is his speed (he runs the 40-yard dash in under 4.5 seconds), his ability to bend his body to get around opposing offensive linemen without losing any explosion, his ridiculously quick first step, and his relentless motor. All said, Miller is widely viewed as the best pure pass rusher the NFL has seen since the late Derrick Thomas.
At this point in his career, the one major knock on Miller has been consistency. There have been times over the last couple of seasons where it has seemed as though the former Texas A&M standout has disappeared. However, when Miller is playing at the top of his game, he has the ability to almost single-handedly lead his team to a victory.
Read more: The 10 Greatest NFL Players Ever
As for Kuechly, we simply cannot find a weakness in his game. In fact, we can't even find a facet of his game that is not a strength in comparison to other inside linebackers around the league. He may be the smartest defensive player currently in the NFL, the best tackler and run defender in the game, and has also developed excellent pass coverage skills. Kuechly is the type of player you can count on to perform at an All-Pro level on a weekly basis.
When it comes down to it, if you are lucky enough to have either one of these players on your favorite team, you really can't complain. If we had to choose between the two players (with all things being equal) we would lean towards Miller. Here's why. Over the last decade, the league has transformed from a league that featured mostly balanced, run-first offenses into a league where offenses are more pass heavy than ever before. With quarterbacks dropping back to pass at record-breaking paces, Miller's pass rush ability makes him invaluable.
All statistics courtesy of Pro-Football-Reference.