The Playoff No-Hitter Was One of Many Superb Roy Halladay Performances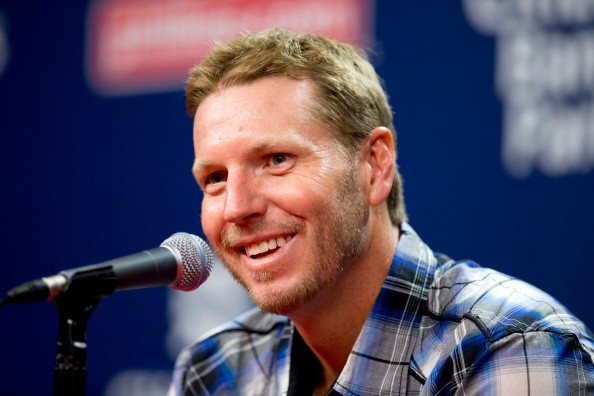 The tragic passing of former major league pitcher Roy Halladay — one of the undisputed best pitchers of all time — has left the baseball world reeling. Halladay, who played for the Toronto Blue Jays and Philadelphia Phillies from 1998-2013, was apparently piloting a small plane he recently purchased and crashed into the Gulf of Mexico.
Not only is it sad to lose Halladay (who was 40 years old) at such a young age, but he also leaves behind his wife and two young sons.
With that in mind, we decided to commemorate the greatness of Roy Halladay the best way we knew: looking back at his outstanding career in Major League Baseball. We counted down the best games of Halladay's career, including the time he made his postseason debut by throwing a no-hitter.
2008 vs. New York Yankees
In 2008, Halladay and the Blue Jays entered a July 11 matchup against the New York Yankees at 45-47. Two games under .500 isn't necessarily a bad spot to be, but that year it was. The Jays were in last place in the AL East at the time, 9.5 games behind the first place Tampa Bay Rays.
On that day against the Yankees, Halladay was on his game. The 31-year-old threw a complete game shutout on 113 pitches, allowing just two hits, a walk, and two HBP while striking out eight. Derek Jeter hit a double against Halladay in the ninth inning when the game was already decided, with Toronto ahead 5-0. Otherwise, the Yankees never really got anything going against Doc.
Halladay in 2008: 20-11, 246 innings pitched, 34 games (33 starts), 2.78 ERA, nine complete games, and two shutouts.
2009 vs. New York Yankees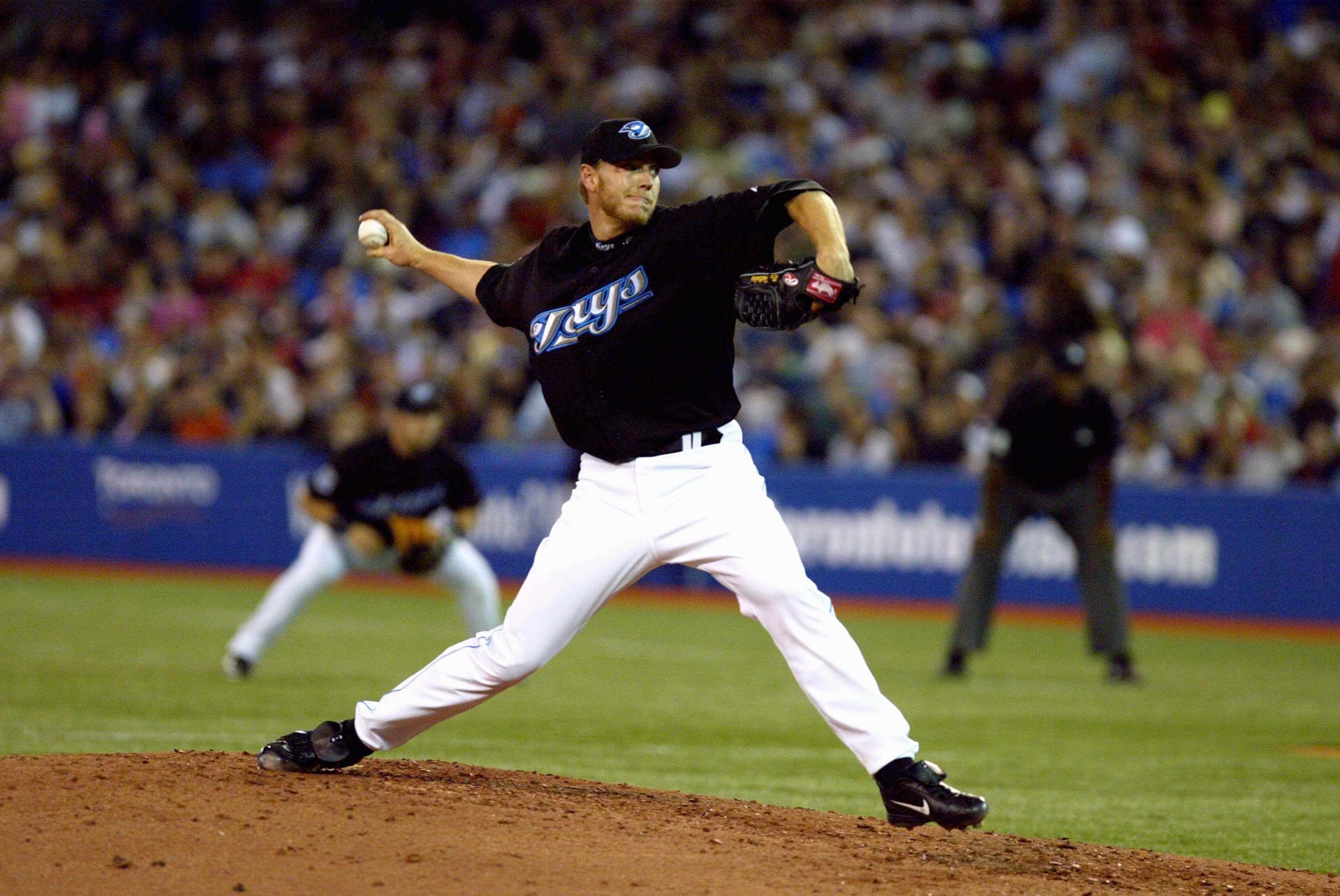 Against the Yankees the following season, Halladay had yet another excellent performance. The Blue Jays were a well-under .500 team, not coming close to contending in the AL East. When New York came north to Toronto on Sept. 4 of that season, Halladay put on a show for his home fans.
Halladay didn't give up a hit until the top of the sixth inning, when Ramiro Pena clubbed a double to right field. Two more walks followed, loading the bases with two outs. But Halladay struck Alex Rodriguez out looking, getting out of the inning with the Jays still up 4-0. Halladay finished the game with just the one hit allowed, three walks, nine strikeouts, and a complete game shutout.
Halladay in 2009: 17-10, 239 innings pitched, 32 games (32 starts), 2.79 ERA, nine complete games, and four shutouts.
2001 vs. Cleveland Indians
In 2001, Halladay was still working off the reputation that he had earned the season prior. In 17 starts during the 2000 season, he pitched 67 innings and allowed 80 earned runs – that's a 10.64 ERA. But he was having a much better year heading into an Oct. 5 game against a stacked Cleveland Indians lineup that featured Kenny Lofton, Omar Vizquel, Roberto Alomar, Juan Gonzalez, and Jim Thome.
Halladay allowed just two baserunners in the game, both on singles. He took a perfect game into the eighth inning before allowing a hit to Travis Fryman, then allowed a ninth inning single to Wil Cordero before closing out the second of 20 complete game shutouts in his career. Halladay also posted eight strikeouts and completed the masterpiece on just 83 pitches.
Halladay in 2001: 5-3, 105? innings pitched, 17 games (16 starts), 3.16 ERA, one complete game, and one shutout.
2005 vs. Minnesota Twins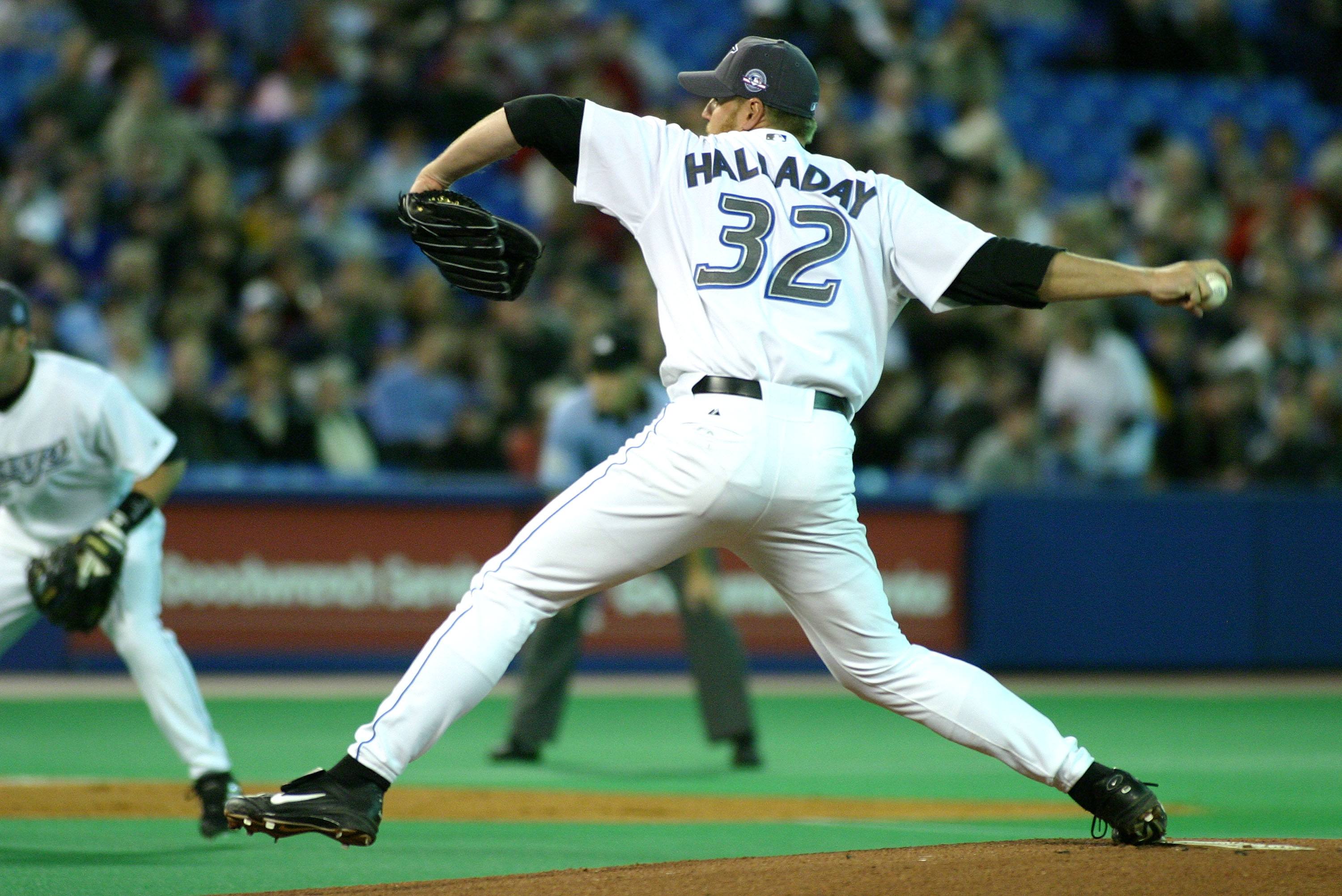 Early in 2005, Halladay was doing his best to help keep the Blue Jays in contention in a tough AL East. Toronto came into a matchup against the Minnesota Twins with a 26-23 record, sitting in fourth place in the division. Halladay came through with another brilliant performance.
The Twins could muster just three baserunners against Halladay, who threw yet another complete game shutout on just 99 pitches. His final line was two hits allowed – both singles – with zero walks and one HBP. The two hits came courtesy of Minnesota's top two hitters, Shannon Stewart and Nick Punto. As of that date, Halladay had a 2.54 ERA on the young season.
Halladay in 2005: 12-4, 141? innings pitched, 19 games (19 starts), 2.41 ERA, five complete games, and two shutouts.
2003 vs. Detroit Tigers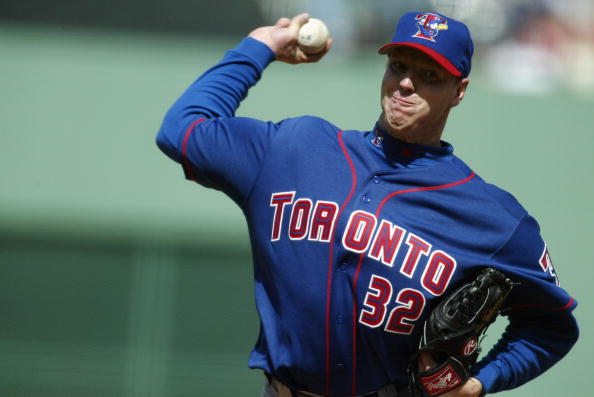 Halladay took on the worst team in major league history on Sept. 6, 2003, and he dominated them. The Detroit Tigers came into Toronto to play the Blue Jays, beginning the game with a 37-103 record. The two teams played to a stand-still through nine innings, with both Halladay and Tigers starter Nate Cornejo throwing nine shutout innings.
But Halladay came out and pitched the 10th inning as well, and he ended up getting the win when the Jays scored off Fernando Rodney in the bottom half of the inning. Halladay's final line was absurd: 10 innings, three hits allowed, one walk, zero runs, five strikeouts, and only 99 pitches thrown (70 strikes). It's entirely possible that Halladay would've pitched the 11th inning if Toronto hadn't scored in the 10th.
Halladay in 2003: 22-7, 266 innings pitched, 36 games (36 starts), 3.25 ERA, nine complete games, two shutouts, and his first Cy Young award.
2010 vs. Florida Marlins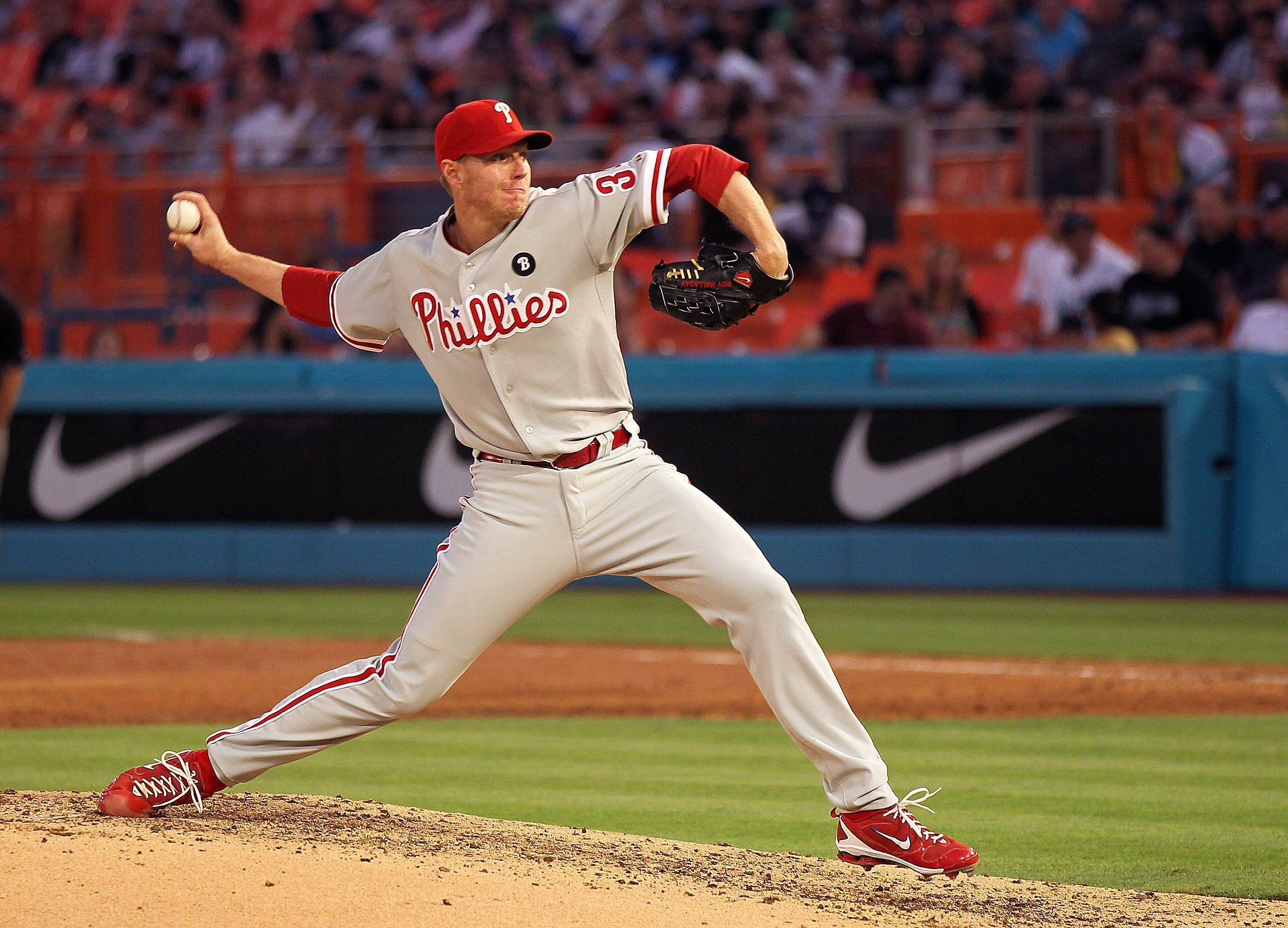 2010 was one of Halladay's best seasons for a couple of reasons, first and foremost because he won his second career Cy Young award. He also made his first appearance in the postseason with the Philadelphia Phillies that year, which was a major career milestone. But more on that later. The first extremely notable game of the year for Halladay came against the Florida Marlins on May 29, when he threw a perfect game.
Halladay tossed 115 pitches, striking out 11 batters and allowing zero baserunners. He didn't do it all by himself, of course, with third baseman Juan Castro and shortstop Wilson Valdez making several excellent plays in the field. The Marlins weren't exactly a juggernaut back in 2010, but they did feature Hanley Ramirez in his prime along with Jorge Cantu and Dan Uggla.
Halladay in 2010: 21-10, 250? innings pitched, 33 games (33 starts), 2.44 ERA, nine complete games, four shutouts, and his second Cy Young award.
2010 NLDS G1 vs. Reds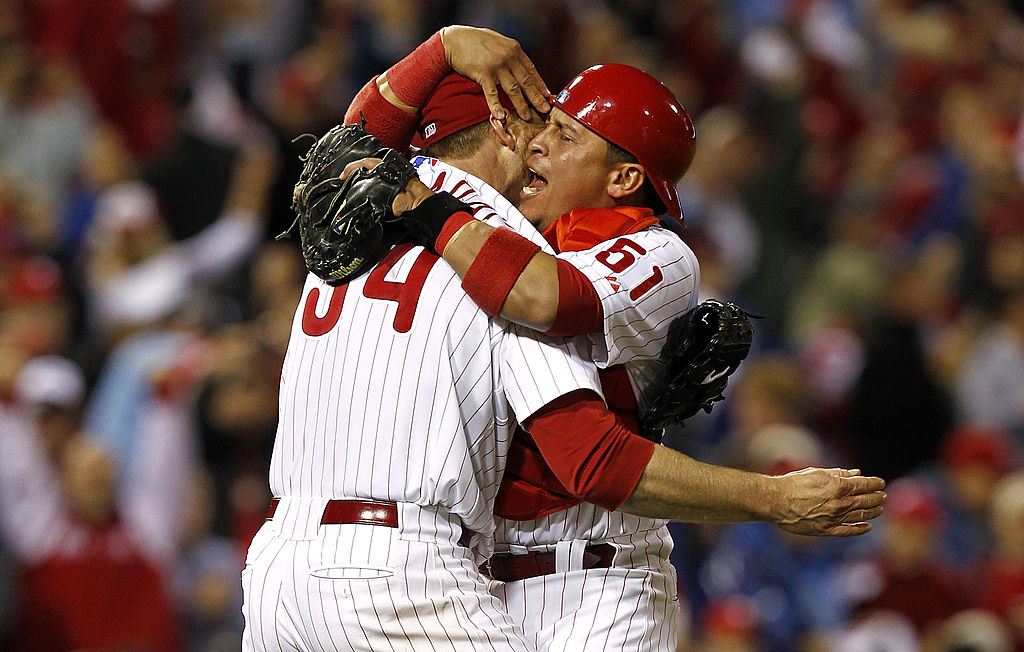 After throwing the first no-hitter of his career (the perfecto against the Marlins) in late May, Halladay found a way to top himself just a few months later. The Phillies won the NL East with a 97-65 record that year, drawing the NL Central champion Cincinnati Reds in the first round. Halladay was lined up to pitch Game 1, which would be the first playoff appearance of the 33-year-old's career.
The Phillies jumped out to a 4-0 lead within the first two innings, and that's all they would need. Halladay was in complete control, with a fifth-inning walk to Jay Bruce ending up being his only blemish. Halladay threw a complete game with eight strikeouts and the one walk, no-hitting the Reds and taking a 1-0 lead in a series that they'd eventually win 3-0. It was just the second no-hitter in MLB postseason history, joining Don Larsen's 1956 World Series no-no.
Stats via Baseball Reference. 
Check out The Cheat Sheet on Facebook!