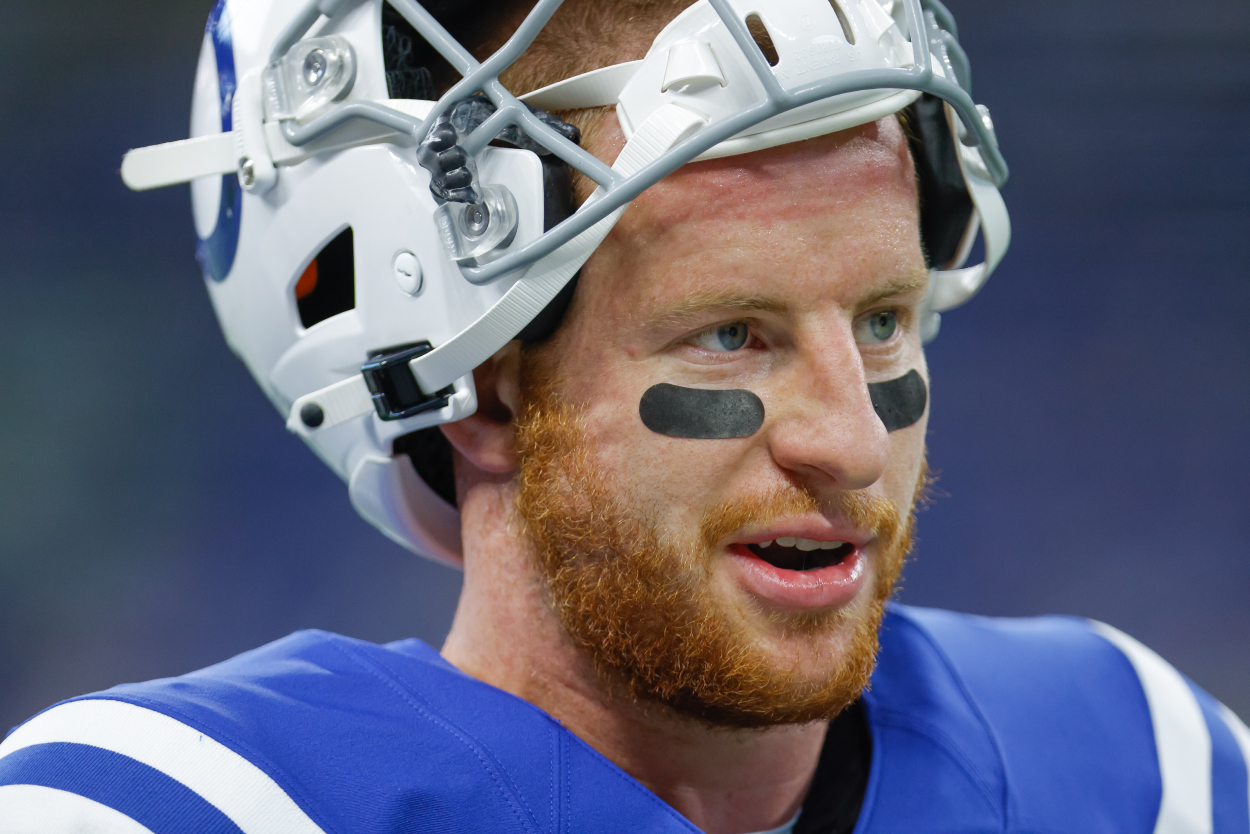 Surprising Indianapolis Colts News Could Force Carson Wentz to Reveal Whether He's Actually a Bad Teammate or Not
Past reports suggested that Indianapolis Colts quarterback Carson Wentz was a bad teammate during his time on the Philadelphia Eagles. There has also already been a member of the Indy media critical of him. However, surprising news out of Indianapolis may force Wentz to reveal the truth to the world.
Throughout his time with the Philadelphia Eagles, rumors flew around from every direction that Carson Wentz was a bad teammate. Whether they were true or not, Philly eventually traded its quarterback to the Indianapolis Colts this past offseason.
Recently, though, surprising news revealed that the Colts are teaming up with HBO to pull off an unprecedented move: The hit show Hard Knocks will follow Indy around throughout its 2021 campaign. The announcement not only means that the series will film a team during the regular season for the first time ever, but it will also be an opportunity for Wentz to prove to the world that he's not a bad teammate.
Reports suggested that Carson Wentz was a bad teammate on the Eagles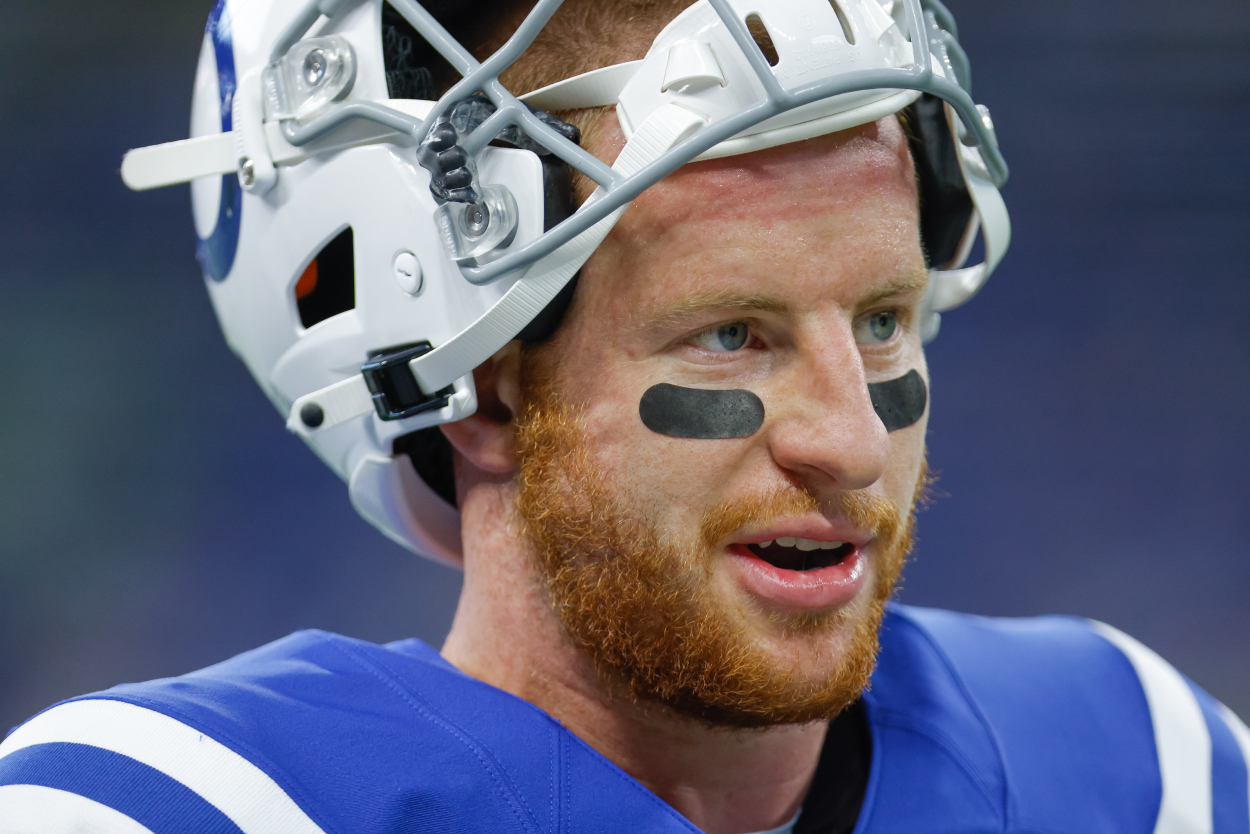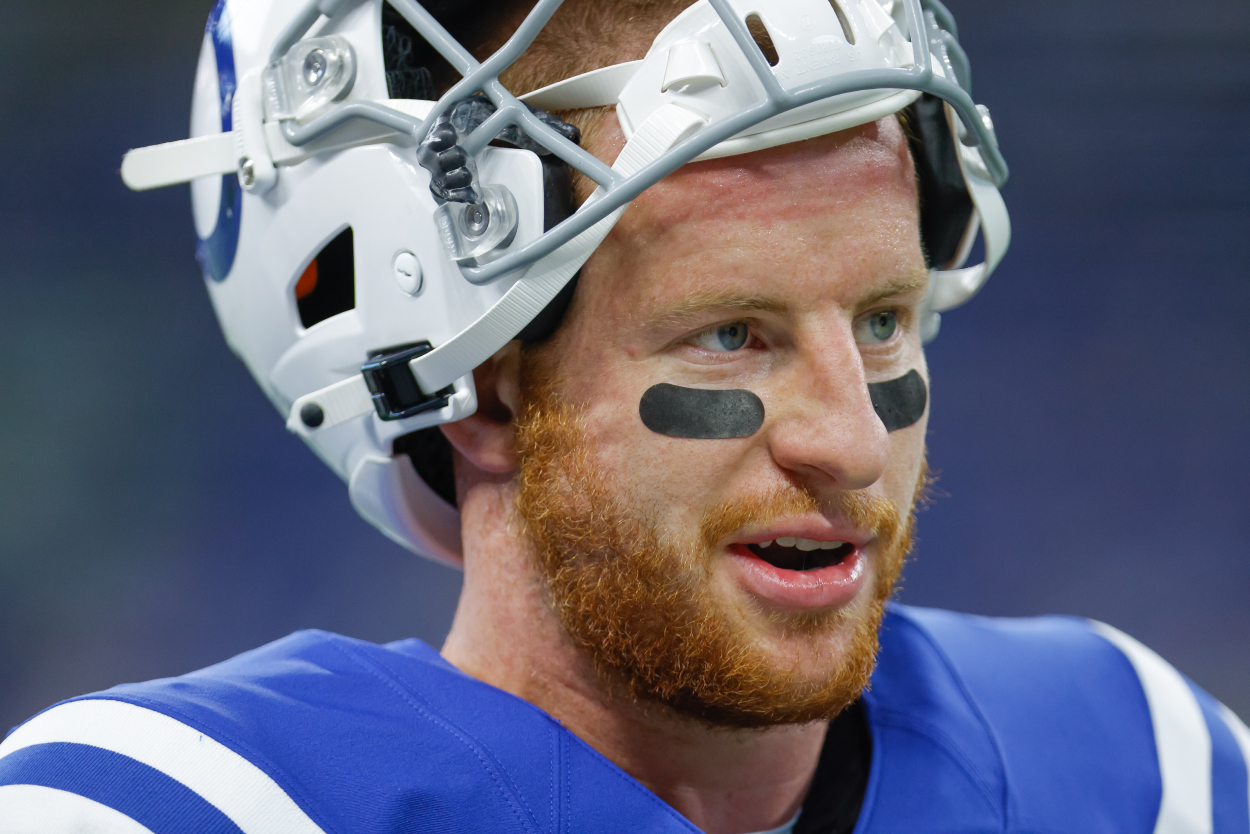 Wentz had an up-and-down tenure on the Philadelphia Eagles.
He was an MVP candidate in 2017, even earning a Pro Bowl selection, but he saw a different quarterback lead his team to a Super Bowl win that same season.
In 2019, though, a report from the Philly Voice claimed that sources said Wentz was "'selfish,' 'uncompromising,' 'egotistical,' one who plays 'favorites' and doesn't like to be 'questioned,' one who needs to 'practice what he preaches' and fails 'to take accountability,'" per Bleacher Report. An unnamed teammate also reportedly said that he "acts like he's won 10 Super Bowls, when he hasn't played in, let alone won, a playoff game yet."
Several of the quarterback's Philly teammates came out and denied those claims. But after a 2020 season that saw Wentz throw an NFL-leading 15 interceptions in 12 games, the Eagles traded him to the Colts.
Since arriving in Indy this offseason, no reports have come out about any teammates criticizing Wentz. The media, however, has been another story.
Per NJ.com, Indianapolis Star writer Gregg Doyel criticized the North Dakota State product for not getting the COVID-19 vaccine.
"Turns out, Carson Wentz is a bad teammate. He's selfish," Doyel wrote, per NJ.com.
Side note: Doyel also criticized other Indianapolis players who hadn't gotten the vaccine yet, but he was especially critical of Wentz.
The Colts quarterback, though, is now getting an opportunity to prove he's not actually a bad teammate.
Or, maybe he'll further prove that he is.
The Indianapolis Colts are coming to 'Hard Knocks'
Surprising NFL news popped up on Sept. 16 when HBO announced its plans to film an in-season version of Hard Knocks for the first time ever this year. The team they're following? Wentz and the Colts.
Hard Knocks debuted in 2001 and has been a hit amongst NFL fans for 20 years, but it has only filmed teams during training camp up to this point.
"We could not be more thrilled to bring Hard Knocks and the remarkable behind-the-scenes access it provides for the entirety of an NFL season," senior executive for NFL Films Ross Ketover said, per ESPN.
The first episode will air on Nov. 17, and it will give us our first close look at Wentz as a teammate.
'Hard Knocks' will allow Colts quarterback Carson Wentz to reveal whether he's a bad teammate or not
Past seasons of Hard Knocks have given some players (and coaches) more fans, while others received more haters.
During the Cleveland Browns' time on the show in 2018, everyone saw the intense yet awkward relationship between former head coach Hue Jackson and his offensive coordinator Todd Haley. One episode even featured an uncomfortable meeting between the two.
The Browns later fired Jackson during the season, and fans looked back at that scene as foreshadowing for his demise.
In 2019, on the other hand, Las Vegas Raiders tight end Darren Waller opened up about his sobriety, becoming vulnerable and proving to fans that he's a real person instead of a superhero-like figure. He truly became someone people wanted to root for, and many have continued doing so since.
For Wentz, there will likely be other players who become the character fans outright root for, and he probably won't be in as tumultuous of a situation as the Browns were in 2018. But the fact of the matter is this: Cameras will essentially be on him and the Colts for the rest of the season. Once the show airs, he will also have a large audience watching him. If Wentz is that "selfish" player the Philadelphia, and even Indianapolis, media have painted him to be, we'll see it.
However, the former Pro Bowler also has an opportunity to prove all those reports wrong. Wentz can show the world that he's actually a great leader. And maybe, he can even earn bonus points by potentially leading the Colts to the playoffs.
We are entering uncharted territory with an in-season version of Hard Knocks. But, for Wentz, it could be a perfect opportunity to put any misconceptions to bed.
Like Sportscasting on Facebook. Follow us on Twitter @sportscasting19.
How to get help: In the U.S., contact the Substance Abuse and Mental Health Services Administration helpline at 1-800-662-4357.