The Surprising Reason Jalen Hurts and DeVonta Smith Became Such Close Friends at Alabama Is Fantastic News for Eagles Fans
As things currently stand, Jalen Hurts and DeVonta Smith are the future of the Philadelphia Eagles.
Now, things can change in an instant in the NFL. Considering how often the Eagles have been connected to Houston Texans quarterback Deshaun Watson, there's a half-decent chance Hurts is no longer the Eagles starter by the time 2022 rolls around.
However, Hurts is the current starter, and he has the perfect weapon in Smith to lean on throughout the 2021 season.
Jalen Hurts and DeVonta Smith developed a unique friendship in college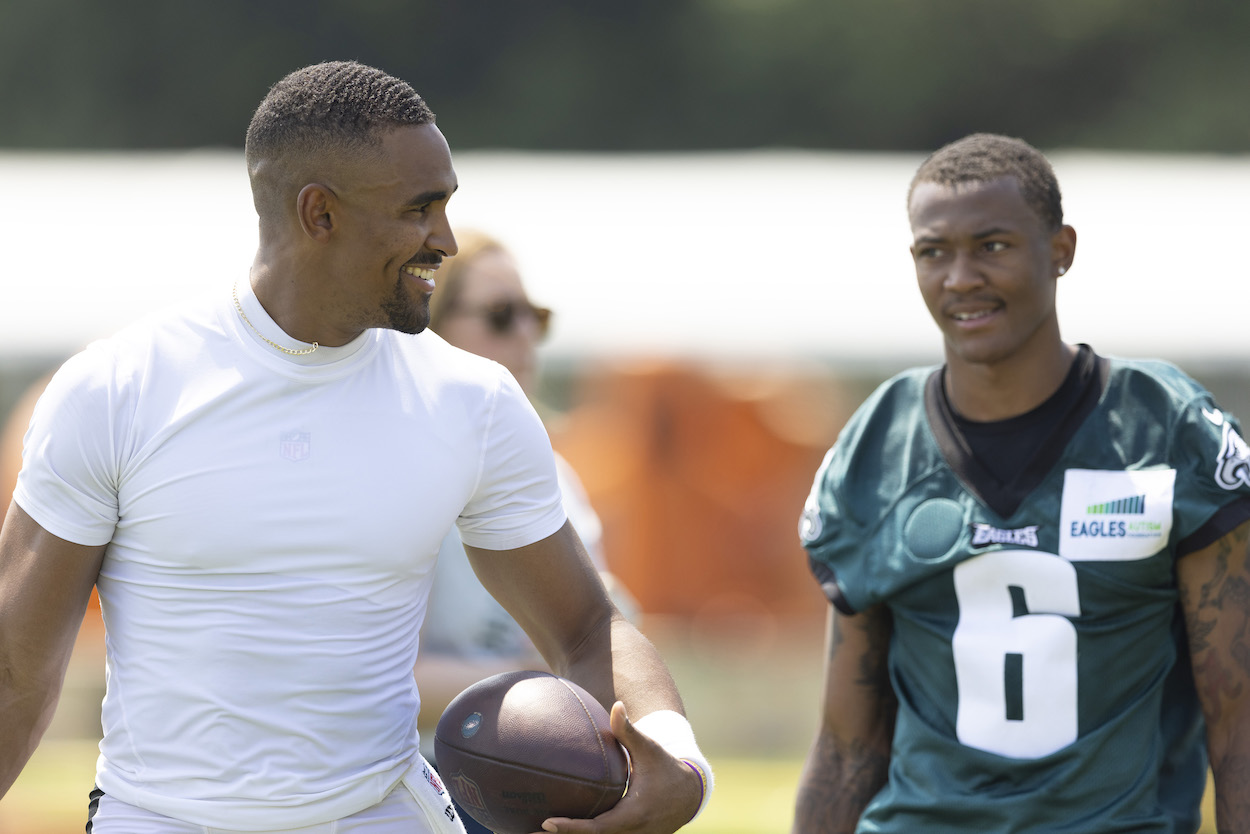 For those unfamiliar with Hurts and Smith, one of the biggest reasons Eagles fans are excited about the duo is due to their past relationship during college. The two played together at Alabama and developed a strong off-the-field relationship.
Hurts ultimately transferred to Oklahoma upon losing the starting QB job to Tua Tagovailoa while Smith remained at Alabama to win a Heisman. Still, it's rare to see college teammates pair back up like this in the NFL. Hurts and Smith have the potential to be a special duo for the Eagles moving forward.
What's really unique about this partnership is how the two developed their friendship in college. According to an interview conducted by Smith back in May, the two would spend their Friday and Saturday nights working out and practicing as opposed to partying:
"Usually you want to go on the strip (in Tuscaloosa) … or find something to get into, a party or something like that," Hurts said. "His (Smith) head wasn't on that. He was trying to work. We were in the indoor (facility) late at night, getting the work in. So I think that shows the mentality he has, and I think he's bringing all of that with him here" (NBC Sports Philadelphia).
Jalen Hurts will have to lean on DeVonta Smith
Smith is coming off a spectacular final season at Alabama, and his elite route-running skills project to be a major piece to the Eagles' offensive puzzle. One of the largest issues that plagued the Philly offense in 2020 was the lack of a true separator on the outside.
Smith should have little issue filling this void.
For Hurts, he simply has to trust his friend to get open and then deliver accurate passes. Hurts experienced a lot of success running the ball during his rookie season. However, he struggled to move the ball through the air consistently. He finished 2020 with a 52.0% completion rate, which is nowhere close to being good enough for a starting QB.
Leaning on his chemistry with Smith is the best way Hurts can work around any potential accuracy issues this season.
The Philadelphia Eagles are still rebuilding
Expectations are always high in the city of brotherly love. However, 2021 is realistically another rebuilding year for the Eagles.
Hurts is still an unproven commodity, and the team has few young pieces worthy of being labeled a building block for the future.
The Eagles feeling out this season to see if this Hurts-and-Smith partnership is worthy of continuing to build around is the best course of action. If the duo fails to impress, those late-night workouts may very well have been for nothing, as the Eagles will presumably go a different direction at the QB position.
Either way, Eagles fans should be feeling good about their new QB-WR duo. They appear to be a hardworking, down-to-earth pair.
All stats courtesy of Pro Football Reference.
RELATED: The Philadelphia Eagles Quietly Considered Trading 1 of Their Top Young Stars to the Vikings Following Zach Ertz' Surprising Announcement