The Sweet Way Mick Schumacher Is Honoring His Father Michael Schumacher During the 2021 Formula 1 Season
Michael Schumacher is remembered mostly for who he was on the racetrack. The Formula 1 hero was aggressive, uncompromising, and had an unquestionable record to back it all up. He may have had a sharp tongue, but none of it was bluster. By the time he retired, he had set the bar so high that only Lewis Hamilton has come close.
Schumacher's son Mick is carrying the family name back to the F1 scene. But, in public, he must do it without his father's involvement. A terrible accident gave the elder Schumacher a brain injury. He has rarely been seen in public since. That's why Mick has found a sweet way to pay tribute to his ailing father on the track.
Michael Schumacher ended his Formula 1 career as one of the best
Michael's career wasn't just great; it defined a generation of competition in motorsport. He was the final gatekeeper between some of the best drivers of all time and a championship win.
From 2000 to 2004, nobody overcame the obstacle he represented, with five consecutive F1 World Championships going his way according to Sportskeeda. Not even Hamilton has matched that particular feat. He won another two championships outside that consecutive run. He finished in the top five at the end of 14 of his 19 seasons as an active driver.
After a short retirement in 2006, he became an irregular presence on the track through 2012 before finally hanging up his helmet for good. He left behind a career that many F1 fans consider to be the apex of their sport to this day.
Michael's greatest challenge came after his retirement
Michael prepared to transition into a true retirement from racing by focusing on his family, and his hobby, skiing. He encouraged Mick's interest in racing, supporting him as only a father with deep ties in F1 could. When time permitted, the pair would hit some of the more demanding skiing locations in the French Alps.
Express reports that the pair experienced a horrible accident in 2013. Michael lost control, falling headfirst into a rock. Despite his helmet saving his life, he suffered a traumatic brain injury in the process. Doctors decided to put him in a medically-induced coma, in which he remained for nearly a year.
Despite his recovery toward consciousness, the former F1 great still does not make public appearances. He has trouble speaking and remains wheelchair-bound for the time being. His recovery is continuous but slow so far. Mick, who has made his F1 debut, is doing it all while his father watches at home rather than at the track.
Mick's racing number has become a meaningful call out to his famous dad. He opened up on the accidental tribute for the Formula 1 YouTube channel. The number 47 was initially a private reference, "all the birthdays added up" of people important to Mick. But fans made a deeper reference out of it, given that Michael's number was 7. Mick, they say, is driving "for seven," represented as his number 47, and he's decided to support that assertion.
Mick Schumacher is becoming a respectable successor to his father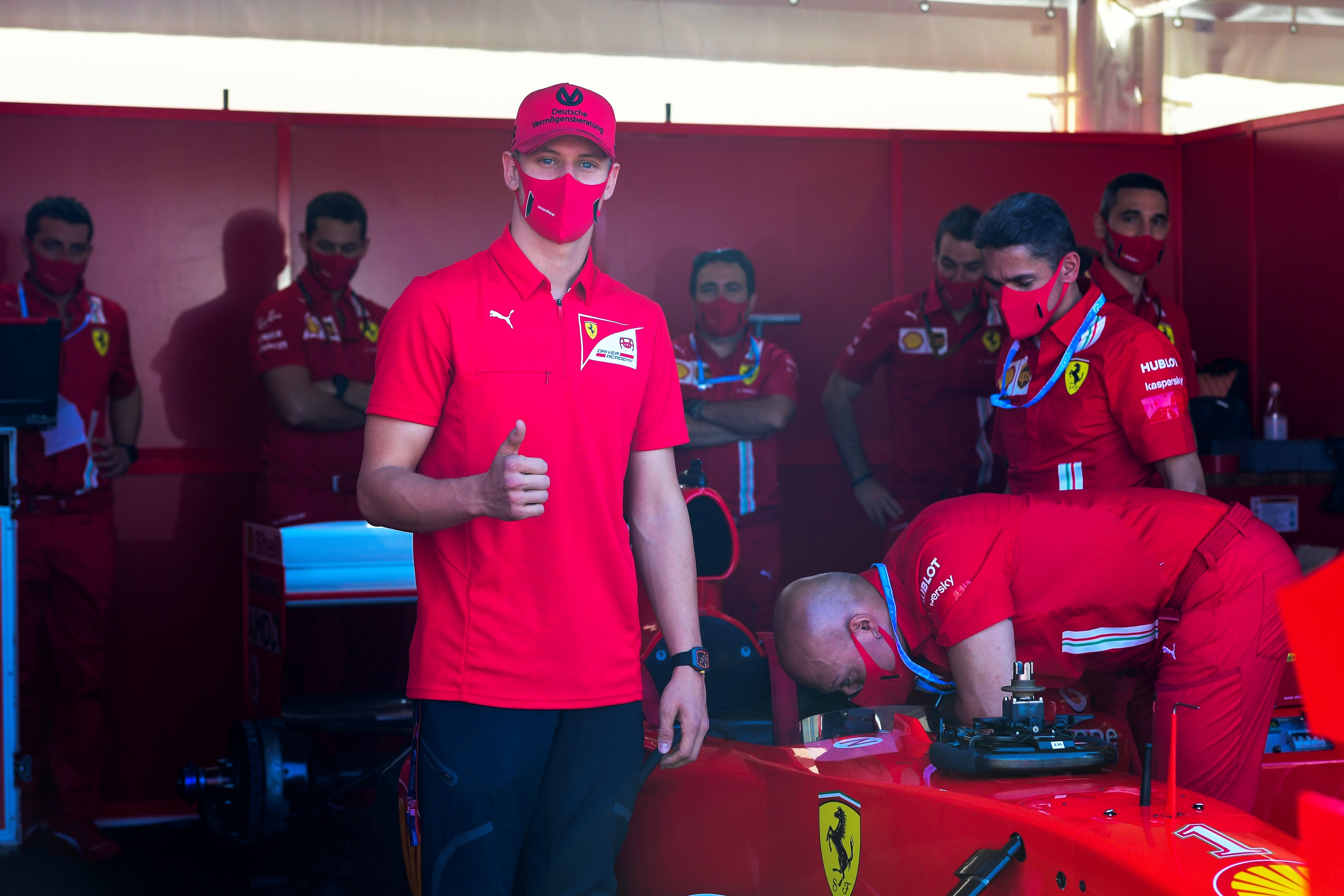 Mick faces an impossible task: living up to his father. It's one that the best drivers, of this generation and those that came before, have failed to achieve for the most part. Only Hamilton comes close, and even he likely won't match that 2000-04 reign over the sport that Michael achieved. So Mick is, instead, focused on being his own kind of driver rather than directly emulating his father.
The 22-year-old drives for Haas and made his official F1 debut in 2021. His famous last name likely helped him gain an advantage in terms of industry connections, but only results over his eight years in professional racing could earn him that spot. After winning the 2020 FIA Formula 2 Championship, he finally got his shot to race on the biggest stage in global motorsport.
Formula1.com reports that Mick's debut was a rocky one, with a bad spinout on Turn 3 of the race. Still, that puts him ahead of where Michael was in his debut 30 years prior. Mick's dad crashed and retired from that race before he finished a single lap. While it's unlikely Mick's career will live up to his father's, he's starting off ahead of the curve.