Swimmer Katie Ledecky Bides Her Time With Chocolate Milk as She Waits Out the Olympics
Athletes have been stuck at home due to COVID-19, trying to find creative ways to stay busy and in shape. Tennis star Serena Williams has been playing dress-up with her daughter. NFL quarterback Drew Brees has been practicing dunking on his home trampoline.
Yet perhaps the most inventive stunt born of coronavirus boredom belongs to Olympic swimmer Katie Ledecky. The 23-year-old recently impressed the world with an Instagram video of her swimming the length of a pool with a glass of milk balanced on her head. Let's look at Ledecky's swimming career, viral milk video, and some notable reactions to it.
Katie Ledecky's swimming career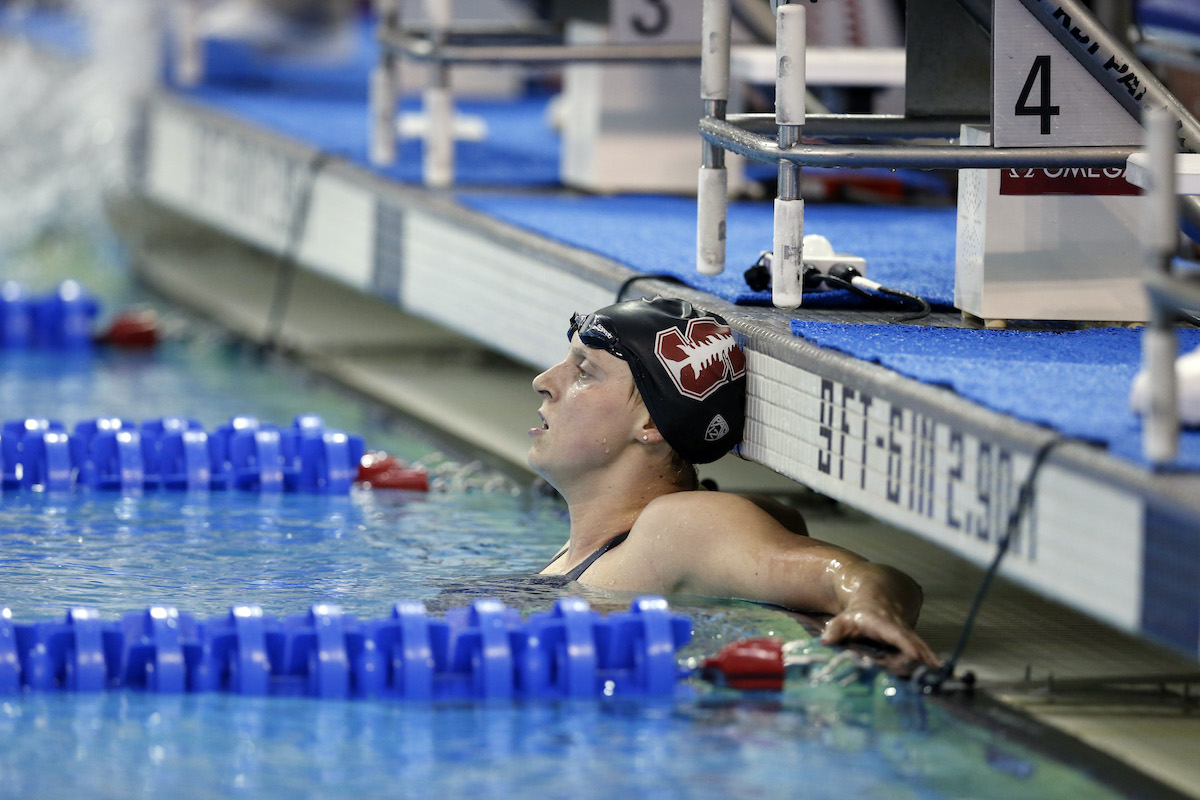 Ledecky burst onto the scene in 2012, when the then-15-year-old swimmer qualified for the U.S. Olympic team. A few months later, Ledecky stunned the world by winning a gold medal in the 800-meter freestyle at the 2012 Summer Olympics in London. Even more impressively, she beat the second-place finisher by more than four seconds.
More high-profile wins followed in subsequent years. Ledecky racking up four gold medals at the 2013 World Championships, five gold medals at the 2014 Pan Pacific Swimming Championships, and six gold medals at the 2015 World Championships. At the 2016 Summer Olympics, Ledecky won gold medals in the 200-, 400-, 800-, and 4×200-meter events.
The amazing thing was that Ledecky wasn't even considered a professional swimmer at that point. This finally changed in 2018. She opted out of her final two seasons of NCAA eligibility so that she could instead accept pro sponsorships. Illness hampered Ledecky at the 2019 World Aquatics Championships, although she still received a gold in the 800-meter freestyle.
Ledecky bides her time with chocolate milk
The swimming world was eager to see how Ledecky performed at the 2020 Summer Olympics. Most analysts expected her to defend her titles with a vengeance. The coronavirus pandemic changed all that, however, when the Tokyo Olympics were postponed in late March. As a result, Ledecky found herself with extra time on her hands.
Earlier this month, she revealed one way she's keeping busy, with a video posted to her Instagram account. In it, Ledecky swims the entire pool length with a glass of chocolate milk balanced on her head. The stunt was Ledecky's response to the Got Milk? Challenge, a promotional campaign designed by the Milk Processor Education Program.
The funniest reaction to Ledecky's video
The fact that Ledecky's performance is essentially an ad doesn't take away from its humor. She makes it all the way across the pool without spilling a single drop. The video was impressive enough to garner praise and laughter from both fans and fellow swimmers. It even prompted a funny recreation by former Olympics swimming great Susie O'Neill.
Instead of balancing a glass of milk on her head, O'Neill added a humorous twist by balancing a glass of beer. Unlike Ledecky, however, O'Neill wasn't able to make it the entire length of the pool. Just as she was about to reach the far wall, the glass wobbled and fell. "It's actually not as hard as I expected," O'Neill said per NBC Sports, before quickly admitting: "Well, it was pretty hard."
The real challenge for Ledecky will be keeping herself ready for the Summer Olympics. Now, they'll take place in the summer of 2021. In the meantime, it'll be fun to see what other stunts she comes up with to stay occupied.