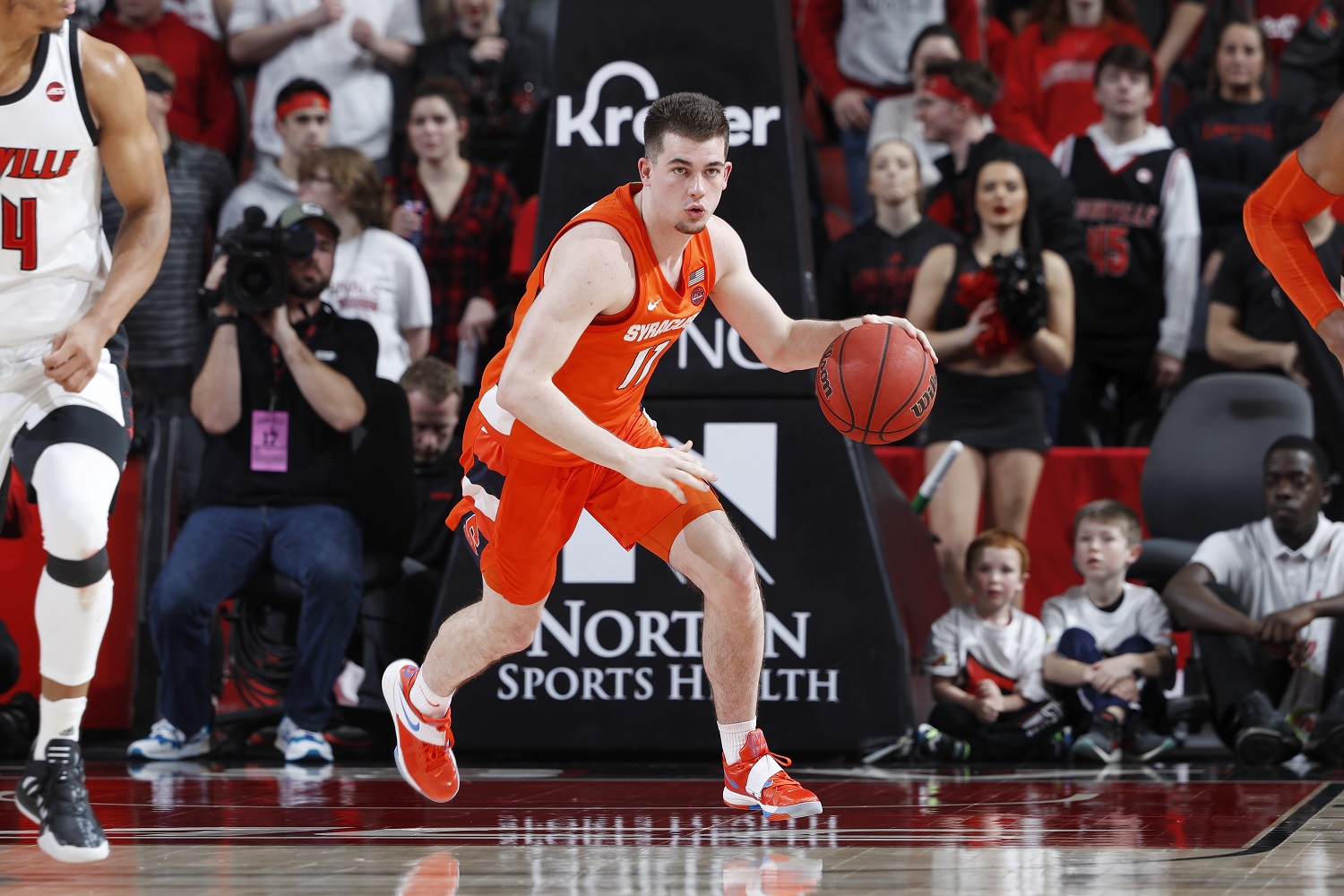 Syracuse Guard Joe Girard III Averaged 50 Points a Game Over a High School Season and Was Known Across New York by 2 Letters and a Number
Syracuse guard Joe Girard III broke the state career record for basketball scoring midway through his high school junior season.
Buddy Boeheim, who has a famous father, is attracting the love in Syracuse's run to the Sweet 16 of the NCAA Tournament, but fellow guard Joe Girard III comes from basketball royalty himself. The sophomore sharpshooter was a schoolboy legend across New York before joining the Orange.
Joe Girard III is universally known as 'JG3' in New York
Men's basketball coach Jim Boeheim, the father of star guard Buddy Boeheim, is synonymous with the city of Syracuse. But he's not a native — he grew up in tiny Lyons, an hour to the west of the college campus.
Second-year Orange guard Joe Girard III also hails from a small town, Gens Falls, about 2 ½ hours to the east. And if the Boeheims are closely associated with Syracuse, then the Girards are Glens Falls. The family is deeply rooted in the town of 14,000 residents north of the state capital.
Joe Girard Sr. was recruited to Dayton University to play football. He returned home as a freshman following his father's death, according to The Daily Orange. He earned his degree at a nearby college and coached basketball at the town's Catholic high school, teaching the game to his sons and even several grandsons before dying in 2016. Joe Girard Jr. went on to play at LeMoyne College in Syracuse under John Beilein.
And then Joe Girard III came along as the basketball crown jewel of the dynastic family. In a town with literally dozens if not hundreds of Girards, he came to be known simply as "JG3." As his legend grew on the football field and basketball court with deep runs into the state playoffs, increasing numbers of fans and foes came to know him simply by the JG3 tag.
Syracuse guard Joe Girard III averaged 50 points in a high school season
Joe Girard III averaged 12.4 points a game at Syracuse in his freshman season, which ended during the ACC tournament when the COVID-19 pandemic shut down sports. He's followed up by averaging 9.7 points as the Orange have reached the third round of the NCAA Tournament. Those numbers in the role of a perimeter shooter are solid but don't approach his high school production.
Girard broke the state's career scoring mark, held by future NBA player Lance Stephenson, by midway through his junior season. He averaged an astonishing 50.0 points during a 20-3 season in which he also averaged seven rebounds and six assists. He earned the first of his two Gatorade state Player of the Year awards.
As a 6-foot-2 senior, Girard averaged "only" 48.7 points a game as his Glens Falls team attracted sellout crowds nearly everywhere it played. The team went 29-1, earning its state association championship and then winning the Federation tournament incorporating champions from New York City and the state's private schools.
Girard, playing in his first NCAA Tournament this month, finished his career with 4,763 points.
He was a two-sport standout in Glens Falls
Besides being a basketball star coveted by multiple ACC and Big Ten schools, Joe Girard III was the quarterback of two Glens Falls High School football teams that won state championships. The finals were at the Carrier Dome, home of the Syracuse University basketball team. He received a football scholarship from Tulane.
Girard was selected first-team all-state in basketball four times by the New York State Sportswriters Association, twice landing Player of the Year recognition. In football, Girard was first-team all-state three times, twice earning Co-Player of the Year accolades.  
Like Sportscasting on Facebook. Follow us on Twitter @sportscasting19.