Syracuse's Self-Imposed Postseason Ban Is Pathetic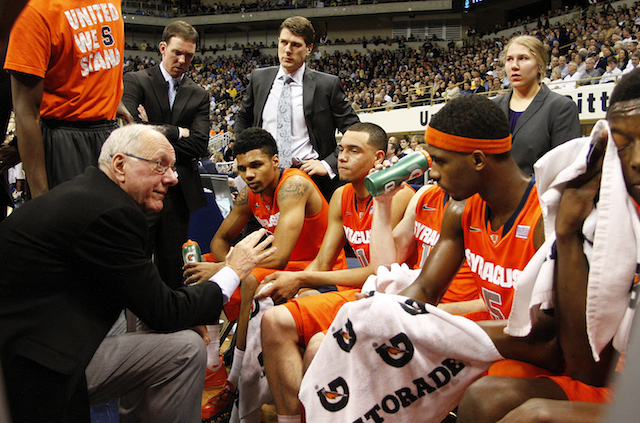 Syracuse University announced on Wednesday that it had self-imposed a ban that would withhold its men's basketball team from any and all postseason competition this season. The announcement stems from an ongoing investigation that began when Syracuse self-reported potential violations to the NCAA in 2007. The self-reported infractions include an alleged 2007 sexual assault case involving three players, multiple mishaps in the school's drug policy, and most recently, academic issues.
While the infractions, and subsequent investigation, have spanned a period of eight years, university officials confirmed in a press release detailing the postseason ban that "Much of the conduct involved in the case occurred long ago and none occurred after 2012. No current student-athlete is involved." With no current Syracuse student-athlete having any involvement in the transgressions that inspired this oddly-timed postseason ban, it only seems right to question the motives behind the decision-making to punish a different group of student-athletes.
The Syracuse men's basketball team is in the midst of what many people view to be a rebuilding season. The Orange currently have an overall record of 15-7, a conference record of 6-3, and would be considered, at best, a "bubble" team for the upcoming NCAA tournament. Knowing this, could there be a more convenient time for Syracuse to self-impose a postseason ban then during a season when it may not even make the Big Dance? Probably not.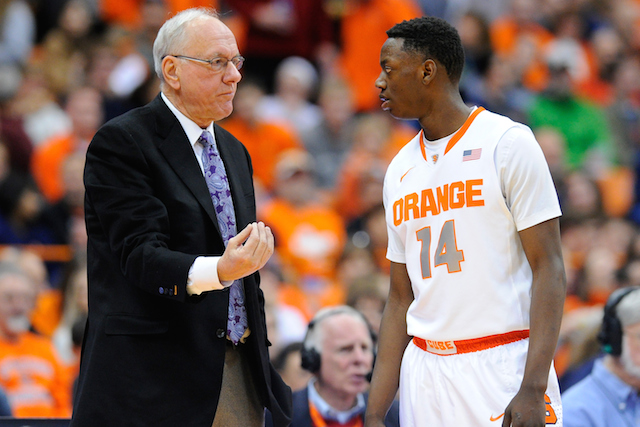 On a related note, this past recruiting cycle, Syracuse signed what is arguably the deepest and most talented recruiting class in program history. The Orange finished as the fourth-best recruiting class in ESPN's rankings, with all four signees being ESPN Top 100 players.
It'd be hard to believe that the thought never crossed the minds of head coach Jim Boeheim and university officials that their star-studded recruiting class could be banned from postseason action if they sat back and let the NCAA investigation run its course. In essence, Boeheim agreed to sacrifice any chance at postseason success for this year's team to ensure that his future, more talented Syracuse teams would have a chance at cutting down the nets in the ACC and NCAA tournaments.
While this move may do little to tarnish Boeheim's legacy, it is a steadfast reminder that big-time college athletics are a billion-dollar business. Boeheim chose to preserve his chance at future success at the expense of his current players. Here's hoping that the NCAA sees through Boeheim and Syracuse University's pathetic attempt at side-stepping any real discipline for their past wrongdoings and hands them a penalty that hits them where it counts.