T.J. Houshmandzadeh Went From $40 Million Receiver to High School Football Coach
T.J. Houshmandzadeh sealed his place in the hearts of NFL fans not for his catches or nose for the end zone. It was impossible for football fans, especially those who rooted for Houshmandzadeh's Bengals, to not fall in love with his name.
The official pronunciation — Huush-man-zah-da — became the ultimate tongue twister on Sundays.
Just how good was T.J. Houshmandzadeh in his prime, and what is he doing nearly a decade after retiring? Let's take a look.
T.J. Houshmandzadeh was quietly a solid NFL receiver
It may have come from playing on the same team and lining up opposite the eccentric Chad Johnson — or on certain days, Chad Ochocinco — but T.J. Houshmandzadeh had a very productive NFL career. A seventh-round pick in 2001 from Oregon State, Houshmandzadeh contributed 21 catches for 228 yards as a rookie and was a full-time starter by 2004.
T.J. Houshmandzadeh averaged 89 receptions, 1,012 receiving yards, and eight touchdowns every year from 2004-08. He earned Pro Bowl honors in 2007 when his 112 receptions led the NFL.
Patriots receiver Wes Welker, who surprisingly missed out on the Pro Bowl that year, also finished with 112 catches.
Houshmandzadeh went from nearly going undrafted to a major piece of the Bengals offense. Cincinnati only played one playoff game when Houshmandzadeh was a Bengal, though he caught four passes and a touchdown that day.
Houshmandzadeh was never the same after he signed a big contract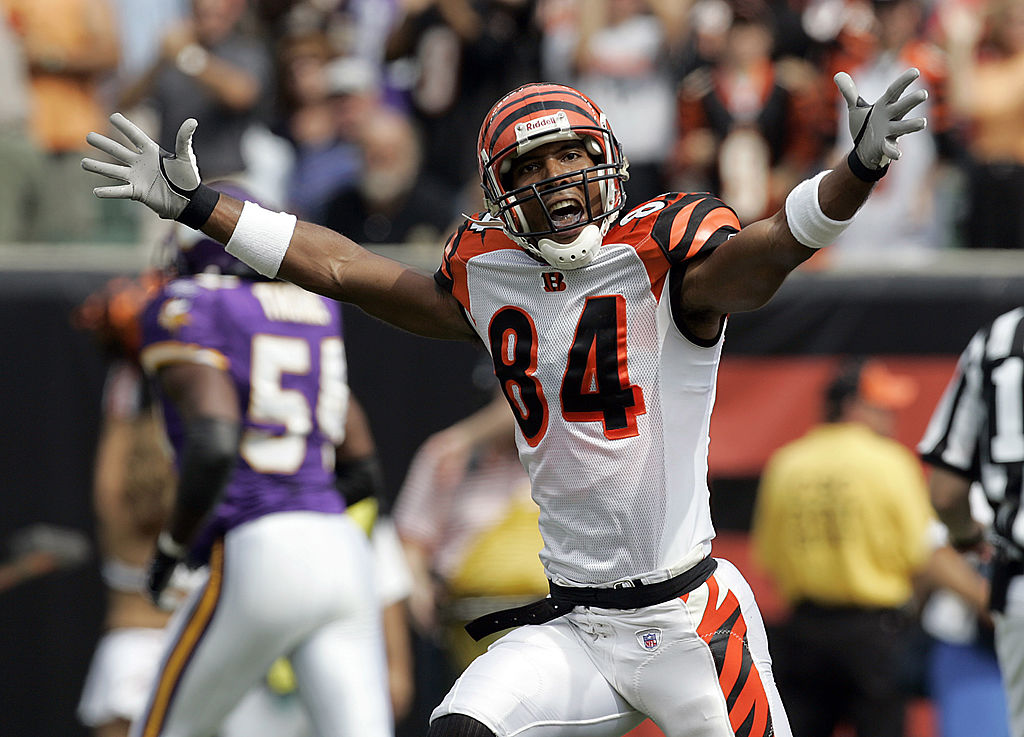 T.J. Houshmandzadeh hit the free agent market in 2009 with high expectations. Maybe that shouldn't have been the case.
Although he'd posted at least 90 catches in each of the last three seasons, Houshmandzadeh's yards per catch dropped to 9.8 in 2008, and he was going to play most of the 2009 season at 32 years old.
It is worth noting Pro Bowl quarterback Carson Palmer missed most of the 2008 season with an injury, yet Houshmandzadeh still enjoyed a 92-catch, 904-yard season.
But Houshmandzadeh was getting older, and the Seattle Seahawks, fresh off a disappointing season of their own, still signed him to a five-year, $40 million contract with $15 million guaranteed.
In hindsight, that contract doesn't make sense. It was clear T.J. Houshmandzadeh wanted to cash in, and he deserved that opportunity, but teams didn't gain much from giving an aging receiver that long a contract. A three-year contract that still guaranteed him somewhere in the range of $12 to $15 million would have been smarter.
T.J. Houshmandzadeh didn't have a bad first season with the Seahawks. He caught 79 passes for 911 yards and three touchdowns, which weren't the most impressive numbers given his contract.
A new regime led by new head coach Pete Carroll parted ways with Houshmandzadeh on the eve of the 2010 season.
Luckily for T.J. Houshmandzadeh, who signed with the Baltimore Ravens days later, he still made $7 million in 2010. Seattle covered $6.5 million and Baltimore paid the former Pro Bowler the veteran league minimum.
Where is T.J. Houshmandzadeh now?
T.J. Houshmandzadeh spent a year each with the Ravens and Oakland Raiders. It was clear his best days were behind him and Houshmandzadeh called it quits after the 2011 season.
Despite only being a seventh-round pick, T.J. Houshmandzadeh retired with 627 catches, 7,237 yards, and 44 touchdowns to his name, plus a $40 million contract. Those are extremely strong numbers for someone who nearly went undrafted.
Like plenty of receivers before and after him, T.J. Houshmandzadeh pursued a T.V. and coaching career in retirement. Houshmandzadeh coached at Long Beach Poly High (Calif.) the last few years.
T.J. Houshmandzadeh recently took a job at McArthur High School in Hollywood, Fla., as a support staffer. McArthur said Houshmandzadeh will continue his analyst role with Fox Sports 1.