T.J. Warren's Rookie Card Price Is Skyrocketing With Impressive Bubble Performances
All T.J. Warren needed to revive his career, evidently, was a bubble.
Warren, a veteran forward the Phoenix Suns once traded for practically nothing, is playing like a man possessed during the NBA's restart. A red-hot Warren has the Indiana Pacers suddenly looking like possible NBA Finals contenders.
Warren's hot play isn't only possibly setting him up for a big contract down the line. It's increasing the prices of his rookie cards.
T.J. Warren is red hot right now
RELATED: T.J. Warren Just Joined Steph Curry and Klay Thompson in the NBA Record Books
Put simply, T.J. Warren has looked incredible since the Indiana Pacers restarted their season.
Through five games in the NBA bubble, Warren averaged 34.8 points, 6.6 rebounds, 2.4 assists, and 1.6 steals per outing. He's made 60.5% of his field goals and 55.6% of his shots from behind the arc.
For a look at just how impressive Warren has looked in the bubble, compare his stats before the shutdown to his stats with those five games factored in.
Pre-bubble (61 games): 18.7 points per game on 52.9% shooting with four rebounds, 1.4 assists, and 1.1 steals per night.
Post bubble (66 games): 19.9 points per game on 53.8% shooting with 4.2 rebounds, 1.5 assists, and 1.2 steals per night.
Those are significant boosts from a five-game stretch and it's helped both Warren and the Pacers, who are 4-1 in the bubble.
Warren's rookie card prices are skyrocketing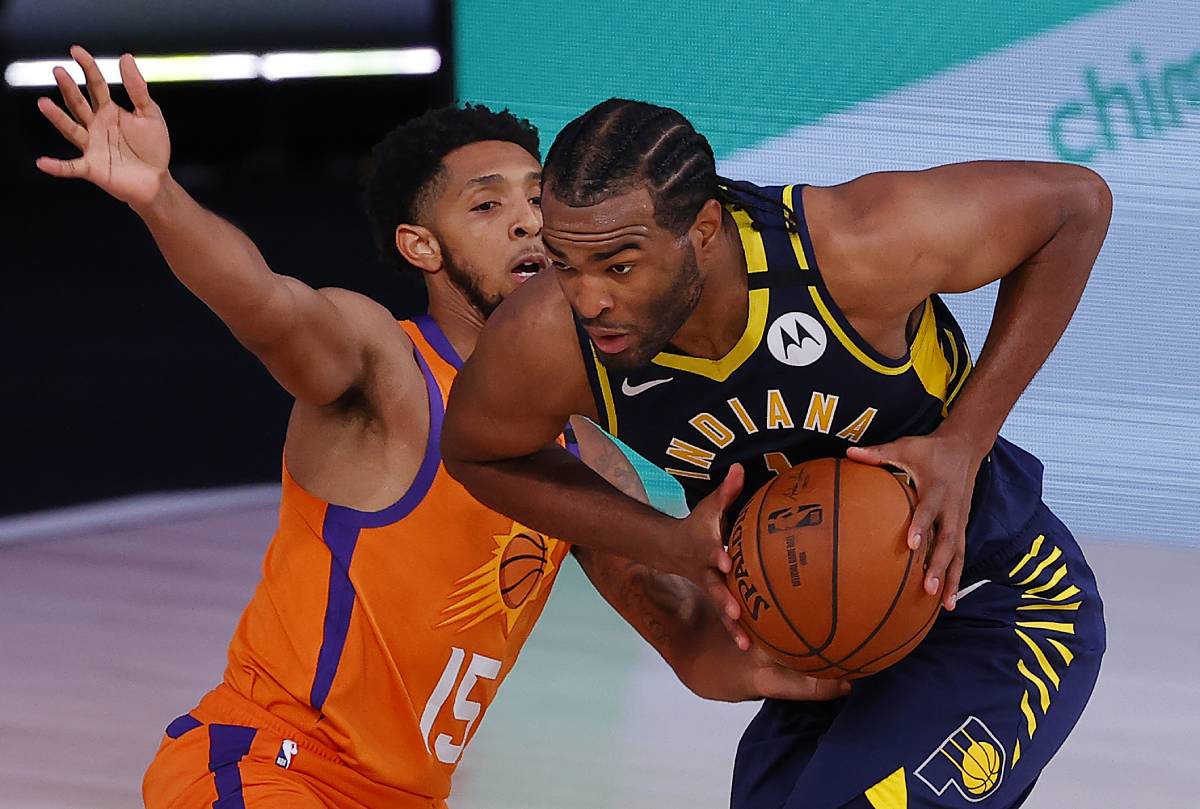 RELATED: LeBron James Rookie Card Sets a Record With Massive $960,000 Bid
T.J, Warren's bubble success, from scoring 53 points against Joel Embiid and the Philadelphia 76ers to holding off LeBron James' Lakers, have made him a viral sensation.
That doesn't just apply to social media. The prices of Warren's rookie trading cards have skyrocketed in August.
An eBay search on August 9 showed 148 cards under $4, but 116 cards cost at least $89 — and that doesn't include shipping. The hot card is from the 2014-15 Panini Prizm collection.
One card, the Panini Luxe Prime featuring Warren's autograph, was going for over $127 at publication. Another, the Panini Prizm #263, went for $99.99 with $3.99 shipping.
None of those are even close to the Panini National Treasures card, which features Warren's autograph and is currently going for $899. T.J. Warren, of all active players, has a rookie card going for nearly $1,000.
What's next for T.J. Warren?
RELATED: Paul George and Dame Lillard Go at It on Social Media
As the prices of his rookie cards increase, T.J. Warren has bigger priorities, namely winning an NBA title.
Indiana moved to 43-27 after beating the Lakers on August 8. Indiana has three more bubble games, two against Jimmy Butler and the Miami Heat, before the playoffs begin August 17.
The Pacers have a tough road ahead of them. Giannis Antetokounmpo and the Milwaukee Bucks should be considered favorites to win the Eastern Conference, with Kyle Lowry's Toronto Raptors right behind them.
But if Warren keeps playing the way he has, it will be harder than expected to stop the Pacers. And in the strangest NBA season so far, would it truly be surprising if Warren's hot hand somehow led the Pacers to an NBA title?
All stats courtesy of Basketball-Reference