T.J. Watt or Robert Quinn Breaking Michael Strahan's Sack Record Not Legit? Get That Week Stuff Out of Here
It remains to be seen, with three games left to go in this inaugural 18-week, 17-game NFL season, if the sports world will be enticed into taking sides in one of its favorite pastimes: the "asterisk" debate.
We thought, after Week 8, that we were destined for this conversation in relation to Derrick Henry and the possible breaking of Eric Dickerson's 38-year single-season rushing record of 2,015 yards, set back in those ancient times of a 16-game season in 1984.
But then Henry sustained a season-ending foot injury, and the most alluring of all NFL single-season records being under siege left the queue.
But now there is an individual defensive record that could be in line to fall over these final three weeks. In 2001, the New York Giants defensive end set the NFL's single-season sack record with 22½. It is a 20-year mark that has its own complications, on multiple fronts, that question its legitimacy in the first place.
Now there are two players who have maneuvered close enough to make it interesting. But despite all the bluster that may fill talk radio, hot-take TV, or your local favorite gathering place, the one thing that will not accompany either Pittsburgh Steelers defensive end T.J. Watt or Chicago Bears lineman Robert Quinn into the record books is an asterisk.
Seriously. Don't even go there.
The asterisk has been with us for 60 years, and never has it done anyone any good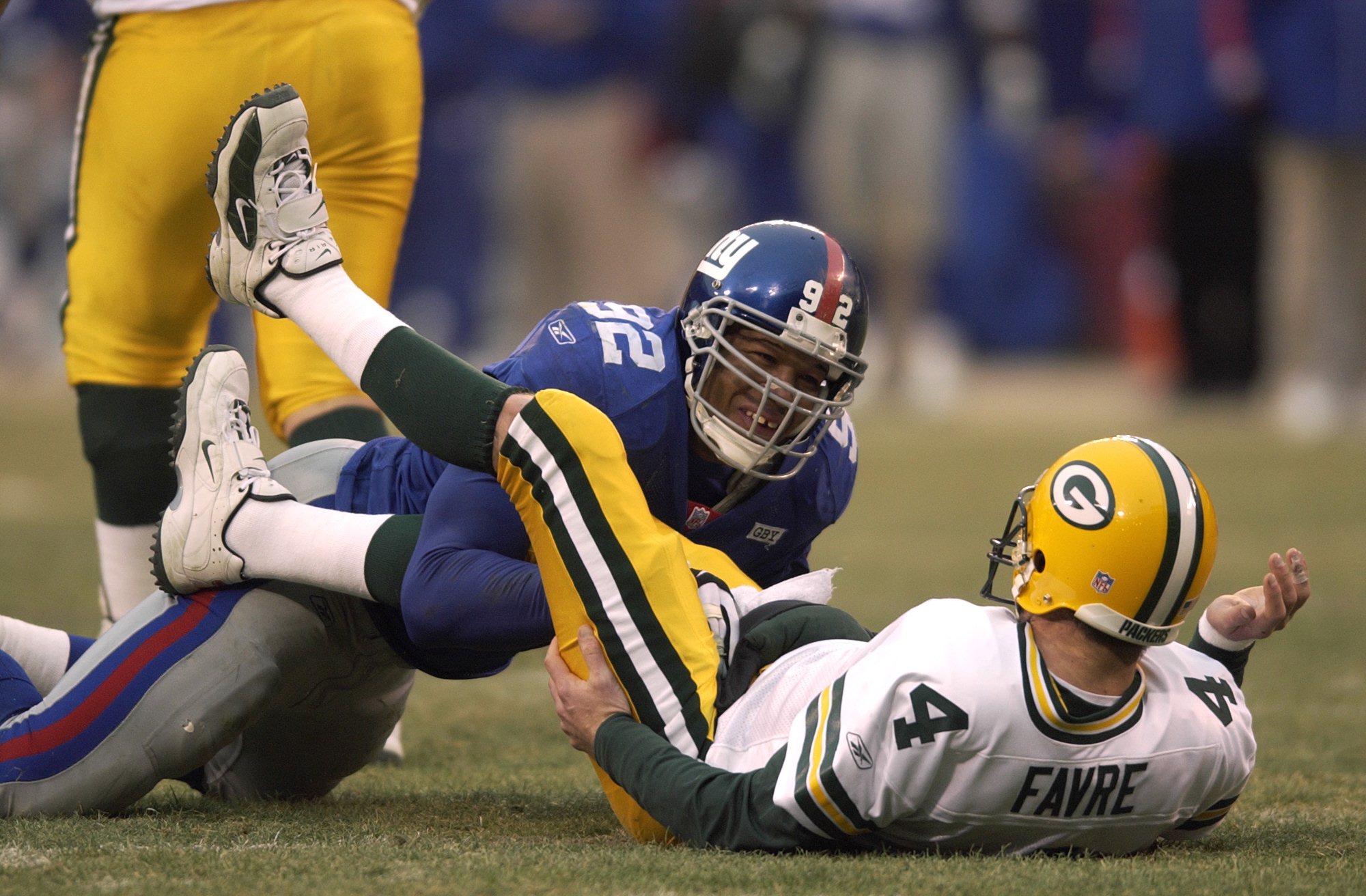 We know all about asterisks in sports. Of course, there was poor Roger Maris in 1961, hitting 61 home runs in the first Major League Baseball season expanded to 162 games after decades of a 154-game season. Babe Ruth had held the home run record at 60, which he hit in 1927, and was still a mythical figure in the game, even a decade after his death in 1948, that the idea of breaking his iconic record seemed heretical to baseball's establishment. Never mind the record would stay with the Maris' New York Yankees: The game's commissioner, and Babe Ruth biographer, Ford Frick, declared that should Maris pass the Babe after Game 154, the discrepancy in games played should be noted in the record book. And with that, the asterisk became part of sports' lexicon.
There was never an actual, literal asterisk in the record book, but the point was made. It wasn't until 1991 that commissioner Fay Vincent removed the distinction and posthumously gave Maris his due.
Football has never had such a notation, except in one case befitting the bitterness of the Chicago Bears-Green Bay Packers rivalry.
In 1989, under replay rules very different than the ones employed today, the Packers were awarded a game-winning touchdown over the Bears that was originally called an illegal forward pass. Packers quarterback was initially ruled to have crossed the scrimmage line before throwing the last-minute, game-winning touchdown. But the replay official watching upstairs called down to the field, the ref went under the hood, and to the Bears everlasting dismay, the call was reversed and the touchdown stood.
So infuriated by the turn of events, the Bears put an asterisk in their record book next to this game in the 1989 season results listing, with the notation, "Instant Replay Game."
The season might be 18 games in 2021, but the numbers to consider are 16 and 15
T.J. Watt enters Week 16 with 17½ sacks, just five behind Strahan. Quinn has 16 sacks going into this weekend. If either is able to average two sacks per game the rest of the way, they will be the new single-season sack champion.
And that might be enough to get the debate going about the legitimacy of records in this new reality of a 17th game. This is the first time the league has expanded the number of games played in a season since 1977, when the league added two new expansion teams, the Seattle Seahawks and Tampa Bay Buccaneers, to get to a total of 28. In doing so, the league also extended the regular season from 14 to 16 games.
And that was poised to become an issue in 1984 when Los Angeles Rams running back Eric Dickerson surpassed O.J. Simpson's single-season mark of 2,003 yards in 1973 by four yards in his 15th game of the season. Dickerson would finish Game 16 with the mark of 2,105 yards, a record that still stands today.
But Simpson, still considered a sports legend and hero in 1984, doused any possibility of Dickerson getting Fricked.
"They shouldn't put an asterisk by it," Simpson told the New York Times when his record fell. "Football people know, and that's all that matters. I won't have lost anything. I still have my own legacy that I was the first over 2,000 yards." In fact, the N.F.L. has decided not to put an asterisk next to a Dickerson record, just as it did not put one after Simpson's name when he broke the mark Jim Brown had set in 12 games.
"Maybe sometime I'll do it in 14 games, too," Dickerson said after surpassing O.J. "I wonder what happens when someone goes for 3,000 yards."
There is even less cause for having an issue with either Watt or Quinn if they get the 23rd sack in Week 18. Watt has already missed two games this season because of injury, so even if he plays out the final three games, he will have only played in 15 total – and that's not counting two other games he left early with injuries and didn't return.
Quinn has only missed one game, so he can only max out at 16 games, the same number of games that Strahan played in 2001. No advantage. No asterisk.
And besides, is Strahan's record worth preserving, anyway?
Officially, it's Strahan's record, but in reality, he's still in second place (and the whole Favre thing)
Entering his 16th and final game of the 2001 season, Strahan was still a half-sack behind the record-holder at the time, Mark Gastineau, and his 22 in Eric Dickerson's record-setting season of 1984 (sacks only became a stat in 1982, more than that later).
With just under three minutes to go against the Packers in that final game, Strahan was still without a sack, and the Packers, up nine and with the ball, did not need to run any more pass plays. But Brett Favre dropped back anyway, then curiously turned into Strahan's equally-curious unblocked path, and there it was, the sack record.
It was bogus, everyone knew it was bogus, but it still counted and Strahan has always been a likable guy, so it was paid a wink and a nod and life moved on.
But earlier this year, thanks to painstaking research done by Pro-Football-Reference, it was determined, unofficially, that Strahan was actually still in second place. Since sacks were not officially recorded until 1982, PFR did extensive digging and concluded that Detroit Lions rookie Al Baker in 1978 accumulated 23 sacks (in 16 games) and is the rightful record-holder.
So, here's to Watt getting six more sacks or Quinn getting eight. Then there will be no more issues about this odd record, even in an odd-numbered schedule of games.