T.J. Watt and Robert Quinn Have Entered Michael Strahan's Orbit For the NFL Sack Record
Michael Strahan is certainly no stranger to the record books. On Dec. 11, the former New York Giants defensive lineman etched his name is a lot more than just football history by becoming the first former NFL player to venture into space.
But while Strahan soared 66 miles into history, back here on Big Blue, he increasingly has a problem. Strahan had once had gone where no defensive player had gone before — registering 22.5 sacks in a single season to set the NFL record in 2001 — but he now finds the mark under siege from a pair of players.
With two sacks on Monday night, Chicago Bears defensive lineman Robert Quinn moved into second place alone this season with 16 total sacks. But it's the leader, Pittsburgh Steelers defensive end T.J. Watt, who is closest to winning this race, registering 17.5 sacks with three games to play.
Watt already wrote his name into the Steelers' record book with his 1½ sacks on Sunday. Now, he and Quinn set their sights on the steely-eyed missile man.
After 20 years, two players are within striking distance of Strahan's record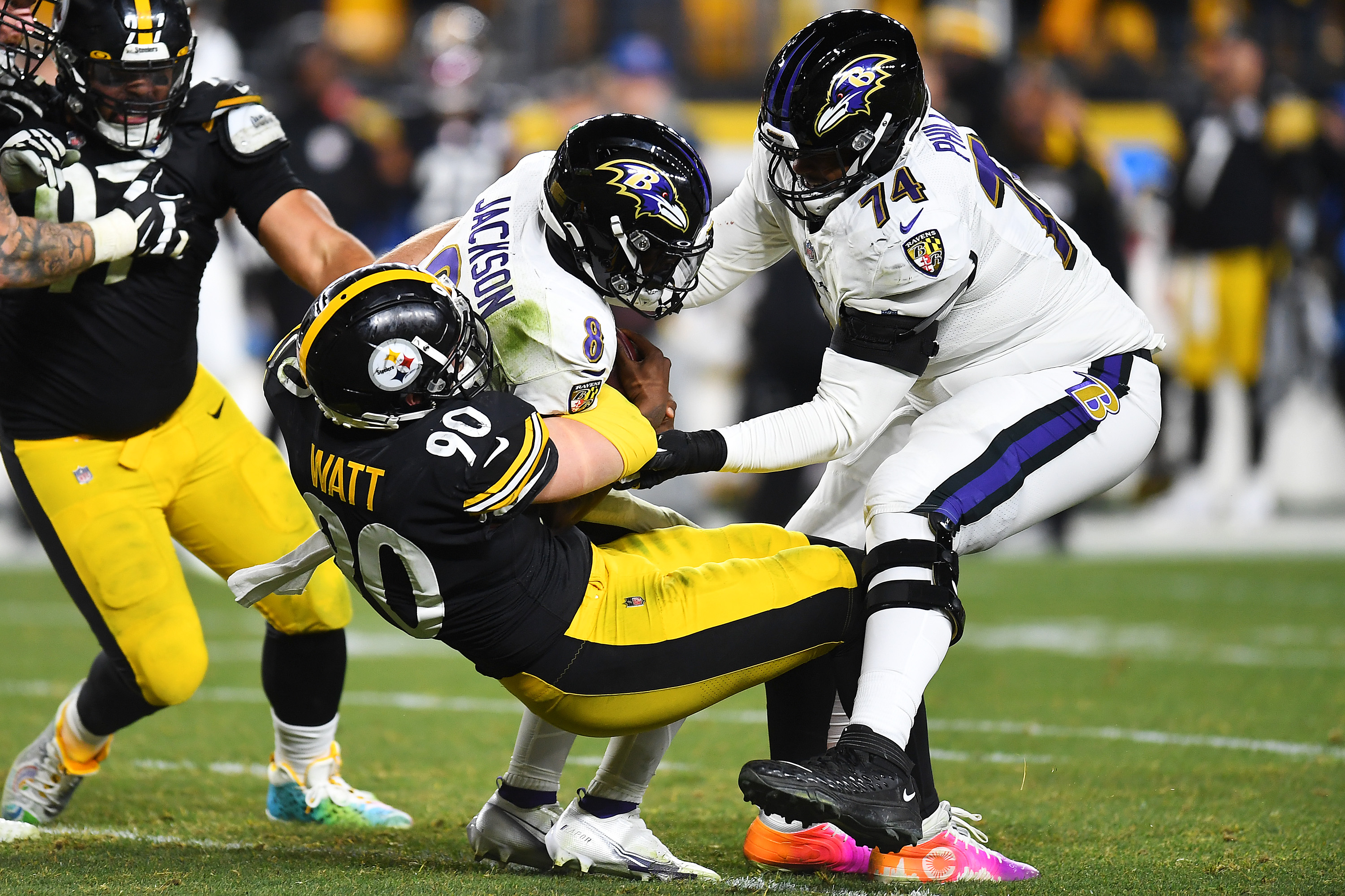 Watt's half-sack in the second quarter against the Tennessee Titans on Sunday was one giant leap atop the Steelers' all-time single-season sack record, breaking a tie with James Harrison in 2008 to become the franchise's new leader with 16½ sacks.
Watt then tacked on a full sack later in the game to pull within five of Strahan's record with three games to go.
"It's a great accomplishment with the historic franchise we have here," Watt said after the Steelers' victory. "There is so much work to do I really can't stop and think about stuff like that. It's all about tradition here and to be able to put your footprint in as part of the tradition here is special.
"I know it's an individual goal. I'm not big on individual achievements. But doing this with such a wonderful group of guys is what it's all about. To be able to be a part of this franchise hopefully for a long time, this is very special. But I really do have more work to do."
Quinn, meanwhile, took a giant leap toward the Bears' single-season sack record, held by Richard Dent, who had 17½ sacks in 1984. His quest for the team record, and possibly Strahan's mark, is among the only reasons for Bears fans to be interested in the final three games of the season.
"It's good company to be in, I'll put it like that," Quinn said after Monday's loss dropped the Bears to 4-10. "It's just tough to celebrate when you're not really doing well [as a team]."
Bears fans might not be the only ones rooting for Strahan's record to fall, considering the way he actually got it back in 2001.
Strahan's record has always been sketchy, after the way Brett Favre helped him set it
Strahan's journey into space was an accomplishment all of mankind could get behind. Setting the single-season sack record in 2001? That was a moment that has left sports fans divided from the moment Strahan put his hands on Green Bay Packers quarterback Brett Favre to set the mark.
It was the 16th and final game of the 2001 season and Strahan was just a half-sack behind the record of the New York Jets defensive end Mark Gastineau, he of the relived sack-dance, who recorded 22 sacks in 1984.
Strahan had gotten within a sack of the record in the season's penultimate game, recording 3½ sacks against the Philadelphia Eagles to reach 21½ for the season. Facing Favre's Packers, Strahan failed to record any sacks over the first 57 minutes. And with the Packers having a 1st-and-10 with 2:46 remaining and a 34-25 lead, it appeared unlikely Strahan would get any more chances, as the Packers could simply run out the clock on the ground.
But on that first down, not only did Favre drop back to pass, but he also curiously turned toward Strahan's side of the field. And after tight end Bubba Franks allowed Strahan to go past him unblocked, Favre turtled to the ground and allowed Strahan to tag him down for the record-setting sack.
And there it was: the single-season sack record.
But the mark was forever tainted by what sure looked like a set-up by Favre (and Franks) to guarantee Strahan got the final sack. A nice gesture, sure. But that's not how records are supposed to work. Al Downing didn't throw the pitch to Hank Aaron underhanded. No goalie abdicated the net for any of Wayne Gretzky's records. It felt cheap and undeserved.
What Watt and Quinn have left on their schedules in order to break the record
Both Watt and Quinn have personal milestones standing between them and Strahan's record. Watt is probably more focused on getting more than 20½ sacks, the mark achieved by his brother J.J. twice with the Houston Texans, in 2012 and '14.
Quinn's quest hits even closer to home. He's chasing his own personal best of 19 sacks, set in 2013 with the then-St. Louis Rams.
Quinn has the hardest path of the two going forward. While the Bears draw the Seattle Seahawks, allowing the sixth-most sacks in the league, in Week 16, the final two games are against the Giants, ironically, and the Minnesota Vikings. Both are in the bottom third in allowing sacks, although the 30th-ranked Vikings allowed Quinn to get Kirk Cousins twice Monday night, extending his other streak of six straight games with at least one sack.
Watt has an excellent chance, based on the Steelers' final two opponents. After facing the 26th-ranked Kansas City Chiefs in Week 16, Watt gets the 11th-ranked Cleveland Browns in Week 17, then the Baltimore Ravens, who have allowed the most sacks in the NFL this season, with just under four per game.
Stats courtesy of Pro Football Reference