T.Y. Hilton Uses 3 Words and a GIF to Give Colts Fans Hope and Send a Warning to the Rest of the NFL
The Indianapolis Colts have had quite the training camp/preseason so far, as various star players have suffered somewhat serious injuries. Luckily, Carson Wentz and Quenton Nelson, who had similar foot injuries earlier in August, have made it back to the practice field, although Wentz is now on the reserve/COVID-19 list. But Indy also suffered another brutal blow on its offense recently, as Colts wide receiver T.Y. Hilton will now miss time.
The news regarding Hilton was a punch in the gut to Indianapolis fans, as it seemed like their team was finally getting healthy. However, Hilton recently took to Twitter, and in doing so, he used three words and a GIF to give Colts fans hope while also sending somewhat of a warning to the rest of the NFL.
Colts receiver T.Y. Hilton will miss some games at the start of the 2021 NFL season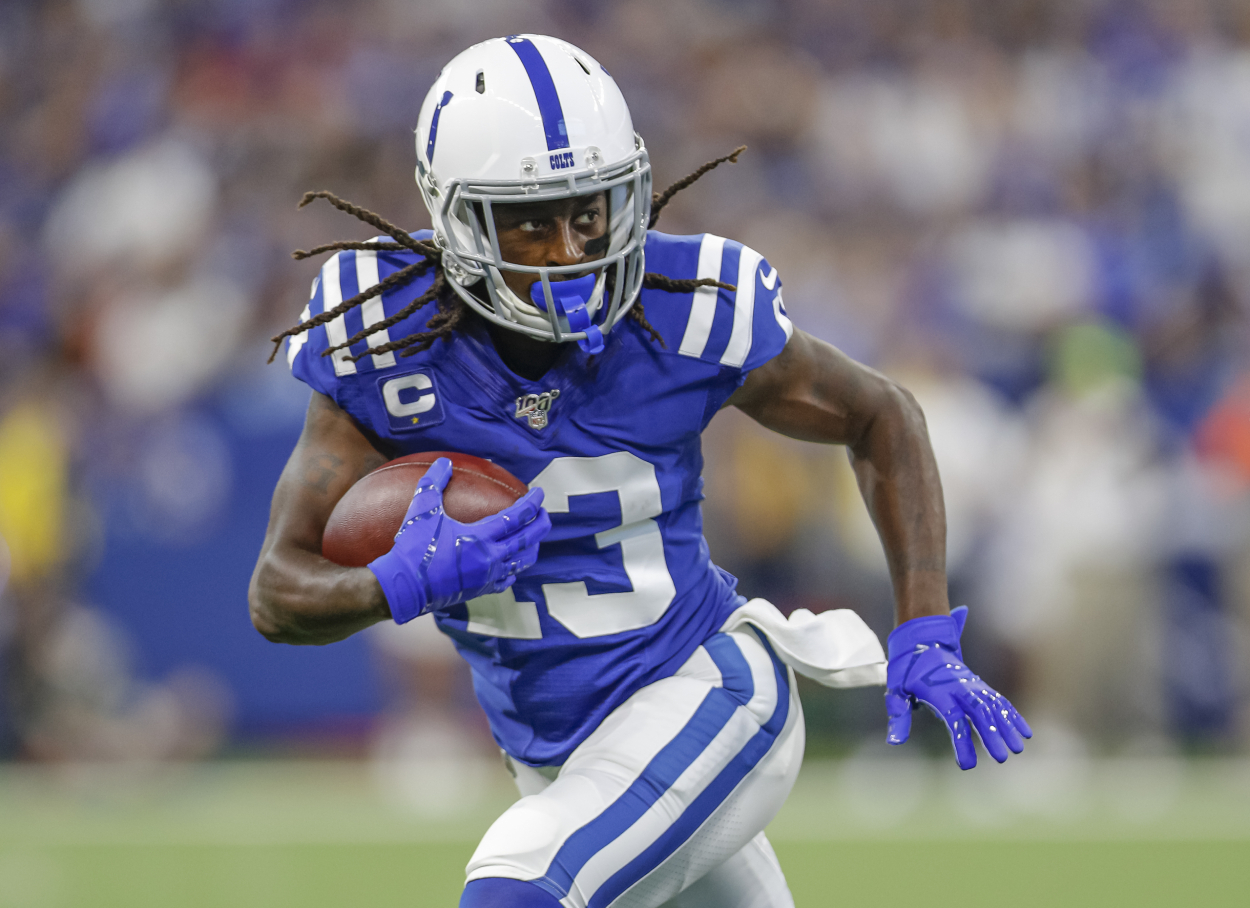 The Colts announced over the weekend that their legendary wide receiver, T.Y. Hilton, will miss time at the beginning of the regular season due to a neck injury he aggravated at practice.
"He was experiencing some discomfort during the trip to Detroit (last week)," Colts head coach Frank Reich said, per ESPN. "Got scans done. It's a disk issue. That's a complicated issue. More meetings, more evaluations to come, more opinions to come. We want to do due diligence there."
Hilton's injury is a big blow to Indianapolis after the four-time Pro Bowler ended the 2020 campaign strong, catching 34 passes for 511 yards and five touchdowns from Week 10–17.
"I had said several times to (general manager) Chris (Ballard), I really thought T.Y. was looking as good this training camp as I've seen him," Reich said, per ESPN. "He looked as fast as ever and as instinctive as ever. Even in the short time that he and (quarterback) Carson (Wentz) worked together, I could tell — instant connection. I could feel that in talking to Carson."
Luckily for the Colts and Hilton, Reich said they don't think it's a season-ending injury, per ProFootballTalk. And by the looks of Hilton's recent tweet, it appears that could be the case.
T.Y. Hilton used 3 words and a GIF to give Colts fans hope
Following the news of Hilton's injury, the Colts receiver took to Twitter to give Indy fans some hope.
Hilton posted a GIF of Arnold Schwarzenegger in The Terminator, and it had three simple words: "I'll be back."
He also included the hashtag "#GhostMood," which refers to his nickname, Ghost.
Obviously, the three words, "I'll be back" may seem simple, but the Terminator GIF gives it some extra meaning. He won't only be back, but Hilton will be ready to dominate once he returns to the field.
The tweet should also be looked at as something more than just a post to ease the nerves of Colts fans, though. The rest of the NFL should look at it as a warning. If Reich is right, and Hilton looked as good as he had ever seen him, that's a scary thought.
Hilton had a big year in Reich's first season as the Colts coach in 2018, catching 76 passes for 1,270 yards and six touchdowns in 14 games. It was the fifth time he had gained over 1,000 receiving yards in his career and the third time he went north of 1,200.
If Hilton can get back to that level of play, the Colts' offense can be dangerous, especially if he and Wentz already have a connection.
But until his return, Indianapolis has the weapons needed to still play well.
The Colts can still win some games without T.Y.
Just because the Colts won't have their top receiver to start the season doesn't mean they'll struggle. Quarterback Carson Wentz will still have some talented players to throw to (as long as he's good to go in Week 1).
Zach Pascal has proven to be a solid pass-catcher, as he was second on the Colts in receiving last year with 629 yards, but second-year player Michael Pittman Jr. is expected to take a giant leap in 2021. He gained 503 receiving yards in 13 games in 2020, and 424 of those yards came between Weeks 9–17. 
Former Ohio State star Parris Campbell has also shown glimpses of having the potential to become an effective player in his first two years with the Colts, but he has struggled with injuries so far. If he can stay on the field, he will be a huge big-play target for Wentz this season. Indy also drafted rookie Mike Strachan this offseason, and he has the tools to be great, given that he's 6 feet, five inches tall and 224 pounds; he will just have to put everything together quickly.
The Colts, however, don't even need to rely on their passing game. They have one of the best running games in the NFL with their strong offensive line and three-headed monster consisting of Jonathan Taylor, Nyheim Hines, and Marlon Mack. Wentz can just hand the ball off to those guys and watch them go to work.
It's certainly a devastating blow to lose Hilton for any time at all. He's a great leader and an effective player. But the Colts are still in pretty good shape to have a solid season in 2021. They will just need to stay healthy once the new year kicks off.
Stats courtesy of Pro Football Reference