T.Y. Hilton's Grandmother Sent Him a Stern Message After His Poor Performance Against the Vikings
T.Y. Hilton is one of the most reliable and consistent wide receivers in the NFL. For years, Indianapolis Colts fans have known that they can rely on him to catch pretty much any pass that comes his way. However, in the first two games of the 2020 NFL season, Hilton didn't look quite like the guy that Colts fans have grown to love. This led to his grandma calling him and giving him a stern message.
T.Y. Hilton came into the 2020 season completely healthy
Over the years, Hilton has been a star for the Indianapolis Colts. After catching 50 passes for 861 yards and seven touchdowns in his rookie season, he became a star in 2013. Hilton caught 82 passes for 1,083 yards and five touchdowns that year. That was the first of four straight 1,000-yard seasons for him too.
Hilton ultimately had the best season of his career in 2016, though, as he caught 91 passes and six touchdowns to go with an NFL-leading 1,448 receiving yards. He then continued to play well in 2017 and 2018, catching 76 passes for 1,270 yards and six touchdowns in 2018.
During the 2019 season, though, Hilton was banged up throughout the year. According to the IndyStar, he dealt with nagging lower-body injuries the past few years and often played through pain. However, he only managed to play in 10 games in 2019, as he caught 45 passes for 501 yards and five touchdowns.
Despite being banged up the past few seasons, Hilton actually entered the 2020 season playing at full health for the first time in a while.
"A healthy 13 is a different 13," Hilton said, according to the IndyStar. "Banged up or not, they can't stop me. Me healthy? Still can't stop me. It's gonna be fun. It's going to be a lot of fun."
Hilton certainly had confidence going into this year, but this season has not gone well for him so far.
He struggled during the Indianapolis Colts' first two games
Hilton is playing with a new quarterback on the Colts this season as Philip Rivers is in Indy now. So, there will naturally be some growing pains between the two of them. Hilton has not played well, though.
In the Colts' Week 1 game against the Jacksonville Jaguars, Hilton caught four passes for 53 yards. Then in their Week 2 win over the Minnesota Vikings, he only caught three passes for 28 yards.
Additionally, during the win over the Vikings, he lost the ball in the sun and failed to catch a 45-yard touchdown pass from Rivers.
Hilton did not look like Hilton through the first two games of the season. His grandma had some thoughts about his play too.
T.Y. Hilton's grandma sent him a stern message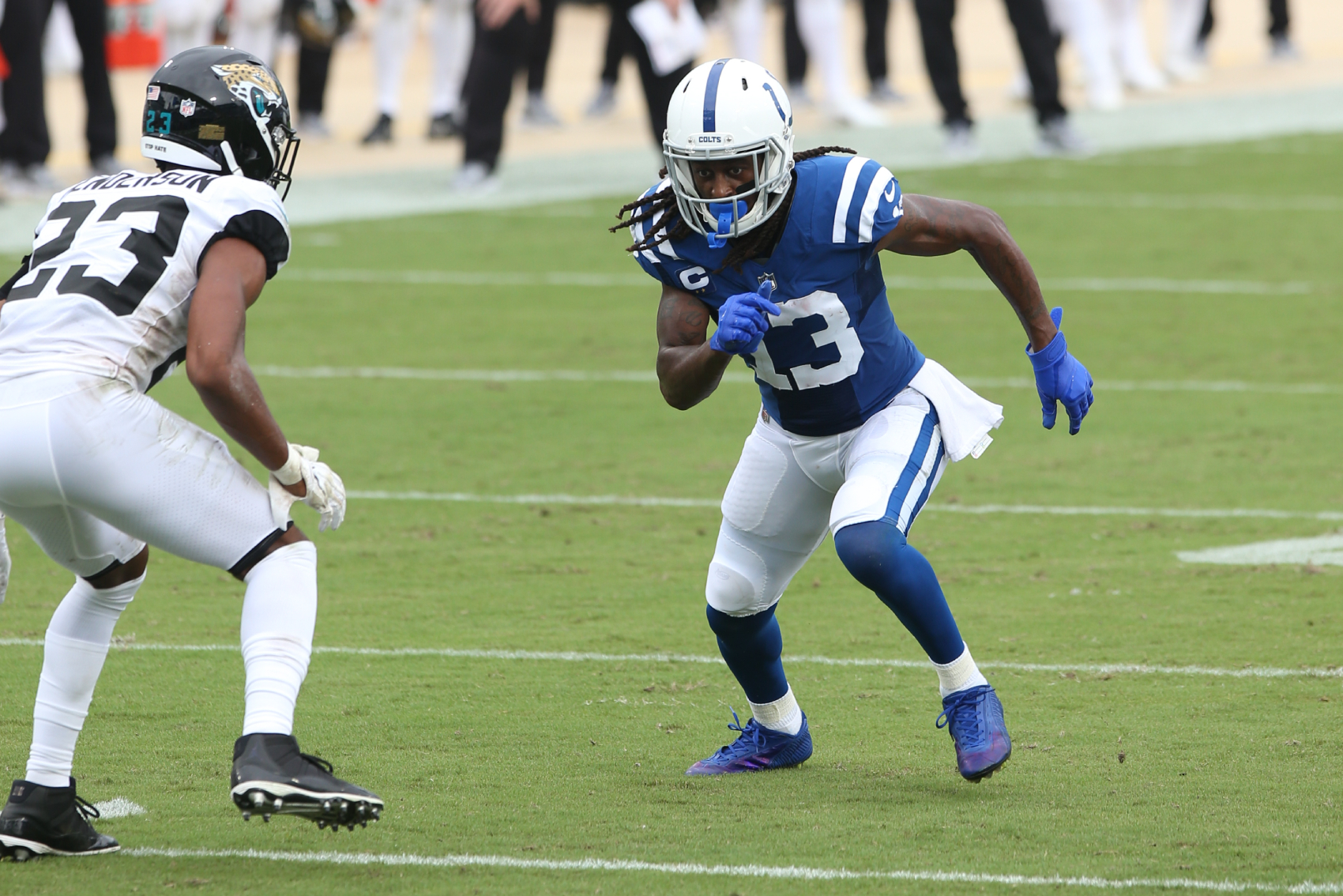 On Monday, after the Colts' Sunday win over the Vikings, Hilton got a call from his grandmother.
"She just always keep it 100 with me,'' Hilton said, according to FOX59. "She always shoots it straight with me and let me know what's up. She's my rock. She's my heart."
He went on to say: "She told me that the person that she's seeing on TV wasn't, you know, her grandbaby. That wasn't me.''
The call might be the motivation that Hilton needs.
"It hurt me for her to tell me that,'' Hilton said, according to FOX59. "She's always kept it real, and she said, 'You look frustrated.' That's not the way I play this game. I'm always happy. I'm always excited.''
Hilton said that he's back to being himself now. He also said that he usually is patient, but, for some reason, he hasn't been that the past couple of weeks.
"I was trying to prove something I didn't need to prove," Hilton said, per FOX59. "Now I'm back to being me, back to having fun. You'll see a more exciting person out there on Sunday and I look forward to it.''
Colts fans are probably hoping that they see the T.Y. Hilton that they have grown accustomed to seeing out there from here on out.
Stats courtesy of Pro Football Reference