Can We Talk About Ben Simmons Actually Playing Basketball? Because the Indiana Pacers Would Be an Ideal On-Court Fit
The Ben Simmons off-court drama has been covered ad nauseam the past few months. First Doc Rivers and Joel Embiid trashed Simmons after a Game 7 loss to Trae Young and the Atlanta Hawks. Then the LSU product demanded out of Philly. Now Simmons refuses to return to the Philadelphia 76ers organization and is willing to lose a serious amount of money over it.
The latest projected landing spot for the three-time all-star is the Indiana Pacers. Guard Caris Levert has been bandied about between Indiana and Philly as the centerpiece of a possible deal.
There is merit to this rumor, though, and there should be because the Pacers would be the perfect destination for the disgruntled star.
Ben Simmons could end up an Indiana Pacer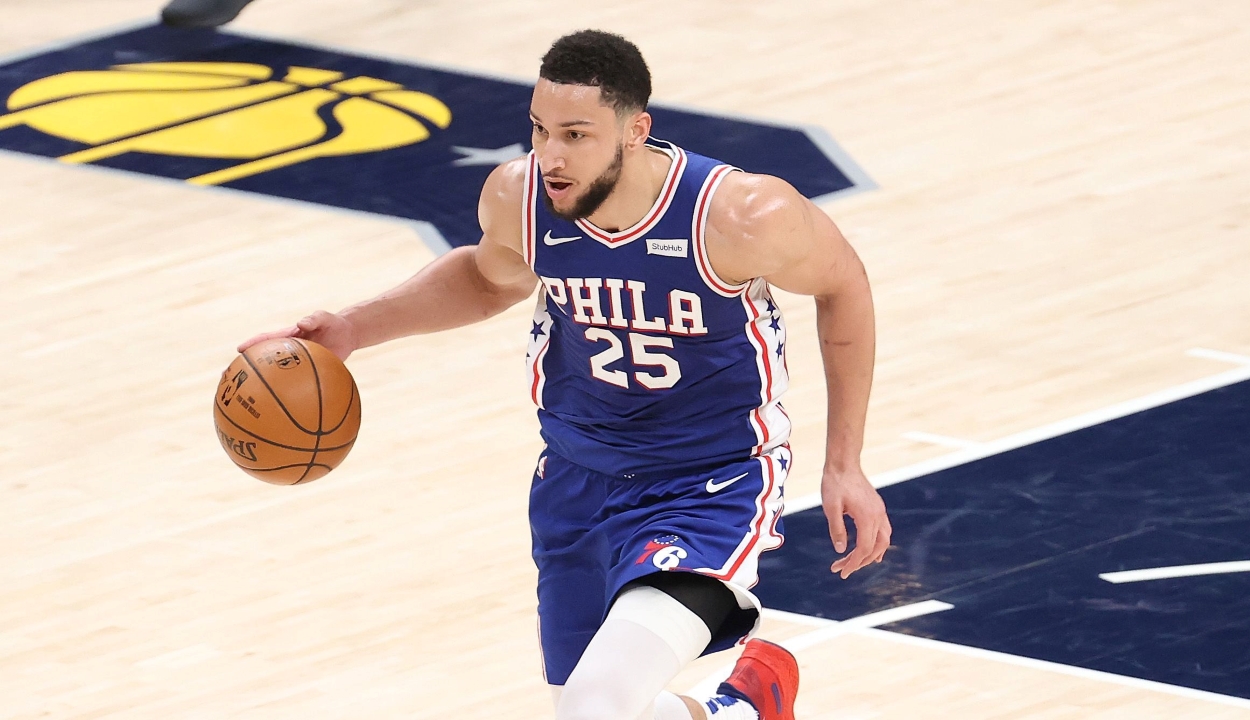 The 6-foot-11 guard may have a possible final destination with the Pacers. He's been suspected to land anywhere from Golden State to either Los Angeles team to Toronto. But ESPN's Brian Windhorst reported that Indiana would be a team that 'makes a lot of sense' for Simmons. He called the Pacers a "sleeper team" in the running for the former Tiger.
Indiana is rarely — if ever — a free-agent destination because of its small-market status and location. It's not under the bright lights of a big city and it's not a glamorous franchise. The Pacers are almost always in the Eastern Conference playoffs but are seldom a serious championship contender.
Trading for a talented player under long-term team control (Simmons still has four years left on his contract) is one of the only ways the organization can acquire a star.
The Pacers would be a perfect basketball fit for Simmons
Getting away from all the conjecture, Indiana would be a snug on-court fit for the versatile point guard.
Of course, everything depends on who the team sends back to Philadelphia in a trade for Simmons, but a few players can be assumed to be involved in the deal. Levert has been rumored, and power forward Domantas Sabonis is Indiana's best player. Center Myles Turner has been involved in trade speculation for the last few seasons.
That would leave Malcolm Brogdon as Simmons' backcourt running mate. TJ Warren is nothing more than a scorer on the wing, but he's a high-level scorer, having averaged close to 20 points the last few seasons when he was healthy. Justin Holiday would also soak up minutes on the wing. He shot 40.5% from three in 2019-20 and 38.2% last year on 6.3 attempts per game.
If Turner sticks around, he's a career 35.2% shooter from deep and totaled 3.4 blocks per game last season defending the rim.
These pieces that would surround Simmons would play to his greatest strengths — rebounding, facilitating, leading the fast break, and being a versatile defender.
The 2017-18 Rookie of the Year would be surrounded by more shooting in Indiana than he ever was in Philly. Even Turner is a threat to space the floor from the center spot. Simmons would have more room to operate in the half-court, whether it's running the pick and roll and finding open shooters or isolating smaller defenders near the basket.
He would make the Pacers' best players better. Before Brogdon arrived in Indiana, he was more of a spot-up shooter and secondary ballhandler around Giannis Antetokounmpo with the Milwaukee Bucks. He shot better than 40% from three in two of his three seasons in Milwaukee but hasn't approached that since becoming a more featured player in Indiana.
Ditto for Holiday and Warren, who would benefit from open shots and pin-point passing, whether it's on catch-and-shoot opportunities or chances to run secondary offense from the weakside when teams try and shut down Simmons' drives to the rim.
A perimeter defender like Simmons, coupled with a post defender like Turner, would also give opposing offenses nightmares.
Simmons would be able to thrive with the team around him in Indiana
The 2019-20 steals champion is a flawed player. He's not a go-to scorer, and he's an awful perimeter shooter. He needs certain pieces around him to thrive, and he wasn't getting that with the Sixers.
Embiid and Simmons both liked to occupy space near the basket. In today's pace-and-space NBA, that's a serious problem. It caused Philadelphia's offense to clog and stagnate, especially since the team lacked outside shooting.
But that would be different with the Pacers. The team's best options would play more to Simmons' strengths. He would be a much neater fit with Indiana's roster.
The trade rumors will continue to swirl until a deal gets done or until the 2016 draft's No. 1 pick reports to Philly. But if 76ers general manager Daryl Morey decides he's ready to send one of The Process's most prized assets packing, the Pacers would be an optimal landing spot to bring out the best in Simmons.
All statistics courtesy of Basketball Reference.
RELATED: If Ben Simmons Gets His Wish He Would Accomplish a Feat Never Before Seen in NBA History