Tampa Bay Buccaneers Fans Just Got Good News About Their Team's Future
This season, the Tampa Bay Buccaneers have reached the postseason for the first time since 2007. With a win this afternoon over the New Orleans Saints, they can reach the NFC Championship Game for the first time since their Super Bowl-winning season of 2002.
The Bucs would not be in this position without the help of tight end Rob Gronkowski. In an interview this afternoon, the 31-year-old made it clear that he would return to the team for the 2021 season.
Gronk will return for 2021
In an interview with NFL Network's Willie McGinest, Gronkowski confirmed his intentions to return to the Buccaneers for the 2021 season.
"I feel like this team was built to win right now. It was put together this year to win right now," said Gronkowski, as quoted by Bleacher Report. "It always pops up in your mind, you're thinking about the future a little bit. I can definitely see this team also having a lot of talent come back and have another successful run next year as well with me."
Quarterback Tom Brady is likely to return as well. He signed a two-year contract with Tampa Bay last March, and he has repeatedly spoken of his intent to play until the age of 45 or beyond. Brady turns 44 this August.
Gronkowski sets records in New England
Over his first nine seasons, all with the New England Patriots, Gronkowski established himself as one of the prominent tight ends in the NFL. From 2010 to 2018, he recorded 521 receptions for 7,861 yards and 79 touchdowns. In 2011, he led the NFL in touchdown receptions with 17 — the first tight end ever to do so.
Gronkowski was on three Super Bowl-winning teams with Brady and the Patriots. In Super Bowl LIII, his fourth-quarter catch brought the team to the two-yard line, setting up Sony Michel's game-clinching touchdown run. That turned out to be Gronkowski's last game with the Patriots.
On March 24, 2019, a month and a half after the game, he announced his retirement through his Instagram. Despite repeated offers from the Patriots, Gronkowski stuck to his decision, citing the multiple injuries he sustained throughout his career as the primary factor.
"I was in tears in my bed after a Super Bowl victory. It didn't make that much sense to me," he told ESPN in 2019. "And then, for four weeks, I couldn't even sleep for more than 20 minutes a night. I was like, 'Damn, this sucks.' It didn't feel good."
Gronk's 2020 reunion with Brady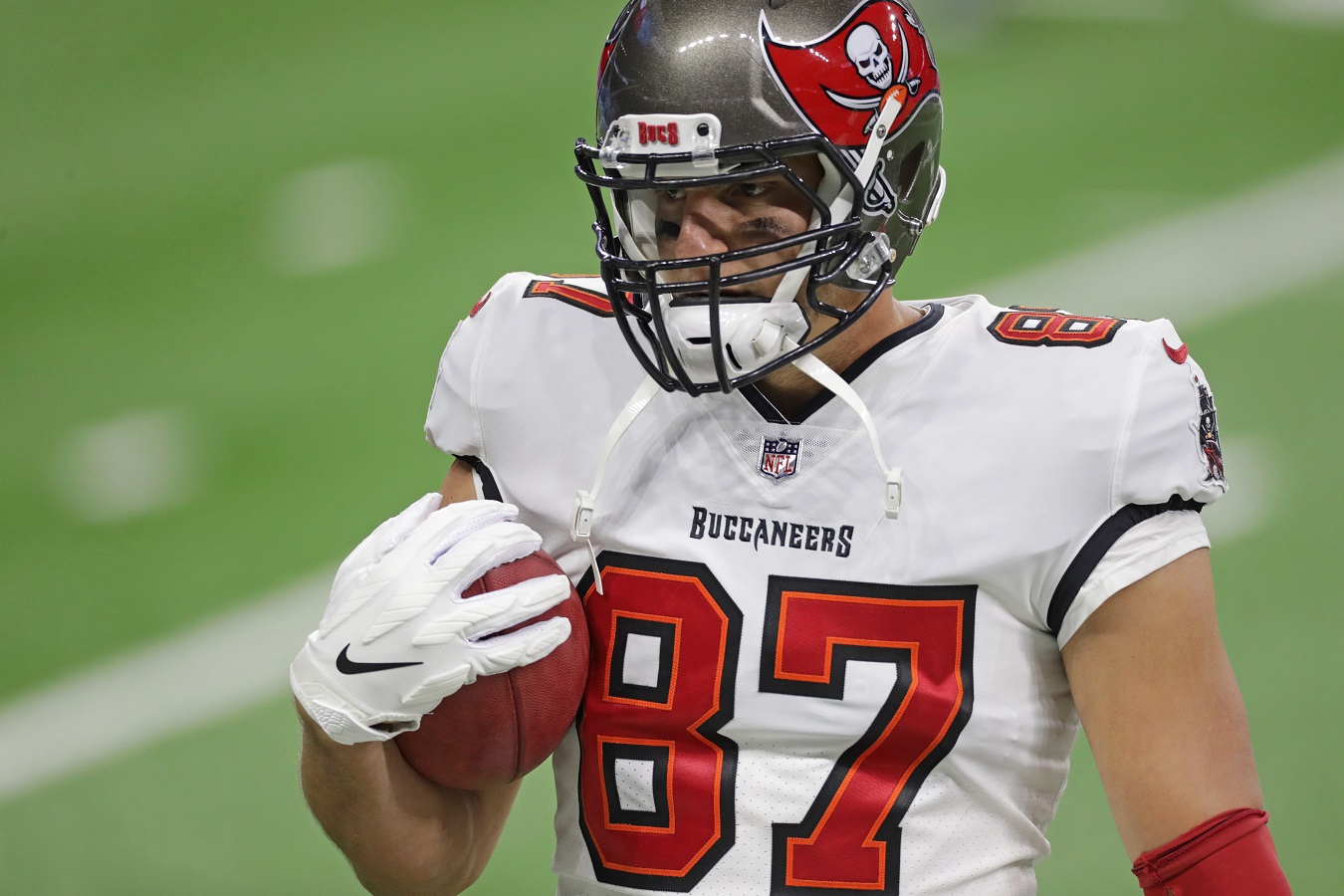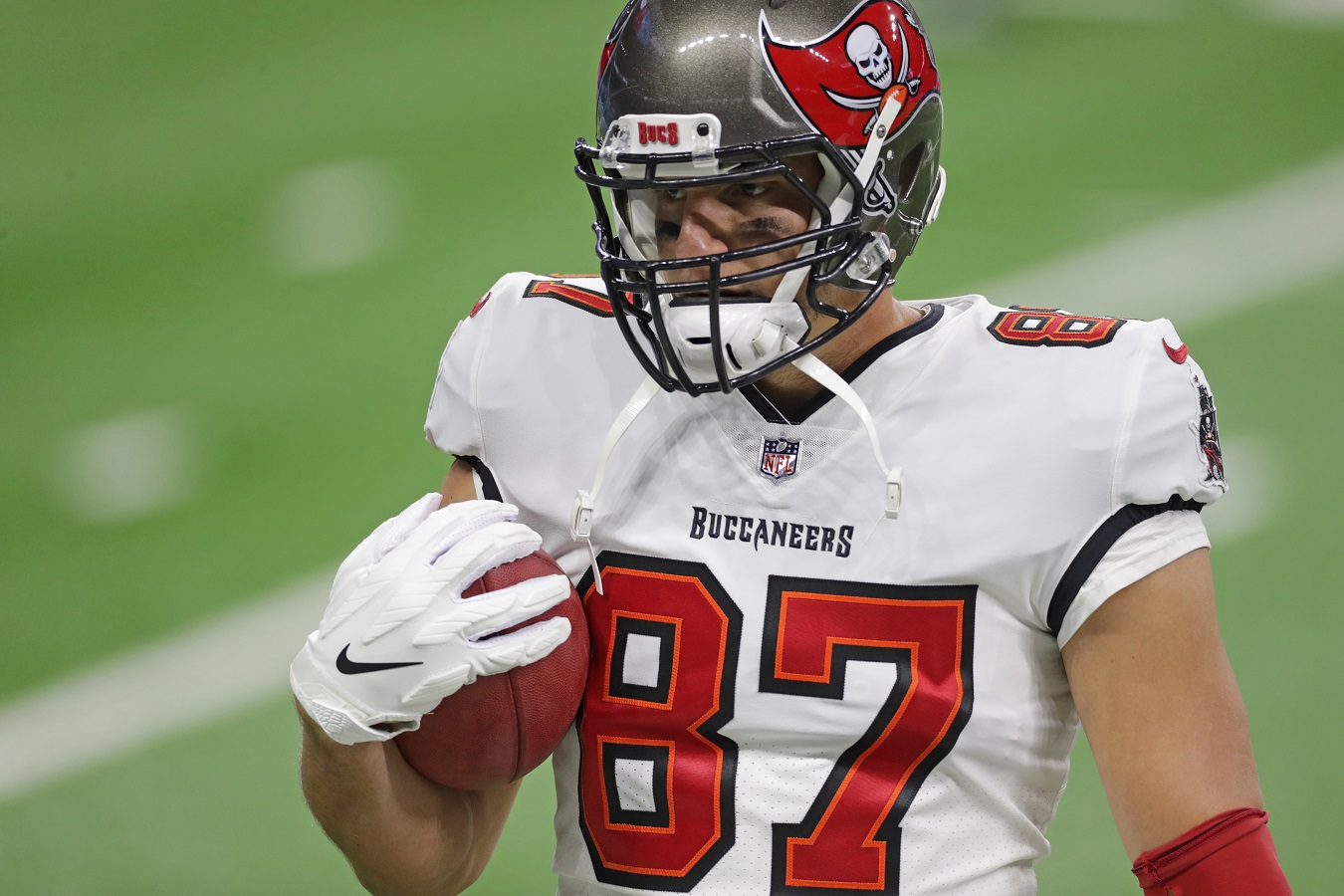 In April 2020, Gronkowski had a change of heart. He wanted to return to the field, and he wanted to do it with Tom Brady, who had left New England for Tampa Bay the previous month. The Patriots, who still had him under contract, honored his trade request and shipped him off to the Buccaneers.
Gronkowski finished his comeback season with 45 receptions for 623 yards and seven touchdowns. His presence was especially crucial after starting tight end O.J. Howard suffered a season-ending Achilles injury in week four.
Although Gronkowski was slightly off his usual pace in his comeback year, this was the first season since 2011 in which he played all 16 games. His tenure with the New England Patriots was littered with injuries, which led to his initial retirement. Most notably, in a 2013 game against Cleveland, he suffered a torn ACL, torn MCL, and concussion on the same play. This forced him to miss the remainder of the season.
Gronkowski was held completely off the stat-sheet in Tampa's win over the Washington Football Team last week. He hopes to change that against the Saints.