Tampa Bay's Clyde Christensen Says This Is Why He Failed Jameis Winston
Jameis Winston's rocky 2019 season still weighs heavily on quarterback coach Clyde Christensen's mind. A veteran NFL offensive coach who worked with Peyton Manning and Andrew Luck in Indianapolis, Christensen joined the Tampa Bay Buccaneers last year hoping to turn Winston into the NFL's next elite quarterback. Instead, Winston became the first quarterback in over 30 years to throe 30 interceptions in one season.
What did Clyde Christensen say about his time with Jameis Winston? Let's take a look.
Clyde Christensen feels he failed Jameis Winston
Jameis Winston took full advantage of Bruce Arians and Clyde Christensen's coaching last year. Winston also benefited from having explosive receivers Chris Godwin and Mike Evans in his offense. The former No. 1 overall pick threw for over 5,000 yards and 33 touchdown passes. Both were career-highs — Winston's 33 touchdowns were almost as many as the 38 total he threw in 2017 and 2018 — and his 5,109 passing yards led the NFL.
Unfortunately for Clyde Christensen and Jameis Winston, the latter's final season in Tampa Bay will be remembered for his league-high 30 interceptions. That is why Christensen told The Pat McAfee Show he believes he failed Winston.
"As a coach, you take that personal. Whatever, I didn't get it done. I didn't help this kid. This kid is better than 30 interceptions and we didn't get it done and that I have to live with. But I do think he's a great kid and he's going to some great things."
Winston's 30 interceptions made NFL history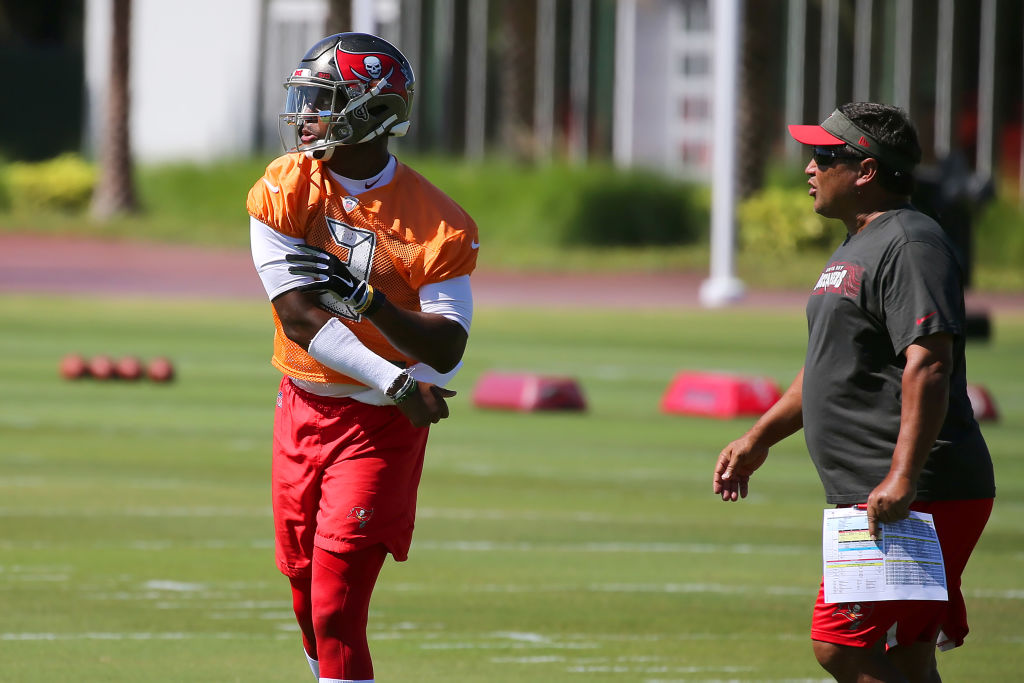 Winston was the first quarterback in NFL history to throw 30 touchdowns and 30 interceptions in the same season. Coincidentally, the last NFL quarterback to throw 30+ interceptions, Vinny Testaverde, did so in 1988 with the Tampa Bay Buccaneers. Testaverde was picked off 35 times that year.
Only 46 quarterbacks have thrown at least 20 interceptions in one season since 2000. Just 17 of those quarterbacks joined that club in the 2010s and Winston joined Cleveland's Baker Mayfield (21) and the Chargers' Philip Rivers (20) in doing so last year. Peyton Manning threw at least 20 interceptions in his first four seasons before he started working with Clyde Christensen in 2002.
Jameis Winston's free agency has been surprisingly quiet
Even with the 30 interceptions to his name, Jameis Winston is still only 26 and was responsible for plenty of highlights with the Buccaneers. Winston's turnover-prone tendencies are concerning, but there were times last year where it was evident just how much he learned from playing under Bruce Arians and Clyde Christensen. Winston would strongly benefit from a year under another offensive-minded coach.
Jameis Winston remains available on the free agent market. Tampa Bay signed future Hall of Famer Tom Brady as Winston's replacement last month. Christensen believes Winston works as hard as Peyton Manning and Andrew Luck did in Indianapolis and he believes Winston will eventually become an elite NFL quarterback.
Winston may need to wait until after the NFL draft for a market to emerge. Teams with quarterback questions such as the Pittsburgh Steelers and New England Patriots could draft a quarterback later this month.