Taulia Tagovailoa Took a Stunning Risk Choosing Maryland Over Florida Schools
Alabama quarterback Taulia Tagovailoa is Maryland-bound. The 5-foot-11 quarterback, and the younger brother of Miami Dolphins quarterback Tua Tagovailoa, stunned the college football world by transferring to the University of Maryland.
Many, including oddsmakers, believed Taulia Tagovailoa would join his brother in the Sunshine State and transfer to a Florida school.
Will Taulia Tagovailoa regret leaving Alabama for Maryland? Let's take a look.
Taulia Tagovailoa chose Maryland because of Mike Locksley
Oddsmakers believed Taulia Tagovailoa would choose a Florida school like Miami or Florida International. Tagovailoa instead surprised everyone by transferring to Maryland, a program that hasn't had a winning record since 2014.
Maryland hasn't made a bowl game since 2016. The Terps finished 3-9 last year in Mike Locksley's first season.
Locksley's presence is why Tagovailoa chose Maryland, though. Locksley is a former Alabama staffer who coached Tagovailoa's older brother, Tua, from 2017-18.
Locksley issued plenty of praise for his newest quarterback in a press release.
"Taulia has terrific touch and trajectory on his throws and delivers the ball with above-average accuracy. He's a highly competitive player that will bring great competition to a good quarterback room."
Tagovailoa completed nine of his 12 passes for 100 yards and five touchdowns across five games as a true freshman in 2019.
The Maryland transfer is intriguing for Tagovailoa and his family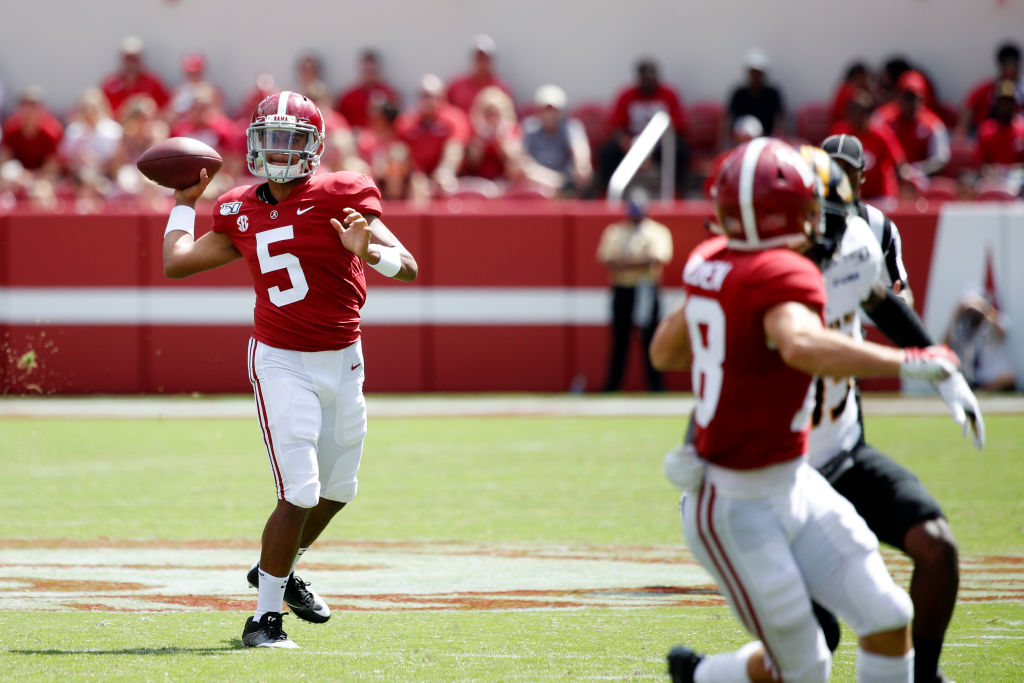 When Taulia Tagovailoa entered the transfer portal in early-May, the idea was he would transfer somewhere closer to his brother, Tua. The Miami Dolphins drafted Tua Tagovailoa in April.
That didn't turn out to be the case. The Tagovailoa family is at least close with Locksley from his experience with Tua.
Still, it was surprising Tagovailoa chose somewhere so far away from Miami. If the idea was for Tagovailoa to play under a proven offensive mind before he entered the NFL, Maryland certainly made sense.
There is no guarantee that Taulia Tagovailoa will be eligible to play in 2020. He likely needs a hardship waiver to earn immediate eligibility.
If the 2020 season is truncated or canceled outright, it is not yet known how the NCAA would handle Tagovailoa's eligibility for 2021.
Taulia Tagovailoa would have been better off at a Florida school
The most important thing to note here is that Taulia Tagovailoa had every right to choose Maryland. He entered the transfer portal and thought Maryland made the most sense.
With that said, Maryland has been one of the more disappointing Power 5 teams in recent years. The same can be said for the Miami Hurricanes, although the Hurricanes have at least contended for bowl games.
The University of Florida would have been a perfect fit for Taulia Tagovailoa. Gators quarterback Kyle Trask is likely in his final year, and Tagovailoa could have replaced him in 2021.
Gainesville isn't exactly close to Miami, but Tagovailoa would have been in the same state as his brother and at a competitive SEC school.
Taulia Tagovailoa could have also been a big fish in a small pond at a Group of 5 school. Programs like Florida International or the University of South Florida made sense in that regard.
In the end, Taulia Tagovailoa transferred to Maryland because it appealed to him. Only time will tell if he'll become the first Terps quarterback drafted since 1991.