Taylor Heinicke and Washington Could Learn From the Case of Matt Flynn
The Washington Football Team is out of the playoffs after losing their wild-card playoff game to the Tampa Bay Buccaneers on Saturday. However, the top story of the game wasn't the result, but the emergence of Washington quarterback Taylor Heinicke, who threw for 306 yards and scrambled for an outstanding touchdown in the third quarter.
With the team's quarterback situation for 2021 uncertain, many have already anointed Heinicke as Washington's starter. There have been cases of NFL players showing flashes of brilliance and never rising to that level again. At the quarterback position, none have been quite as heartbreaking as Matt Flynn, the man whose career path Taylor Heinicke does not want to emulate.
Matt Flynn's one great game
On the final day of the 2011 regular season, the Green Bay Packers had nothing left to play for. They were 14-1 entering the game, and had already wrapped up the top seed in the NFC. With this in mind, Green Bay rested most of their starters, including quarterback Aaron Rodgers.
Matt Flynn, a second-string quarterback in his third NFL season, made his second career start. In a game where both defenses failed to show up, both Flynn and Lions quarterback Matt Stafford combined for exactly 1,000 yards passing and eleven touchdowns. Flynn accounted for 480 of those yards and six touchdowns, both Packers single-game records.
The Packers needed every ounce of Flynn's effort to win that game, 45-41. There was no question of whether Flynn would become the starting quarterback in Green Bay in the future. After all, Aaron Rodgers was in the prime of his career and would win the NFL MVP award that season. However, Flynn's sensational performance against the Lions made him a prime free agent target.
Matt Flynn lands in the wrong place at the wrong time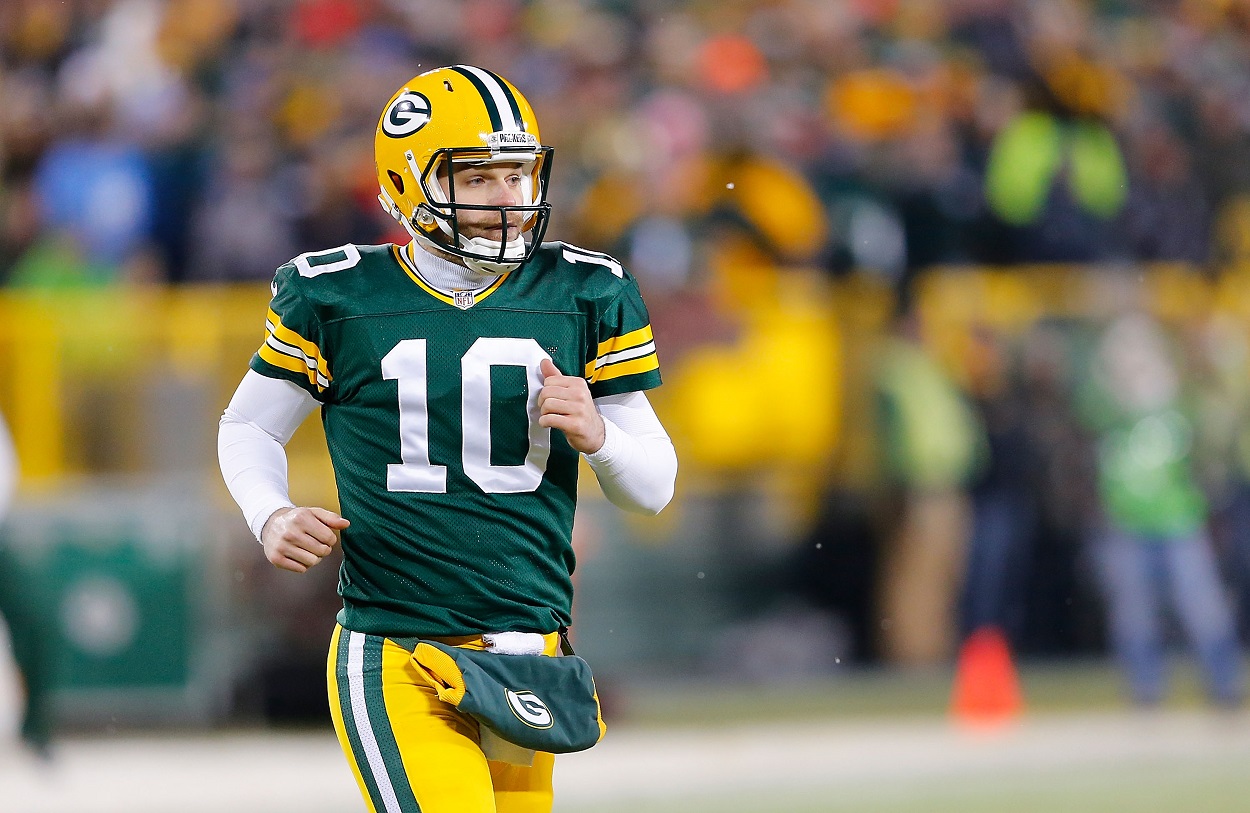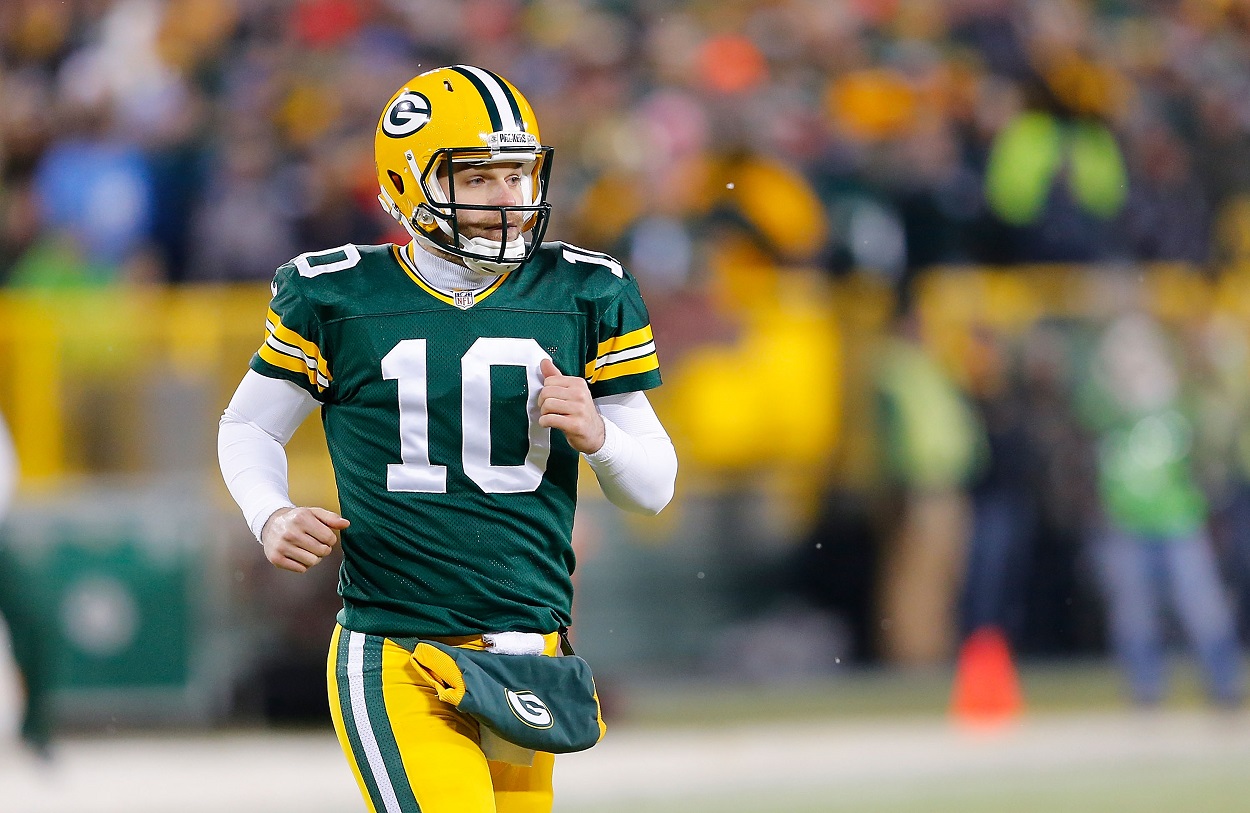 The winners of the Matt Flynn Sweepstakes were the Seattle Seahawks, who signed Flynn to a three-year deal worth $26 million. As it turned out, Matt Flynn landed in the worst possible place for his career prospects. He would have to compete for his job with another young quarterback, Russell Wilson, whom the Seahawks had selected in the third round of that year's NFL Draft.
Observers expected Flynn to win the starting role over the undersized Wilson. However, the shine from Flynn's big game had evidently worn off, as he failed to impress in his two preseason starts. The Seahawks went with Russell Wilson and never looked back.
After only one year of that three-year contract, the Seahawks dealt Flynn to the Oakland Raiders. Prior to the 2013 season, he once again disappointed in training camp and lost out on the starting position, this time to Terrelle Pryor. He received one more chance to start in Week 3 after Pryor suffered a concussion, and threw a pick-six in a lackluster effort against the then-Washington Redskins.
The Raiders released Flynn in November. Four months later, his old team, the Seahawks, won their first Super Bowl, vindicating Pete Carroll's decision to go with Wilson.
By the end of 2015, Flynn was out of the NFL. In total, he earned roughly $19.5 million off of his one good game.
What can Taylor Heinicke and Ron Rivera learn?
Like Flynn, Taylor Heinicke went from obscure NFL backup to the talk of the league after one game. Of course, this is not a one-to-one comparison. In fact, Heinicke's case may be even more remarkable, as unlike Flynn, his rise comes in the wake of a playoff game his team lost.
Heinicke's performance couldn't have come at a better time for him. He is now an unrestricted free agent, although he has indicated that he would like to be back with Washington next season, according to Sporting News.
This puts Washington in an awkward spot, since they have recently released Dwayne Haskins, and there's no guarantee that Alex Smith will return for 2021. Unless Washington makes a move for another quarterback, Heinicke's main competition for the position would be Kyle Allen, assuming he recovers from his season-ending ankle injury.
Taylor Heinicke has proven that he deserves a shot at the starting role wherever he ends up. However, as cases like Matt Flynn prove, there is considerable risk to placing such responsibility on someone's shoulders after one good performance.