Taysom Hill Brainlessly Playing Through a Finger Injury Will Only Further Ruin the Saints Crumbling 2021 Season
After weeks of messing around with career backup Trevor Siemian under center, the New Orleans Saints finally pulled the plug and committed to Taysom Hill as their new starter. Just a few days removed from receiving a massive contract extension, Hill was the Saints' unquestioned starter, and he wasn't set to be eased into the role.
His first game was against the Dallas Cowboys. Needless to say, it did not go Hill's way.
Taysom Hill had a disastrous game against the Dallas Cowboys
Taking on the Cowboys in Week 13's Thursday Night Football, the Saints were forced to put their long-running Taysom Hill experiment to the test. Playing without star RB Alvin Kamara and both starting tackles, the pressure was on Hill and Hill alone.
The Cowboys knocked off the Saints 27-17, and Hill had one of the worst performances the league has seen by a starting quarterback in quite some time. He finished the evening with an eye-popping four interceptions, quite literally throwing his team's chances away.
Hill did pass for two touchdowns, 264 yards, and ran for an additional 101. However, the four turnovers were far too much to overcome. It's near-impossible for an NFL team to win games when their quarterback is playing with that amount of recklessness under center.
The whole experience served as a significant wake-up call for Hill, Sean Payton, and the Saints' organization. They've seemingly kept Hill in their back pockets as a sort of secret weapon, ready to be deployed when things got tough. In reality, he's just as bad of a thrower as Trevor Siemian.
Taysom Hill is dealing with a significant finger injury
If Hill's horrific performance against the Cowboys wasn't enough to have you firmly out on the Saints moving forward, the team's latest injury news should be.
After the Thursday loss, it was reported Hill tore a tendon in his throwing hand.
Hill hurt his finger against the Cowboys on Thursday night and word on Friday was that he tore a tendon in the finger. That report indicated that Hill may have surgery on the finger, but it looks like that won't be happening.

Adam Schefter of ESPN reports that doctors have determined the mallet finger injury does not need to be treated surgically. Seahawks quarterback Russell Wilson did have surgery after suffering the same injury, but the report indicates Hill's injury is less severe and Wilson also suffered other injuries to his finger.

Josh Alper, Pro Football Talk
A torn tendon could explain Hill's poor performance against Dallas. However, it's the following news that should have Saints running for the hills (no pun intended). New Orleans wants their already-struggling QB to play through the injury moving forward.
The Saints want their QB to play through the injury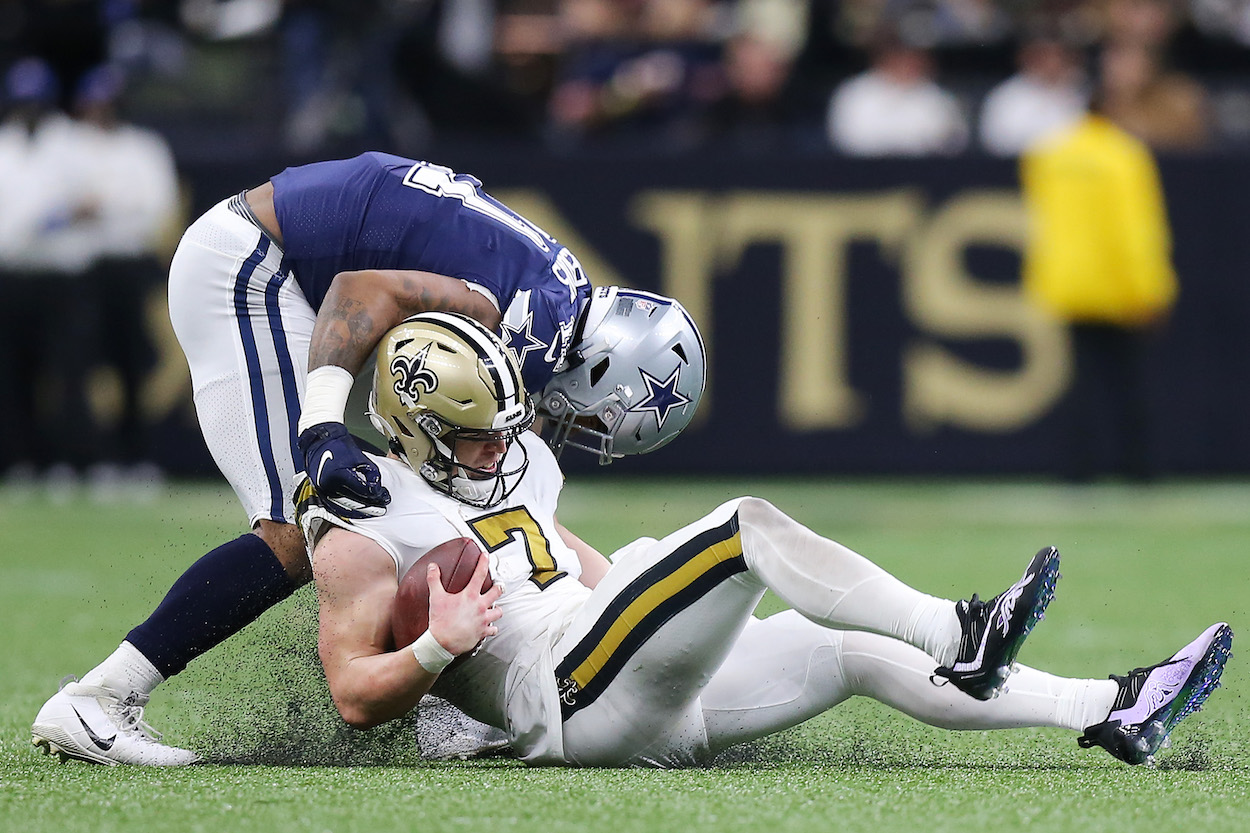 According to ESPN's Adam Schefter, Hill's tendon does not require immediate surgery. This means he will be expected to play through the tear moving forward.
Barring a change in plans, this also means Hill will continue operating as the Saints' QB1 moving forward. He was already struggling to perform when healthy. Now, he's being asked to do so with an injured throwing hand?
Ultimately speaking, the Saints' 2021 season feels finished. Their offense can't get healthy, and their QB situation is a complete mess. The latest news on Hill playing through a torn tendon is just the final nail in the coffin. The Saints are finished.
All stats courtesy of Pro Football Reference.