Team USA Is Bringing These NBA Stars to Spain for the FIBA World Cup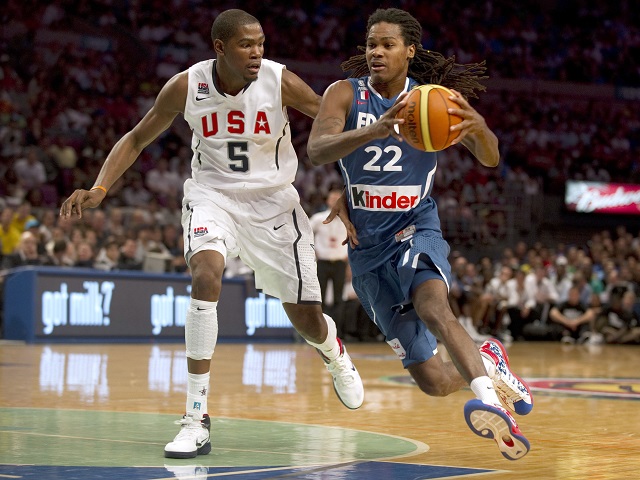 The FIBA World Cup will begin exactly one month from now on August 30, and the final roster for Team USA is starting to shape up. The absences — no LeBron James, no Carmelo Anthony, no Kevin Love — are significant, but the sheer amount of talent left in the U.S.'s basketball pool is staggering to say the least. Right now, the team's going through the process of trimming down their 19 prospects into the final 12 man roster that will head across the Atlantic to Spain, which boasts a national team that the USA will probably wind up running into in the World Cup Finals, since they've got the Gasol Brothers, Serge Ibaka, Ricky Rubio, and former NBA player Rudy Fernández (remember Rudy Fernández?) on their roster.
Among the point guards battling for the spot, none has more to prove than Chicago's Derrick Rose, who has only managed to see the floor in fewer than 50 games over the last two seasons as he battles back from a pair of knee injuries. Rose remains the biggest question mark at the one spot, which is filled out internationally by Stephen Curry, Damian Lillard, John Wall, and Kyrie Irving, but if Rose can play well enough to secure himself a spot, it bodes well for a return to form in the NBA season to come. Also, take another look at that lineup of point guards: we're definitely living in the golden age of the floor general.
As for the center position, which has seen an arguable recession in talent since the halcyon days of NBA big men (also known as the '80s, with a nod to Wilt, Russell, and Kareem), well that's stacked too. How does a pool of DeMarcus Cousins, Anthony Davis, Paul Millsap, Andre Drummond, and Kenneth Faried sound? It's still probably a bit more shallow than the point or the wing — we'll get to them in a minute — but it's worth pointing out that only one of them, Millsap, is over 25 years old. We're going to be seeing a lot more of these guys in the future.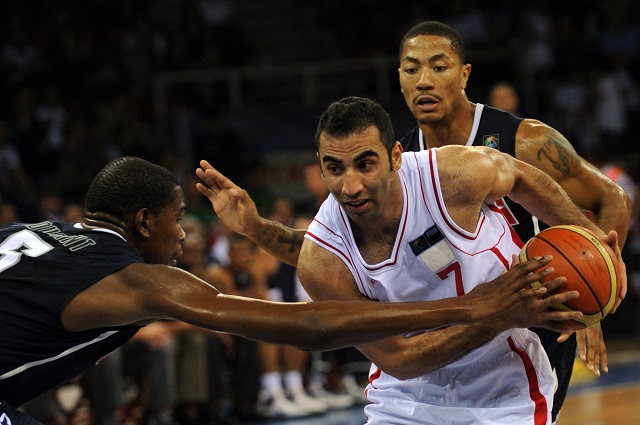 The wing position battle is rounded out by DeMar DeRozan, Paul George, James Harden, Klay Thompson, Bradley Beal, Kyle Korver, Gordon Hayward, and Chandler Parsons; plus the reigning MVP, Kevin Durant. The net takeaway is that this team is going to be ferocious, regardless of who ends up staying home, which brings us to a bit of roster construction. Who's most likely to make the final cut?
Among the guards, we've got to figure that Steph Curry and Damien Lillard get the nod at the one, since the FIBA game favors a backcourt that can knock down shots from beyond the shorter three point line, while Beal, Harden, and Thompson each get in time at the two. Small Forward minutes look like a lock to be distributed between Paul George and Kevin Durant, with mop up minutes going to Kyle Korver, the most consistent three point shooter in NBA history. That leaves us at eight players between the point and the small forward.
For the six remaining slots, two of them have to go to to The Brow (Davis) and Boogie (Cousins) as the starting power forward and center, respectively. Millsap and Faried fit the slots behind them, since not many teams tend to run big in International basketball, birthplace of the stretch 4, which brings us to the final two. Giving a sympathy/chance to prove to the world that he's still worth MVP consideration slot to Derrick Rose seems fair, since a big, athletic point guard works well within FIBA-style defensive spacing, and as for the last slot, we think Gordon Hayward deserves a little more shine on the big stage than he gets from playing in Utah. Plus, we're hoping for at least one Vicky Cristina Barcelona-esque Hayward/Korver identity mixup story to leak out decades afterward. Since that would be hilarious.