Team USA Starts Olympics in the Worst Way Possible
USA Basketball was going to have one particularly challenging opponent during Group A play at the Tokyo Olympics. Team USA did not pass that test, blowing a seven-point lead with 3:41 remaining in an 83–76 loss to France. The loss doesn't hurt USA Basketball's chances at a fourth consecutive Olympic gold medal, but it could very well make the road more difficult.
While Team USA has the closers in Kevin Durant and Damian Lillard, Evan Fournier turned the final 3:41 into his time. Fournier scored seven of his game-high 28 points during France's 16–2 closing blitz and put the French squarely in the driver's seat to win Group A.
The new Olympic format designed to reduce the number of games teams play in the condensed period will work against USA Basketball now. Instead of five games in group play, with four games to recover from an opening loss, Team USA has just two games left in the group stage.
France went big, and Team USA couldn't adjust
USA Basketball coach Gregg Popovich constructed his team with a very contemporary NBA look. He put a premium on flexibility and shooting and took only one true center to Tokyo. That center, JaVale McGee, was hardly a factor in the July 25 loss, playing just two minutes.
That left most of the interior defense to the slender Kevin Durant and Bam Adebayo and the short-and-stout Draymond Green. French coach Vincent Collet elected to go huge in the second half. He played 7-foot-2 Rudy Gobert or 7-foot-2 Moustapha Fall with 7-footer Vincent Poirier and, briefly, 6-foot-11 Petr Cornelie. That was a successful strategy for France.
With Team USA switching screens on the perimeter, that too often left wings and guards left to do what they could to stop Gobert on his runs to the rim. In 29 minutes, Gobert finished with 14 points on 5-of-6 shooting to go with nine rebounds. Fall and Poirier combined for 22 minutes, 10 points, and eight rebounds.
France also turned up the defensive heat in the second half. After shooting 17-of-37 (45.9%) in the first half, USA Basketball was just 8-of-32 (25%) after the break. For the game, Team USA shot 36.2% compared to 46.8% for France. It was the first Olympics loss for USA Basketball since an 89–81 defeat at the hands of Argentina in the semifinals of the 2004 Games in Athens, snapping a 25-game winning streak.
More concerning, it's the third straight loss in international play for Team USA under Popovich. USA Basketball closed the 2019 FIBA Basketball World Cup with back-to-back defeats.
Give France credit for a solid second half, but USA Basketball did a lot of things wrong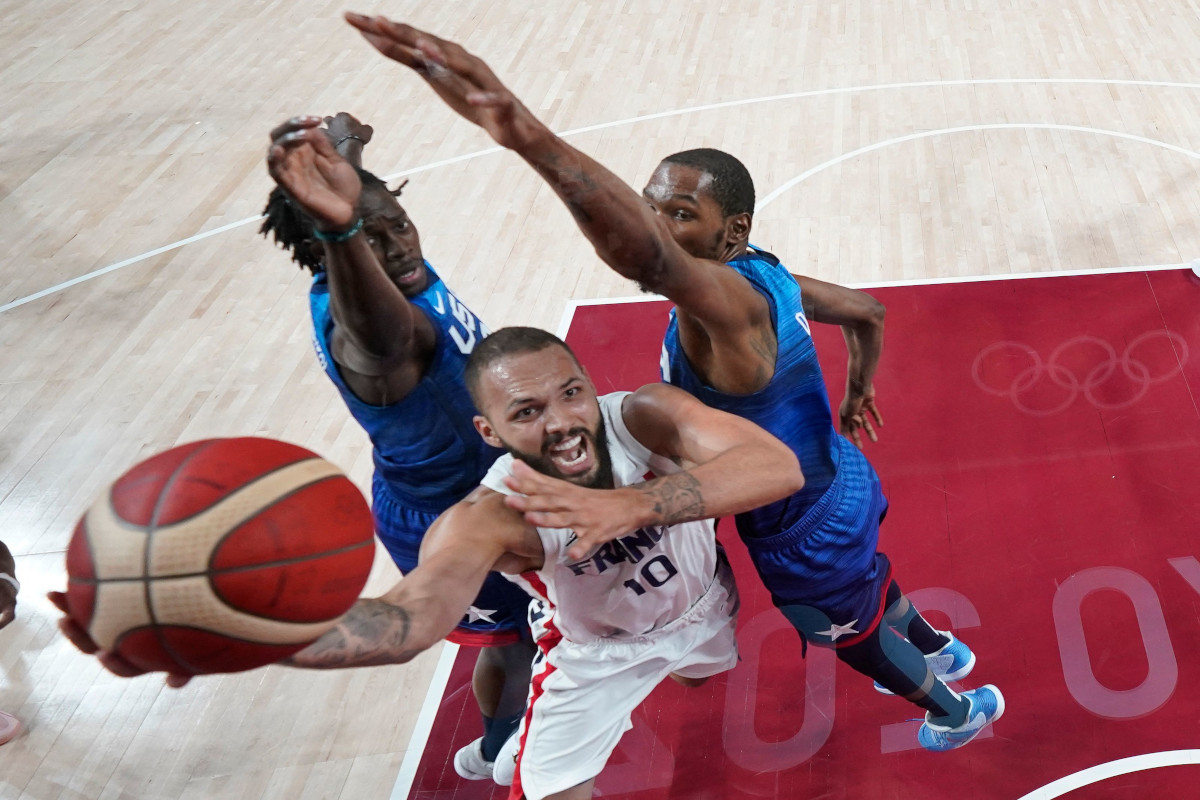 Team USA did enough things right to open a 45–37 halftime lead. The group shared the ball generously — too generously on several possessions — with 23 assists on 25 made field goals. The problem was that shooters often passed up good shots, sometimes even great ones, and opted to pass. The overpassing was primarily responsible for the 12 turnovers USA Basketball piled up.
France also had a decisive edge on the boards, 42–36, had 16 second-chance points to seven for Team USA despite losing the offensive rebounding battle by an 11–9 margin and outscored USA Basketball 32–28 in the paint.
In the NBA, you can often beat size by going small. When France played one big in the first half, Team USA feasted often. But when Collet went super-sized with two 7-footers on the floor almost constantly, France seized the advantage with mismatches inside. That was exacerbated by Popovich sticking to the plan to switch everything on screens. Gobert against a Durant or Adebayo is a disadvantage for USA Basketball already. Gobert against Holiday or Zach LaVine, though, seldom ends well.
The road ahead for Team USA
USA Basketball faces Iran on July 28 (12:40 a.m. Eastern), while France plays the Czech Republic at 8 a.m. Eastern. The Czech Republic opened with an 84–78 victory over Iran, which drops Team USA into last place in group play based on point differential (minus-6 for Iran, minus-7 for USA Basketball).
Group play wraps up with Iran and France (9 p.m. Eastern on July 30). Team USA closes the same day with the Czech Republic at 8 a.m. Eastern on July 31. The top two teams in each group advance to the quarterfinals. The best two third-place teams will also be in the elimination bracket. The draw for the bracket is Aug. 2.
In Group B play on July 25, Australia outslugged Nigeria 84–67 while Italy put away Germany 92–82. Group C tips off on July 26 with Argentina taking on Slovenia and host Japan facing off with Spain.
Statistics courtesy of FIBA.