Teddy Bridgewater's Net Worth: How Much Is the Denver Broncos Quarterback Worth Today?
Teddy Bridgewater had an accomplished career before his NFL days. The quarterback from Miami had a stellar high school career, earning his team the title of national champions by USA Today. Bridgewater would continue to excel at the collegiate level. He played at Louisville, and took the Cardinals to the 2013 Sugar Bowl where they defeated the heavily favored Florida Gators. In response to his on-the-field excellence, the Minnesota Vikings selected the Big East QB in the first round. However, Bridgewater has been plagued by injuries in the NFL. Once the hope of Minneapolis, the QB could now be classified as a journeyman QB. That got us wondering: What kind of net worth does a QB like Teddy Bridgewater have?
Bridgewater's NFL career started off promising
Bridgewater had high expectations in the NFL. It did seem that he might have been a franchise-caliber QB. In his rookie year, he was named Pepsi NFL Rookie of the Year. He would continue to improve in his second season, despite being behind one of the worst offensive lines in the league.
In the 2015 season, Bridgewater would lead his Vikings into the playoffs, where they lost the game due to an infamous missed field goal. Nonetheless, Bridgewater was invited to his first Pro Bowl.
In 2016, disaster struck. Before the season had even started, Bridgewater had a particularly brutal ACL tear. In addition to the ligament being torn, his knee was dislocated. Experts predicted he would miss 17-19 months. Because of this, the Vikings declined the fifth-year option on his contract.
Since then, Bridgewater has bounced around the league mainly as a backup. Despite the setback, he continued to be an outstanding member of the community. He would get another starting chance with the Carolina Panthers.
While he did have a decent passer rating of 92.1, the Panthers had a 5-11 record. Carolina decided to let Bridgewater go in favor of Sam Darnold. Bridgewater would land with the Denver Broncos, where he earned the starting position after out-dueling Drew Lock in training camp. 
What is Teddy Bridgewater's net worth?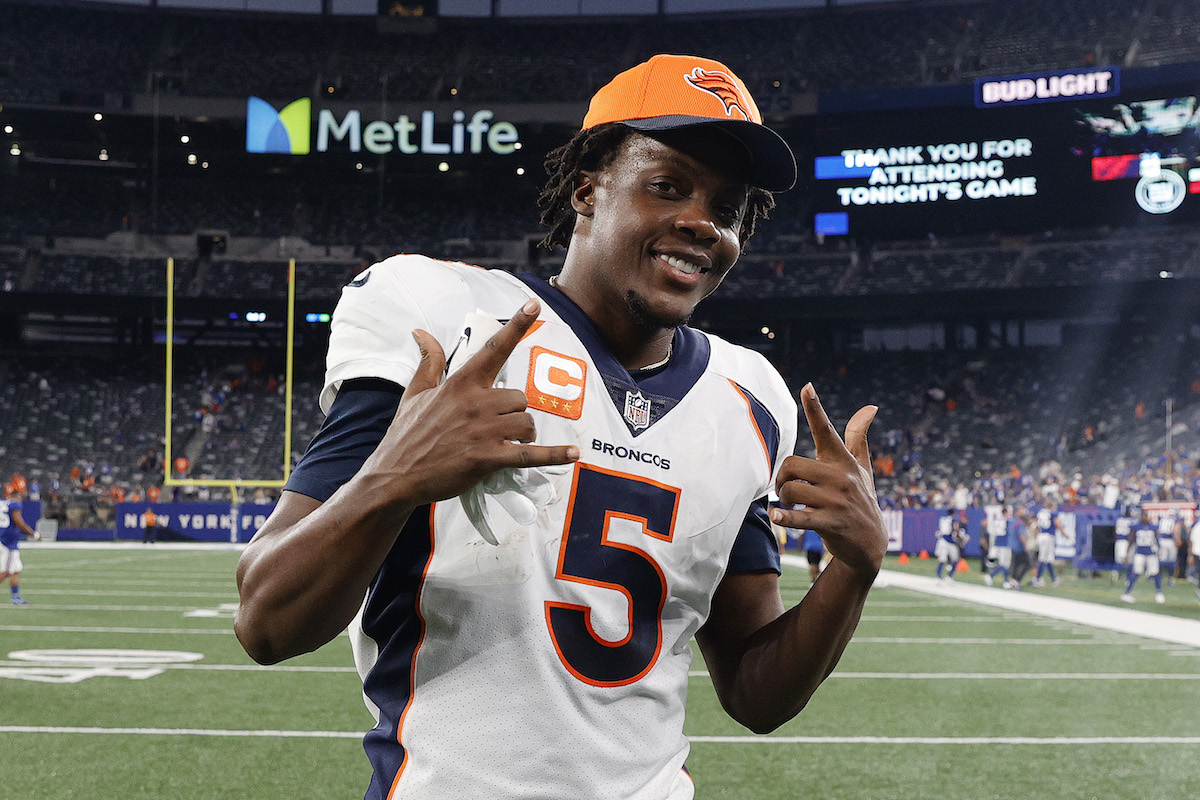 Bridgewater has been in the NFL for eight seasons with four different teams. While he never got a blockbuster contract, he is by no means a poor man. That's because Teddy Bridgewater's net worth is $8 million, per Celebrity Net Worth. 
This sounds a little low, considering his rookie contract was worth $6.85 million, plus a $3.3 million signing bonus. His deal with the Panthers would have paid him about $20 million per season. 
Bridgewater might be light on money not because of being a reckless spender, but for giving so much away to charity. While the exact amount of money he's donated is unknown, he has given enough away to be nominated for the Art Rooney Sportsmanship Award.
At a toy drive in 2019, Bridgewater ran out of toys to give to kids, so he started handing them $20 bills instead, as reported by Barstool Sports.
How has Bridgewater's performance with the Denver Broncos been so far?
While Teddy certainly has a big heart, fans of the Denver Broncos are known for being impatient with quarterbacks. Bridgewater and the Broncos started out hot, winning their first three games. However, this was against weak opponents. Since then, the Broncos have lost three in a row, earning them a .500 record and sitting in third place in the AFC West.
However, Broncos fans haven't turned on Bridgewater. After all, the QB has a rating of 100.09 so far. Most of the blame of the Broncos' woes falls on the coaching for unimaginative play calling. The smart money says Bridgewater will be in Denver longer than head coach Vic Fangio.
RELATED: Denver Broncos Coach Vic Fangio Stuns Reporters With Comments on Racism in NFL