Tee Higgins Has Already Made a Monumental Decision About His Future With Joe Burrow
The Cincinnati Bengals proved they were serious about the Joe Burrow era when the team paired him with Clemson receiver Tee Higgins during the 2020 NFL Draft.
It's been so far, so good for the dynamic wideout. Only a game into his sophomore season, Higgins shared what he's already thinking about 2022 and beyond.
Tee Higgins plans on switching numbers ahead of the 2022 season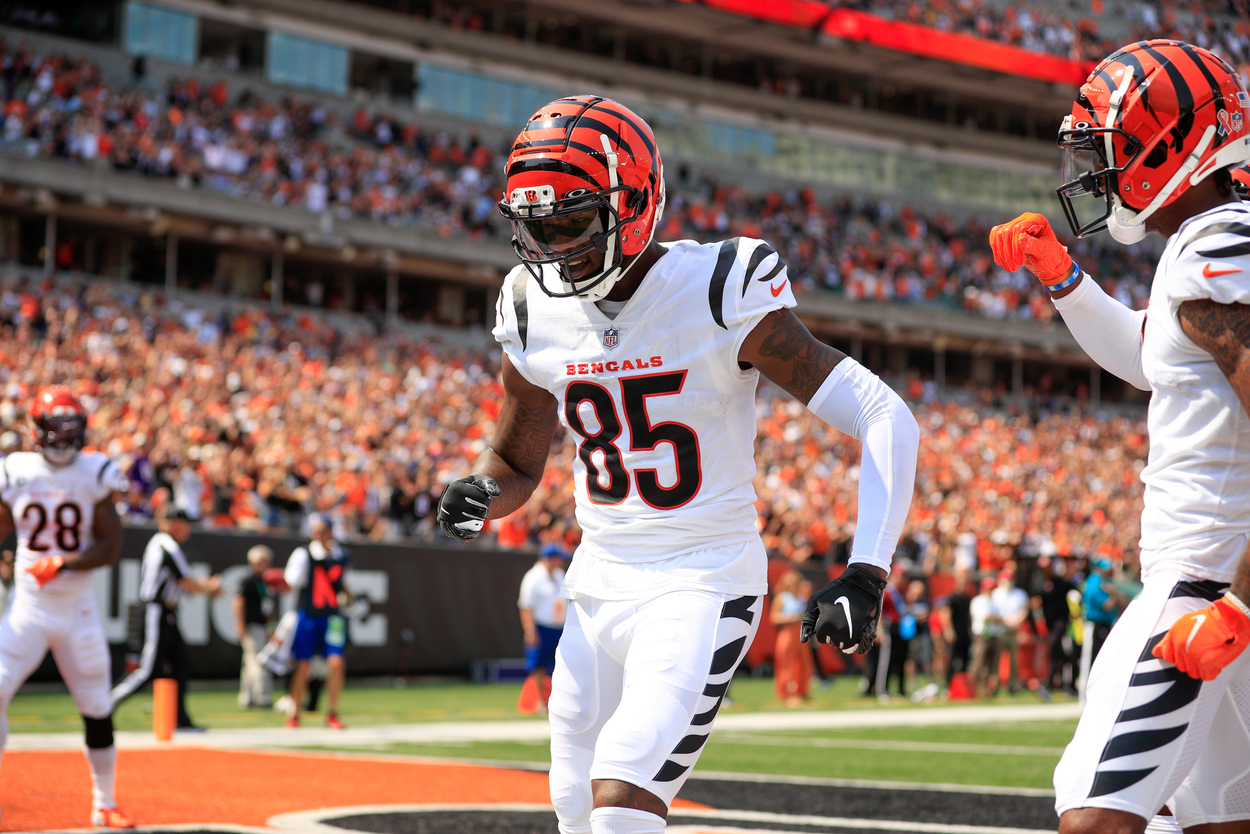 Those who didn't pay much attention to the NFL at large before Week 1 may have been surprised to see more non-quarterbacks, including Los Angeles Rams star cornerback Jalen Ramsey, wearing single digits.
The NFL introduced new number policies ahead of the 2021 season, and many players — ranging from rookies to proven Pro Bowlers — took advantage. Higgins, the Bengals' explosive sophomore wideout, intends to join that group next year.
According to ESPN, Higgins said he will ditch No. 85 — the number he's worn since entering the league — after this season. As much as he enjoys wearing the number, he's had enough of the comparisons between him and Bengals legend Chad Johnson, who also wore No. 85.
"I keep seeing on Twitter, 'Ochocinco 2.0. I don't want to be a 2.0. No disrespect to Chad. He's a great receiver, this and that. I just don't want to be a 2.0 for myself, man. I want to be Tee Higgins, 1.0, No. 5."

Tee Higgins
Higgins added he believes the Bengals should retire Johnson's number. The eccentric wideout had 751 catches, 10,783 yards, and 66 touchdowns in 10 seasons with the Bengals from 2001-10.
"I just feel like Chad's done so much for this organization," Higgins said. "I just got a good feeling that his number is gonna get lifted one day."
Higgins dominated defenses while wearing No. 5 at Clemson
By announcing he's switching his number a year from now, Higgins won't have to make a financial sacrifice and buy out the rest of his jerseys. Bengals fans who already paid hundreds of dollars for his current jersey — or worse, last year's jersey with a now outdated style — might feel better about the growing hole in their wallets if the young receiver continues his success while wearing his old number.
Higgins hauled in 135 catches for 2,448 yards and 27 touchdowns in three seasons at Clemson. He also had a 36-yard rushing touchdown as a junior in 2019, the same season where he earned first-team All-ACC honors.
Clemson, of course, won the 2018 National Championship with Higgins catching touchdowns from then-freshman quarterback Trevor Lawrence. Generations of Bengals fans, meanwhile, have grown up without their team ever winning a playoff game.
Burrow and Higgins are continuing to do big things together
Higgins more than lived up to expectations as a rookie, hauling in 67 catches for 908 yards and six touchdowns in 16 games and 14 starts. The Bengals paired him with Ja'Marr Chase, Burrow's former No. 1 wideout at LSU, early in the 2021 NFL Draft in hopes of turning them into the new version of Johnson/Ochocinco and T.J. Houshmandzadeh.
Bengals fans got what they paid for in Week 1, especially if they showed up to Paul Brown Stadium with an overpriced authentic jersey featuring either player's name on the back. Higgins had four receptions for 58 yards and a touchdown in a 27-24 overtime victory over the Minnesota Vikings. Chase, who struggled with drops during the preseason, totaled five catches for 101 yards and a 50-yard touchdown.
Higgins will still be wearing No. 85 when he and the Bengals travel and face the Chicago Bears in Week 2. A win and a 2-0 start would put the Bengals in excellent shape entering a Week 3 matchup against the rival Pittsburgh Steelers at 2-0.
Look for Burrow, who looked sharp in his return from a torn ACL, to continue relying on Chase and Higgins in the passing game. If the second-year wideout continues playing at a high level, maybe he'll stick with his current number after all.
Like Sportscasting on Facebook. Follow us on Twitter @sportscasting19.