A Teenage Kevin Garnett Once Snuck Into a Bulls Practice and Ended up in a Pick-up Game With Michael Jordan and Scottie Pippen: 'Damn, I'm Playing Against My Idol'
Before Kevin Garnett became the first modern high schooler to enter the NBA draft in 1995, before he became a 15-time All-Star, and before he finally won his long-sought-after NBA title in 2008, he was a McDonald's All-American and the National High School Player of the Year. KG played at Farragut Academy in Chicago, home of Michael Jordan, Scottie Pippen, and the legendary Chicago Bulls dynasty.
One night, the future MVP and his friend went looking for a pick-up game and had the cajones to sneak into a gym where Jordan and Pippen were practicing.
Much to his surprise, he got his chance to run with the two Hall of Famers that night, and it didn't disappoint.
Kevin Garnett was the best high school player in the country in 1995
KG had a winding road to the NBA.
It started in South Carolina, where he picked up the game later than most. He was the South Carolina Boys Basketball Player of the Year as a junior. Eventually, he ended up at Farragut and starred, winning the same award in Illinois as a senior.
According to Bleacher Report, Garnett averaged 25.0 points, 17.9 rebounds, 6.7 assists, and 6.5 blocks his senior season. That foreshadowed every ability KG would show as a pro – a silky jumper, exceptional playmaking ability for someone his size (6-foot-11, 240 lbs), and defensive dominance.
He was academically ineligible to play college basketball. So at least in part because of those circumstances, The Big Ticket entered the '95 draft. He went fifth overall to the Minnesota Timberwolves, which began a 12-year odyssey with that franchise. He carried the team to eight straight playoff appearances in his first eight seasons.
Eventually, KG found his way to Boston, won an NBA championship and the Defensive Player of the Year Award in the same season, and became a Hall of Famer in 2020.
He got a little confidence boost before draft day, though.
A teenage KD snuck into a Bulls practice and played pickup with MJ and Scottie Pippen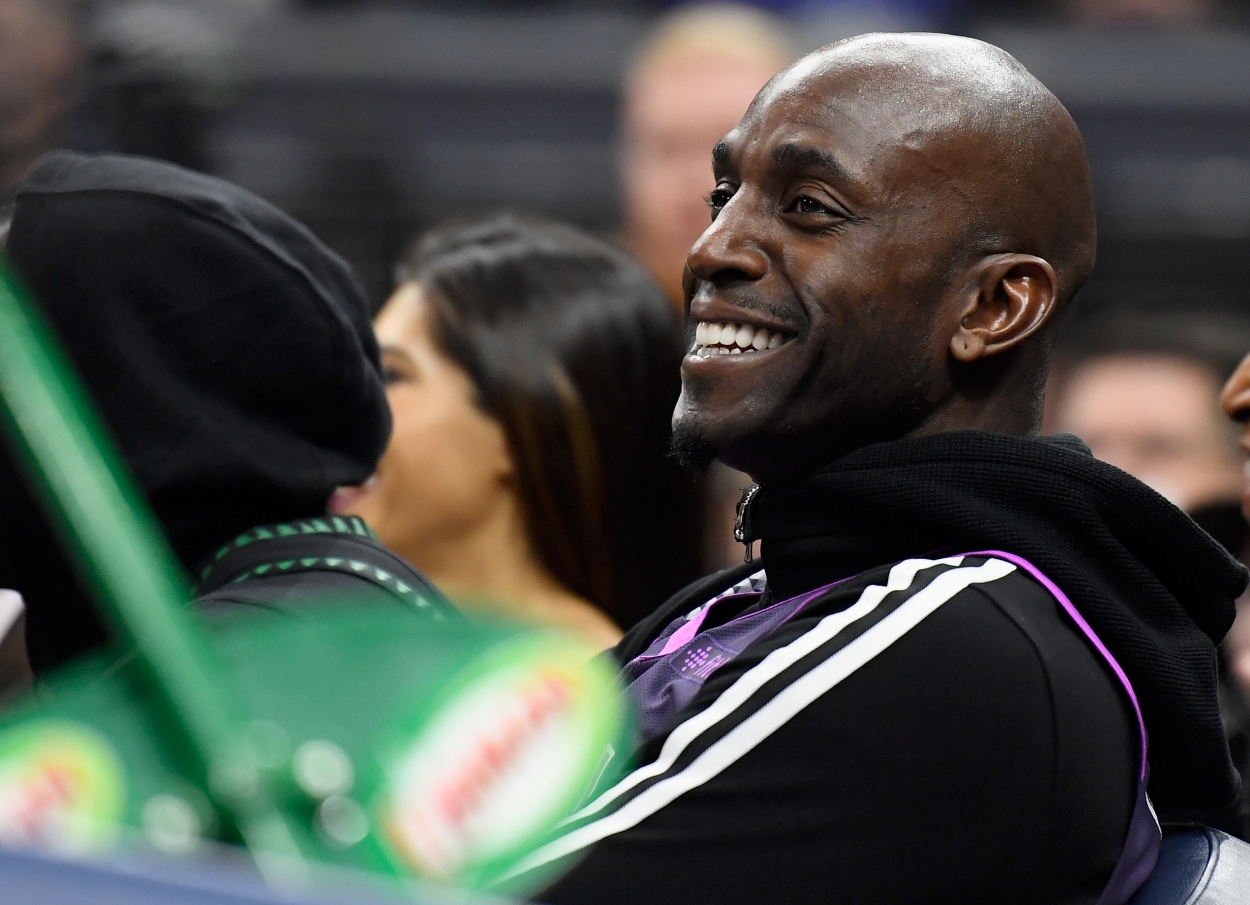 As Garnett struggled to pass his ACTs and wondered how he would get into college, a friend decided that getting away from the books and taking his mind off studying for a while might help. So the two decided to find a game.
Instead of finding any game, though, they snuck into a gym where members of the Bulls were practicing – including MJ and Pippen.
Garnett sat on the sidelines and watched for a bit until a security guard noticed him and told him to get on the floor. So he grabbed his shoes and jumped into a game with the GOAT and a player coming off the best scoring season of his career.
Garnett told the story in a piece on The Undefeated:
Pippen says, "You too young to be out here. You just a high school kid."

Jordan says, "Let's just go." Then he points to me and says, "You guard Scottie."

I'm thinking, Damn, I'm playing against my idol. I'm playing against a guy who's coming off one of the best years of his career.

Right off, Pippen calls for the ball and does a stutter move before launching a big-ass three.

I'm like, That's crazy, no way he could have made that shot.

But then my natural reflexes kick in. Boom! I dunk. Boom!

Scottie and I have a word. That just fires me up more. I'm thinking, I'm holding my own against one of the greats. As the game goes on, I'm gaining confidence. Ain't backing down. No one's making a fool of me. I'm competitive with these m************. I'm playing Scottie close, hard and tough. I'm in his face. I'm acting like every moment of my life has led me to this.

Kevin Garnett on playing pickup with Michael Jordan and Scottie Pippen
KG was known in high school for his defensive abilities, among a plethora of other skills. He was long, tall, and uncommonly athletic for someone his size. And he was ferocious.
He used those skills to guard a future Hall of Famer in his prime despite being only 18 years old.
As he added in The Undefeated piece: "I got one thing to say to that security guard: Thank you."
Garnett went on to become one of the most feared defenders in NBA history
The Big Ticket became one of the best players in the league rather quickly. He averaged 17.8 points and 10.0 rebounds in his career – by his age-20 season, he averaged 17 and 8. He was named First-Team All-Defensive by his fifth season in the league and eight more times during his career.
KG was named the 2003-04 MVP when he averaged 24.2 points, 13.9 rebounds, 1.5 steals, and 2.2 blocks. He's in the top 20 all-time in both steals and blocks.
It's probably not a coincidence he won his Defensive Player of the Year Award the same season he brought himself, Paul Pierce, and Ray Allen their first championships.
And he showed that defensive dominance against one of the best players in league history before he even stepped foot on an NBA floor – and in front of the GOAT, no less.
All statistics courtesy of Basketball Reference.