The Tennessee Titans Have Not Given Up on 4th-Round Pick Dez Fitzpatrick Despite Surprisingly Cutting Him
The Tennessee Titans have been a contender in the AFC for the past couple of seasons. They have high expectations for the 2021 season. The front office was confident in their draft class, which included wide receiver Dez Fitzpatrick. The University of Louisville product has not met expectations, resulting in the Titans cutting him. However, the team is not ready to give up on Fitzpatrick.
Dez Fitzpatrick played at Louisville with Lamar Jackson
Dez Fitzpatrick was a four-star prospect coming out of Waterford Mott High School in Michigan, per 247Sports. The wideout was a finalist of Michigan Player of the Year honors. He received several offers from major college football programs, including Indiana, Michigan, Nebraska, and Arizona. He would eventually commit to the Louisville Cardinals in 2017.
Fitzpatrick had the opportunity to play with Heisman Trophy winner Lamar Jackson as a freshman at Louisville. His first season was his best. He recorded 45 receptions for 699 yards and nine touchdowns.
After Jackson left for the draft, Fitzpatrick's touchdown numbers decreased significantly. He would catch 109 passes for 1,890 yards and 12 touchdowns in his last three seasons combined. Despite the dip in scoring, he is still currently fifth in school history in career touchdowns.
The Tennessee Titans drafted Fitzpatrick with pick No. 109 in the fourth round of the 2021 NFL Draft.
Other wide receivers stepped up for the Tennessee Titans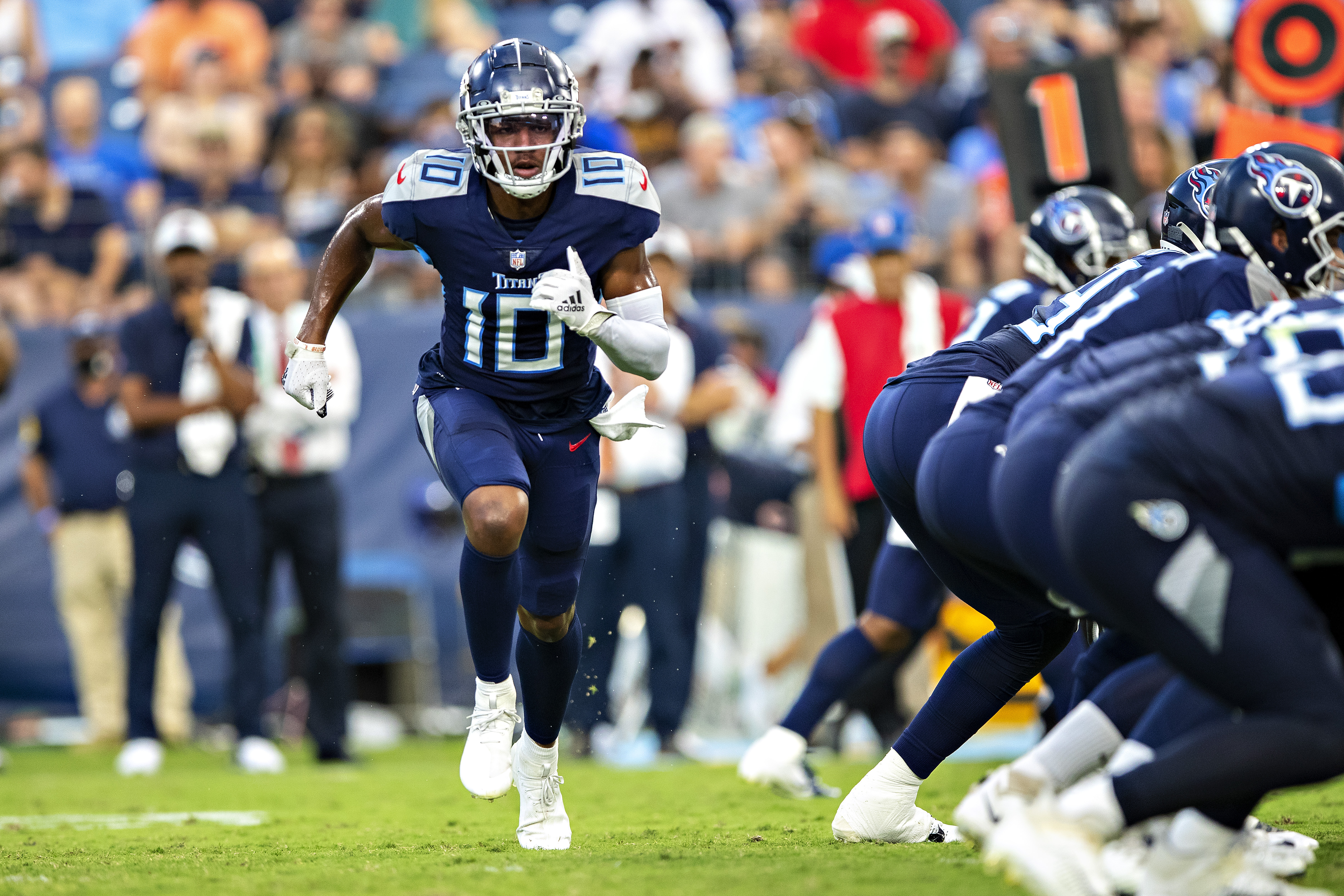 The Titans were hoping that Fitzpatrick would come in and fill a void in their receiving corps. The team acquired All-Pro wide receiver Julio Jones from the Atlanta Falcons in the offseason to pair with A.J. Brown.
However, Tennessee lost some key contributors from the 2020 season as well. Wide receivers Corey Davis and Adam Humphries and tight end Jonnu Smith, are all playing for new teams. The Titans signed former Rams wideout Josh Reynolds to become their third option, but he started slow and may face some competition for snaps.
As for Fitzpatrick, he underperformed during camp and the preseason. The rookie struggled with drops at times, which is never a good sign for someone trying to make the team. He flashed his talent at times as well, though, including on a touchdown catch against the Tampa Bay Buccaneers in the preseason.
Multiple players emerged at wide receiver for the Titans in camp. Journeyman Marcus Johnson has turned heads and has even seen some reps with the first-team offense. Chester Rogers went undrafted in 2016 but has battled and earned a spot on the 53-man roster. He's also proven to be a key contributor on special teams as a returner.
Mason Kinsey also appeared to have more positive moments than Fitzpatrick, but there wasn't enough room for him to make the cut, either.
The Tennessee Titans gave up too much to lose Dez Fitzpatrick now
The Titans cut Dez Fitzpatrick, but they are not ready to give up on the fourth-round pick just yet. They traded up to draft the first-year wide receiver, relinquishing three picks in the process.
It's surprising to see that the Titans were willing to cut a player they traded up in the draft to get. Still, he was outplayed and did not meet expectations. By signing Fitzpatrick to the practice squad, they are allowing him an opportunity to develop.
The former Louisville standout has some work to do if he wants to make an NFL roster eventually. He has to clean up the drops and improve has a blocker. Re-signing him to the practice squad rewards more deserving players with a roster spot. The team also feels like they haven't completely wasted draft capital.
Only time will tell if the Tennessee Titans made a mistake by taking a chance on Dez Fitzpatrick.
All stats courtesy of College Football Reference