What Tennis Racket Does Serena Williams Use in 2021?
Serena Williams is hands down the greatest women's tennis player of all time. With 23 Grand Slam titles under her belt, she has ranked No. 1 eight times throughout her career. The now-39-year-old has also accumulated the most prize money ever on the women's circuit.
In addition to her dominant play on the court, Williams is also a fashion icon. Combining her style sense with her tennis skills, she appreciates the perfect racket design. So which racket is Williams using in 2021?
Serena Williams' 2021 tennis racket of choice
RELATED: Michael Jordan Stunned Serena Williams With the Perfect Gift After Her 2017 Australian Open Title
Considering everything Williams touches turns to gold, Wilson partnered with her to develop a racket that supports her power yet maintains control. The racket, Blade SW102 Autograph, has a smaller head than her previous one — 102 square inches versus 104 square inches — and highlights Williams' personal style, complete with gold accents.
After testing nine prototypes, Williams landed on a winner and debuted the blacked-out model at the 2020 Australian Open. She still uses the racket today. Ron Rocchi, part of Innovation at Wilson Racquet Sports told Cision PR Newswire, "The extensive prototyping and playtesting process we underwent allowed us to build a new racket that would support both Serena's style and high-level of play."
The racket includes Williams' signature and encouraging words. It currently retails for $249.
Serena Williams as a style icon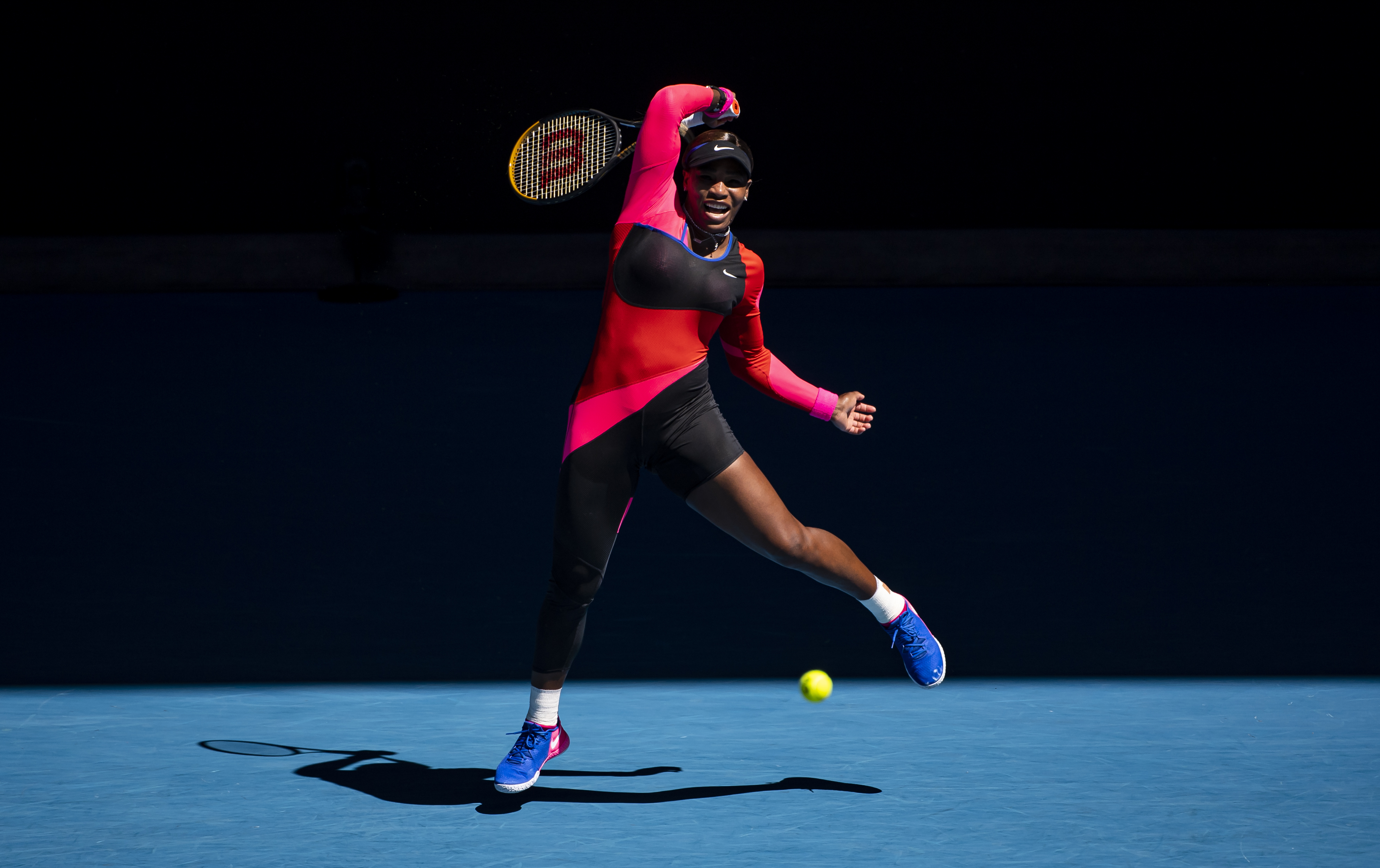 RELATED: Serena Williams Has Incredibly Cheated Death Not Once, but Twice
Williams showed up to her first match at the 2021 Australian Open, and nobody ended up talking about tennis. Instead, the focus surrounded her outfit selection, as it usually does these days. She wore a black, red, and pink asymmetrical, one-legged catsuit. The long sleeve ensemble, designed by Nike, was inspired by Flo-Jo, the legendary track star of the '80s.
ESPN reports the superstar said:
I was inspired by Flo-Jo, who was a wonderful track athlete, amazing athlete when I was growing up. Watching her fashion, just always changing, her outfits were always amazing.

This year we thought of what can we do to keep elevating the Serena Williams on the court. The Nike team actually thought of this design of inspiration from Flo-Jo. I was like, 'Oh, my god, this is so brilliant.
Williams has a longstanding partnership with Nike; they helped design the black catsuit she sported after giving birth to her first child. When the outfit was banned from the French Open, Nike stood by their client, reports Footwear News, launching a supportive tweet campaign. Williams didn't let the ban get her down. At her next match, Insider reports she showed up wearing a tutu and fishnet tights.
Williams' shoe selection
Because of her partnership with Nike, Williams is always rocking one of their designs. With her 2021 asymmetrical catsuit outfit, Williams chose white and gold Nike's as the accent. When she debuted the highly controversial black catsuit, she rocked a pair of sparkly gray and black Nike sneakers.
Williams has a hand in the design process of her on-court footwear, but they aren't available for the public to buy. She's known to wear the Nike Flare 2 HC shoes but usually coordinated with her outfit. While you might not be able to get the same kind she wears on the court, Flare 2 HC's are available at various online retailers and run upwards of $100.
While her outfit and sneaker choices are flashy and different from the norm in tennis, Williams has always backed it up with her solid play and winning ways throughout her career. She's a legendary tennis player who will be remembered for her dominant play and maybe one or two over-the-top outfit choices.