Tennis Star Jimmy Connors' Gambling Addiction Cost Him Millions: 'I Didn't Know When to Quit'
Jimmy Connors was a superstar athlete who never tried to rein in his passion. The fact that no one knew exactly what he'd say or do was nearly as exciting as his impressive swing. No one thought Connors was perfect. But when he published his autobiography, The Outsider, many tennis fans were surprised to learn that Connors had a serious gambling addiction the entire time he competed.
Jimmy Connors' tumultuous tennis career
There had been a time when many aspiring tennis stars spent hours studying Jimmy Connors. He was a gifted athlete and the young tennis hopefuls wanted to play exactly like him. Even though his pro tennis career ended decades ago, Connors continues to hold a few pro-tennis records.
During his career, he played in nearly 1,600 matches. He won over 1,200 of those matches and earned 109 different titles. For 160 consecutive weeks, Connors had the distinction of being the No. 1 ranked tennis player in the world. Right up to the day he retired at the age of 43, Connors was still winning matches and scaring opponents. 
While Connors was always impressive while he was on the tennis court, his personal and financial life was in tatters. Connors had a major problem that he couldn't figure out how to solve.
Jimmy Connors faces his gambling addiction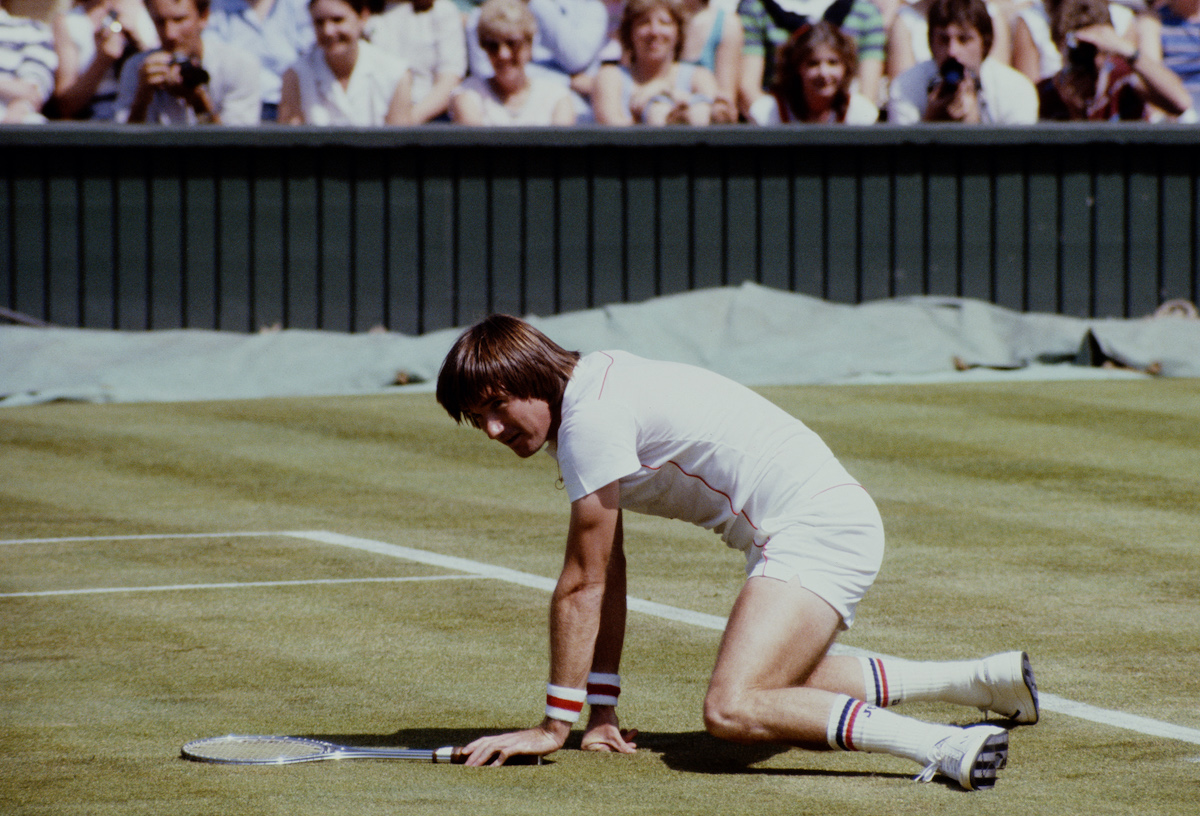 RELATED: John Daly's Addiction Easily Cost Him Over $55 Million
Connors loved gambling as much as he loved playing tennis. He wasn't the kind of guy to swing by a casino and spend a few hours unwinding. In his book, The Outsider, Connors freely admits that he was hooked on gambling. While he can't say exactly how much he lost to his gambling addiction, he knows it was millions.
Connors explains that as long as he had money, he kept gambling. "I didn't know when to quit," he said according to The Fix. I either had to break the bank or break me, and, you know, there's only one winner there, and it's not me. If I won two games, I had three or four. If I won four, I had to win six. So I'd just keep until, you know, I'd explode."
Learning that a world-class athlete struggled with gambling isn't a surprise. One of the things Connors bet on is.
Jimmy Connors lost big on himself
RELATED: Michael Jordan Insanely Bet $100,000 on Rock, Paper, Scissors
One of the biggest concerns everyone has when they learn that a beloved athlete has a gambling problem is that they'll try to get out of the financial hole they've dug by betting against themselves. This leads to people wondering if the athlete threw a game/match.
Connors freely admits that yes, he bet on tennis matches, but he is quick to point out that he always bet on himself. He loved the feeling of knowing he had serious money riding on his ability to win the match. He claimed that it was the ultimate high. "Betting on myself was the ultimate gambler's high," he wrote in his book. 
While he was writing, Connors realized that the need to bet on himself as well as the amount of money he was willing to risk on his performance should have made him realize that he had a serious problem. "I was out of control and I didn't realize it, though that bet should have been a big-assed hint," he said, according to Tennis.com.
The most amazing example of Connors betting on himself was when he placed a $1 million bet that he would win his match against Martina Navratilova in the 1992 Battle of the Sexes match, which he very nearly lost, according to CBS Sports.
Today, Connors claims he is no longer gambling. He credits his wife for finally reining him in and making him understand the scope of his addiction.