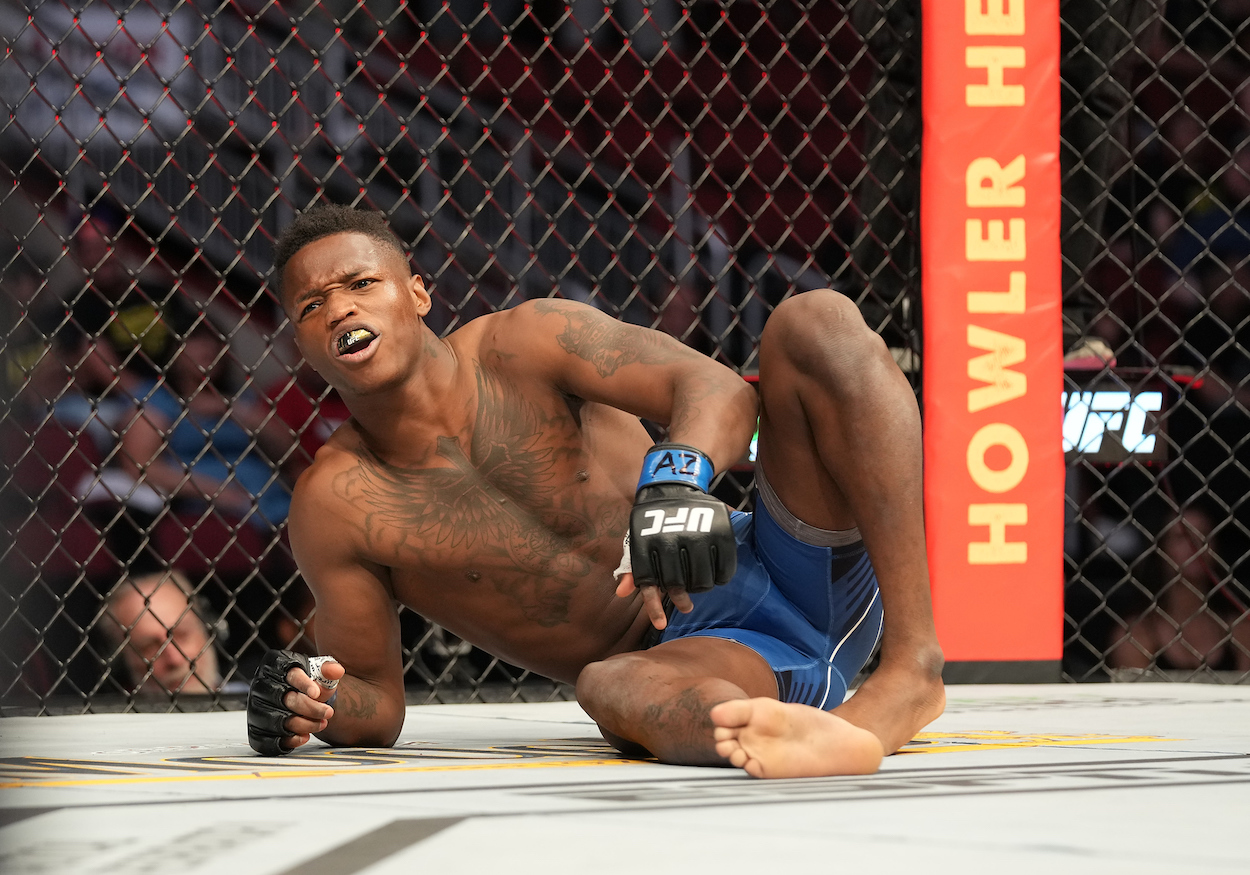 After Clinically Dying Several Years Ago, Terrance McKinney Makes UFC Debut in Record-Setting Fashion With Fastest Lightweight Knockout Ever Before Seriously Injuring Knee in Celebration
Terrance McKinney made his debut at UFC 263 in record-setting fashion with the fastest knockout in lightweight history before seriously injuring his knee in the celebration.
Terrance McKinney made history during his UFC debut Saturday night with a knockout in record time. His record-setting highlight of the night and joyous moment suddenly turned into a nightmare moments later when he jumped down from the top of the cage in celebration and appeared to seriously injure his knee.
For McKinney, the knee injury isn't a big deal because he's faced plenty of adversity in his young life. Unbelievably, his life came perilously close to ending several years ago when he clinically died twice after confronting police and being tasered multiple times while "out of his mind" on a drug cocktail. 
Terrance McKinney makes UFC history in debut
Terrance McKinney has developed a reputation as a fighter known for making quick work of his opponents. In 10 of his 11 wins, he finished his opponent in the first round. In his three wins in 2021, his last one, which was just eight days ago, was the longest, and it lasted just over a minute. His previous two fights lasted 16 and 17 seconds, respectively. 
During his UFC debut on Saturday night in Arizona, McKinney continued the trend and did so in record-setting fashion. McKinney and UFC veteran Matt Frevola met and tapped gloves in the center of the octagon, before the newcomer stepped forward and delivered a one-two combination that instantly dropped Frevola.
McKinney pounced, surging forward and dropping to his knees and delivering repeated hammer fists to the face of Frevola. Referee Jason Herzog immediately intervened and stopped the fight at a record seven seconds, the shortest fight in UFC lightweight history and fourth-shortest overall. 
The fight was so short that commentator Joe Rogan hadn't finished talking about how much Frevola loves being in a fistfight and "does not shy away from the wild exchange" before the 30-year-old found himself on his back staring up at the ceiling.   
McKinney injures knee in celebration
When Herzog stopped the fight, McKinney made the move countless UFC fighters have done before and jumped up on the side of the cage, looking out into the crowd. What happened next shocked the fans in the arena and those watching on TV when McKinney jumped down and landed awkwardly. He immediately started grabbing at his right knee, before falling to the mat.
"Oh no, he just fell and hurt his knee," Rogan said, as the cameras showed McKinney sitting on the ground, looking at his corner, and pointing to his knee. "Oh no, Terrence. Oh my goodness." 
McKinney made his way to his feet and hobbled around the octagon in celebration. A few minutes later, Rogan talked to the emotional 26-year-old who offered a word of encouragement. 
"It feels so amazing," he said with his arm around Rogan's shoulder. "You guys can see tears in my eyes. I just want everyone that's going through struggles to never give up and trust in God." 
Died several years ago after police encounter
McKinney's remark at the end about struggles comes from personal experience. He struggled until 2014 when he had an encounter with law enforcement that almost cost him his life but ultimately saved it. After mixing alcohol with acid and mushrooms, police confronted McKinney who resisted. 
"I ended up seeing demons. I was very incoherent. I was pretty much out of my mind," McKinney said in a video produced by his previous promotion, Legacy Fighting Alliance, which included news coverage of his arrest. "When they tried to engage me, I started going crazy, so they had to tase me, like multiple tases. I ate it like it was nothing. They finally got me down and was able to restrain me and get me to the hospital, and that's where I ended up dying twice. I didn't even know I died. That was the scariest part. It really just made me settle down and think, 'Is this what I want, or do I want something better?'"
McKinney changed his life and focused on his MMA career. His UFC debut on Saturday night couldn't have gone any better. The celebration is another story. But after what he has experienced in life, including facing death, he realizes a knee injury is temporary. His record-setting knockout is forever.
Like Sportscasting on Facebook. Follow us on Twitter @sportscasting19.