Terrell Davis Made A Career-Saving Tackle In Tokyo Before Vomiting Up A Day Worth of Junk Food
Terrell Davis is truly deserving of his spot in the Pro Football Hall of Fame. He is one of only eight running backs in NFL history to rush for over 2,000 yards in a single season. Across his first four seasons, he averaged over 1,600 rushing yards and 14 touchdowns. Had he not suffered serious leg injuries later in his career, he may have challenged for the all-time NFL rushing record.
It's easy to forget that during his rookie season, Terrell Davis came into the NFL as an unknown rookie who had to fight for his job.
Terrell Davis struggled through college football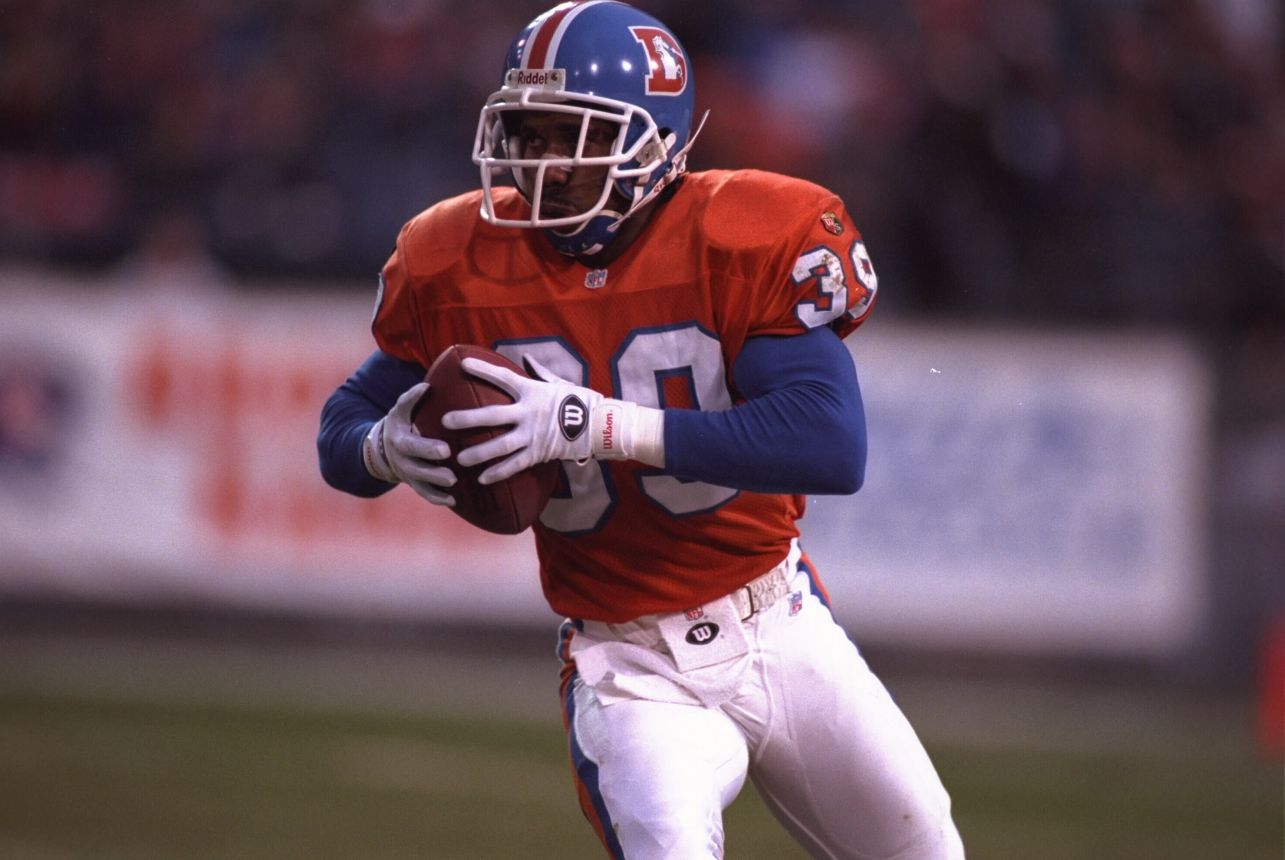 RELATED: John Elway's Odd Reason for His Bad Attitude Was Revealed in a Very Early Dallas Cowboys Scouting Report
In some ways, it's a miracle that any NFL team even picked Terrell Davis in the draft.
Throughout his four years of college football, Davis never picked up more than 824 yards in a season. Granted, this was mostly down to circumstances beyond his control. His first college team, Long Beach State, eliminated its football program due to budget concerns after the 1991 season.
His time at Georgia was also curtailed by a hamstring injury, which would sadly foreshadow the end of his NFL career. When the 1995 draft came around, teams were scared off by Davis' injury history. It didn't help that Bulldogs head coach Ray Goff refused to share any game film of Davis.
Eventually, Terrell Davis slipped all the way to the sixth round, where the Denver Broncos took him with the 196th overall pick. It may well have been the best choice the Broncos have ever made.
Terrell Davis fought his way onto the Denver Broncos roster
RELATED: JaMarcus Russell First Raised Red Flags For the Raiders When He 'Made it Rain' at a Talent Show
There was no guarantee that Terrell Davis would even make the Denver Broncos' roster for the 1995 season. In fact, the odds were very much against him. He was one of six halfbacks on the squad when training camp rolled around.
Davis' first few weeks were rough, as he struggled to adjust to the rigors of pro football. As he told ESPN's Golic and Wingo in 2019, things grew to the point where he wanted to quit professional football before he even played a game.
"That week, I had a horrible week of practice and I wanted to go home," said Davis. "I was a sixth-round draft pick. I was getting no burn at running back. No reps whatsoever, and so I decided to go home."
Unfortunately, "going home" was easier said than done. It just so happened that the Broncos' second preseason game of 1995 was in Tokyo, Japan against the San Francisco 49ers. Yes, really. Tokyo, that hotbed of American football. You thought the NFL's international games today were weird? At least those are mostly in countries that speak English.
Still, Davis toughed it out and made it to the Tokyo Dome for the "American Bowl".
One kickoff return changes Davis' life
As expected, Davis did not see much action early in the game against the 49ers. Worse still, he hadn't eaten in hours, so he figured he might as well indulge himself. At halftime, according to For The Win, he ate a chili dog, a hot dog, French fries, and some candy before returning to the field.
Apparently, he ate all of this too quickly, because he felt queasy on the sideline. Then something strange happened. During the fourth quarter, an assistant coach asked him to cover a Broncos kickoff. Seeing a rare chance to take the field, Davis agreed.
The next play cemented his place on the Denver Broncos. On that kickoff, Terrell Davis hit 49ers' returner Tyronne Drakeford and sent him flying. He promptly went over to the Broncos' sideline and vomited.
No one on the Broncos could ignore Davis again after that tackle. Future Broncos head coach Gary Kubiak, the offensive coordinator at the time, cites the play as an example for NFL rookies to follow when fighting their way into the league.
"Every year, on the opening weekend of preseason, I show this to the rookies," said Kubiak during an NFL Films special. "I say, 'Do you wanna make the team? You don't think you've been getting enough reps? Go do this on a kickoff.'"