Terrell Owens and Chad Johnson Could Have Won Super Bowls Together Had the Timing Been Right
Hall of Fame wide receiver Terrell Owens was in the news a lot during his career, and not always for good reasons. Owens seemed to always be in the center of drama. However, no one could talk bad about his talent as he was consistently one of the best receivers in the NFL every season.
The last season he played in the NFL, Owens was paired with another electric wide receiver in Chad Johnson, also known as Chad Ochocinco. The two played on the Cincinnati Bengals together and the Bengals ultimately had a disappointing season that year. However, if they had played together at the right time, they could have won Super Bowls together. 
Terrell Owens could not be stopped
Beginning his second season in the NFL in 1997, Terrell Owens was one of the most productive wide receivers to ever play. He earned four straight Pro Bowl selections with the San Francisco 49ers from 2000 to 20003 and three straight first-team All-Pro selections from 2000 to 2002.
Two of the best seasons in his entire career were in 2000 and 2001 for the 49ers. In 2000, Owens caught 97 passes for 1,451 yards and 13 touchdowns. In 2001, he had 93 catches for 1,412 yards and 16 touchdowns. He helped lead the 49ers to a 12-4 record in 2001. They also averaged the third-most points per game in the NFL that year.
Owens then joined the Philadelphia Eagles in 2004. He earned Pro Bowl and first-team All-Pro honors again that year, catching 77 passes for 1,200 yards and 14 touchdowns. He also helped lead the Eagles to the Super Bowl that season. They lost to the New England Patriots in Super Bowl XXXIX but he caught nine passes for 122 yards while playing hurt. Despite that great year, Owens only played in seven games with the Eagles in 2005. This was due to him being suspended for conduct detrimental to the team, according to The New York Times.
Owens played for the Dallas Cowboys from 2006 through 2008. He then finished his career with the Buffalo Bills in 2009 and the Bengals in 2010. He earned Pro Bowl and first-team All-Pro honors again as a Cowboy in 2007. Additionally, after the 2005 season, he had three straight 1,000-yard seasons and never had a season where he gained less than 800 receiving yards for the rest of his career.
Owens finished his career with 15,934 receiving yards and 153 receiving touchdowns, which are both third all-time. His 1,078 career receptions are eighth all-time.
Chad Johnson was also a star
Chad Johnson did not put up as big of career stats as Owens. This was because his prime did not last as long, but he was as good as they come throughout his career. Starting his second season with the Bengals in 2002 until 2007, Johnson had six straight seasons with 1,000 receiving yards or more. His best season was probably in 2007 when he had 93 catches for 1,440 yards and eight touchdowns.
In his career, Johnson actually went to the same amount of Pro Bowls as Owens did (six). He also earned first-team All-Pro honors twice. Johnson finished his career with 766 receptions for 11,059 yards. He also caught 67 career touchdowns. He played with the Cincinnati Bengals for 10 seasons and then played the final season of his career with the New England Patriots.
Bengals could have used Owens earlier than 2010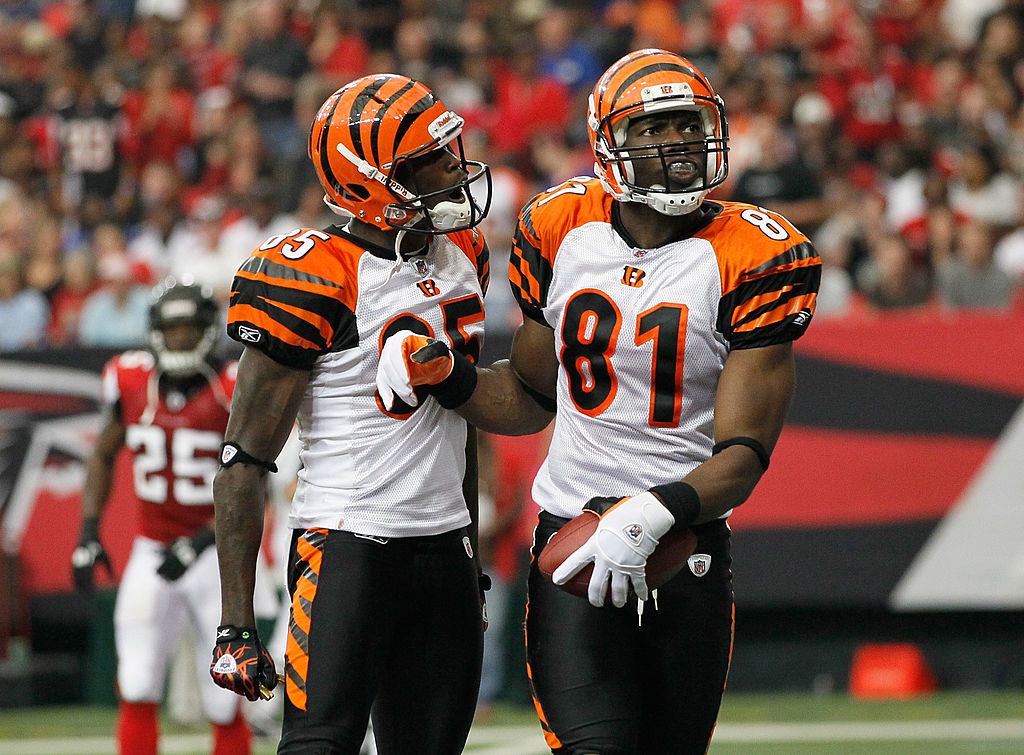 The Cincinnati Bengals had some good seasons with Johnson and quarterback Carson Palmer. They went 11-5 in 2005 and won the AFC North. They won the division again in 2009, going 10-6. However, the Bengals have struggled to win in the playoffs over the years. A piece like Owens could have taken them to the next level.
The Bengals signed Owens for the 2010 season, thinking he could help them after they went 10-6 in 2009 but lost in the wild card round. While Owens and Johnson were still productive in 2010, neither of them were what they used to be. Owens caught 72 passes for 983 yards and nine touchdowns in 14 games that year. He was 37 years old that season. Johnson, who was 32 years old, caught 67 passes for 831 yards and four touchdowns.
The Bengals went 4-12 in 2010, mostly because their defense was not as good as it was in 2009. However, if Owens and Johnson had been more explosive that year it could have made a difference.
If Owens had just been there a few seasons earlier, the Bengals would have been Super Bowl contenders and maybe could have won one or two. However, that ended up being the last season of his career and the second-to-last season for Johnson. The timing was just a few years off.