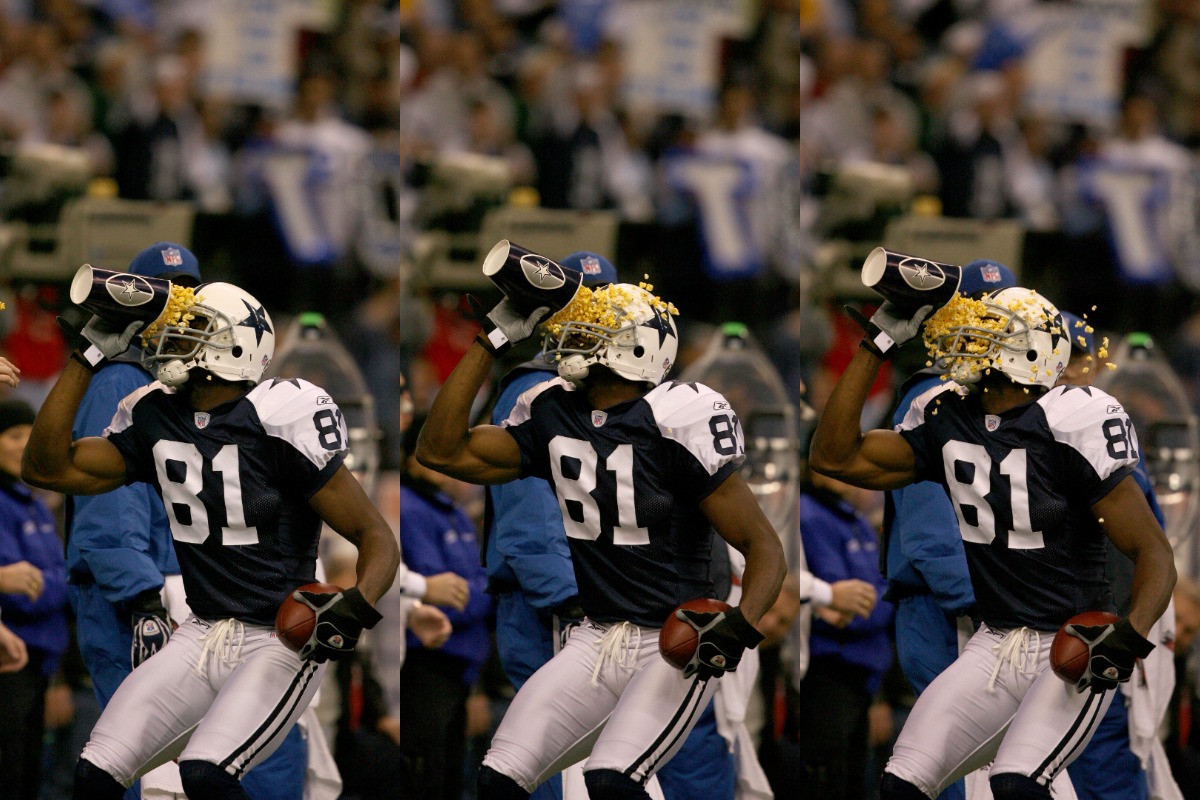 Terrell Owens Celebrated a Touchdown With Popcorn 13 Years Ago Today
The famous image of former Dallas Cowboys star Terrell Owens celebrating a touchdown with popcorn is 13 years old. It happened on Nov. 29, 2007.
Legendary wide receiver Terrell Owens always told fans, especially when he played for the Dallas Cowboys, to "getcha popcorn ready."
Owens, an NFL icon and a Pro Football Hall of Fame enshrinee, dominated the league for 15 seasons. He is one of the sport's greatest characters and an instrumental part of football history.
Owens took his popcorn phrase to a new level when he played for the Dallas Cowboys. When Nov. 29, 2020, arrived, it marked the 13th anniversary of Owens and his famous popcorn celebration. 
Terrell Owens was always an eccentric figure
Even newer and younger football fans are familiar with Terrell Owens and his legacy on the field.
Owens was a football player first, and an entertainer second. But Owens was so good at what he did that the two often mixed, and it led to plenty of memorable moments.
Owens posed after touchdowns and celebrated with fans. While playing for the San Francisco 49ers, Owens ran to the Dallas Cowboys' logo at midfield and celebrated there.
Cowboys safety George Teague famously shoved Owens at midfield and earned an ejection.
Owens inspired all of the touchdown celebrations that fans see each Sunday. It took years for the NFL to embrace those celebrations, but players like Owens — who performed them without hesitation and paid the fines — laid the framework for what is common now.
Owens had an excellent career in spite of his antics
Terrell Owens never let his antics and eccentricities get the best of him or turn him into an ineffective player.
A third-round pick in 1996, Owens totaled 1,078 catches for 15,934 yards and 153 touchdowns in 15 seasons. Owens made six Pro Bowls and earned five first-team All-Pro selections.
Owens also ran for 251 yards and three touchdowns.
Although he never won a Super Bowl, Owens brought his 'A' game to the playoffs. Owens had 54 catches for 751 yards and five touchdowns in 12 career postseason outings.
Owens had nine career 1,000-yard seasons and two others with over 900 yards.
After several years of not making the cut, Owens entered the Pro Football Hall of Fame alongside another legendary wideout, Randy Moss, in 2018. Owens famously did not attend the ceremony, however.
Terrell Owens' famous popcorn celebration is 13 years old
Besides the aforementioned star moment, what was arguably Terrell Owens' most famous touchdown celebration came on Nov. 29, 2007.
Dallas hosted Brett Favre and the Packers on Thursday Night Football. Those two teams eventually earned the top-two seeds in the NFC that year before losing to Eli Manning and the Giants.
Owens hauled in seven catches for 156 yards and a touchdown in the 37-27 victory. Tony Romo hit Owens for a 10-yard touchdown early in the second quarter to push Dallas' lead to 27-10. 
Owens famously ran to the stands and grabbed a fan's popcorn cup. The veteran wideout then dumped the popcorn through his face mask.
Somehow, that iconic image is already 13 years old. Terrell's son, Terique, is currently a wide receiver at Florida Atlantic University. Maybe soon, Terique will celebrate a touchdown with the help of a fan's food.
Like Sportscasting on Facebook. Follow us on Twitter @sportscasting19.