Terrell Owens Gives Bold Praise to a Rams Pro Bowler: 'The Tom Brady of Offensive Linemen'
Football is a physically taxing sport, a space where it's difficult to build a sustainable and lengthy career. Tom Brady is one of the few who has defied the odds. Hall of Fame wide receiver Terrell Owens wants to give flowers to another player who's still going strong, too. He drew an interesting comparison between Brady and Los Angeles Rams offensive tackle Andrew Whitworth.
Terrell Owens compared Andrew Whitworth to Tom Brady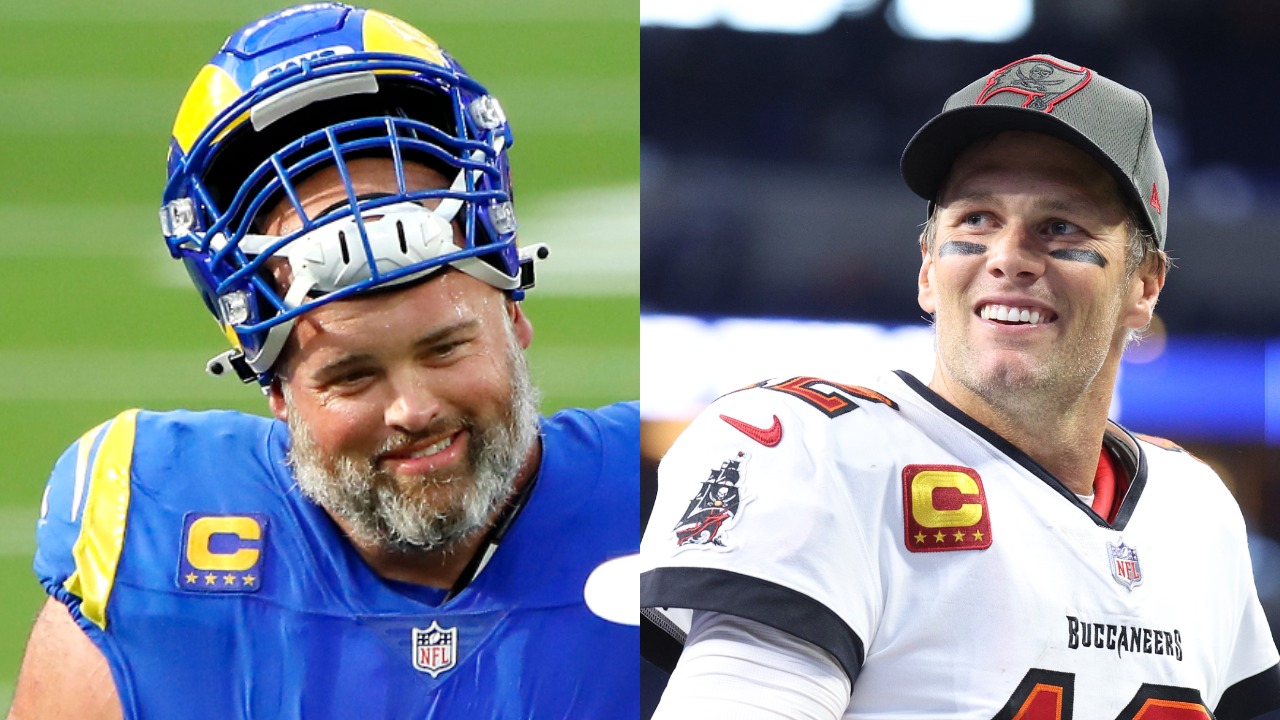 Terrell Owens is known for his elite football talent and because he can be very opinionated. The 6-time Pro Bowl wideout has a strong opinion about Andrew Whitworth.
Owens recently had the All-Pro offensive lineman join him on Getcha Popcorn Ready with T.O. and Hatch. The Hall of Famer pointed out Whitworth's impressive longevity in the NFL.
"I'm going to call you the GOAT," said Owens. "You're like the Tom Brady of offensive linemen."
Whitworth liked the comparison so much that he doubled down. "That's it," he responded. "There's no doubt about it. I'm moving up the list."
Owens and Whitworth played one season together with the Cincinnati Bengals. Even though they weren't teammates for long, the wide receiver still thinks very highly of his former left tackle.
At 39 years old, Whitworth is the oldest offensive lineman in the league today. While Tom Brady is five years older than him, it's impressive that the Rams big man has been able to play this long.
The veteran makes his living in the trenches, but he's taken care of his body to continue playing at a high level.
The Rams offensive tackle is in his 15th NFL season
Andrew Whitworth entered the NFL as a battle-tested prospect. He played his college football at LSU, competing in the highly-competitive SEC.
The Cincinnati Bengals selected Whitworth with the No. 55 overall pick in the second round of the 2006 NFL Draft. The former Tigers standout arrived in Cincinnati and immediately stepped into an integral role.
Whitworth made 12 starts as a rookie with the Bengals. The Monroe, Louisiana native ended up spending 11 seasons in Cincinnati. His job was to protect the blindside of Carson Palmer and Andy Dalton, and he did it exceptionally well.
After making 164 starts for the Bengals, the veteran signed with the LA Rams before the 2017 season. Whitworth has spent the last five seasons under Sean McVay, and his presence helped revamp LA's offense.
Even though he's on the cusp of 40 years old, you can't tell Whitworth that he can't cut it against the young defensive stars in today's NFL. Not many offensive linemen cross that threshold and play into their 40s, but the Rams stalwart looks like he'll be the exception.
Like Tom Brady, Andrew Whitworth is eluding Father Time, at least for now.
The 4-time Pro Bowler has a Hall of Fame case
You can debate where Andrew Whitworth ranks all-time among offensive linemen. Still, he's undoubtedly one of the best in the modern era.
At 6-foot-7, 330 pounds, the LSU product is a mountain of a man. Throughout his career, he's matched up with numerous elite pass-rushers, including Dwight Freeney, J.J. Watt, and Terrell Suggs.
In 15 seasons, Whitworth has made 230 career starts, which is the second-most all time by an offensive lineman.
The Rams' left tackle has put together an impressive resume. He's earned four Pro Bowl and two First-Team All-Pro selections. The accolades don't stop there. He's also made a lasting impression on his peers.
Whitworth earned a spot on NFL Network's NFL Top 100 list on three separate occasions. Current NFL players vote on the list, and it's considered a high honor. He peaked at No. 67 on the list in 2016. Whitworth's teammates and opponents are giving the big man the recognition he deserves.
Above all, Whitworth has been reliable and a model of consistency. Teams he's played on have consistently posted low quarterback sack percentages. The Rams have allowed the fourth-lowest rate (4.02%) in the NFL in 2021. The 39-year-old is a significant part of those efforts.
The Pro Football Hall of Fame doesn't have consistent criteria, so the committee should consider Andrew Whitworth due to his longevity at the top.
All stats courtesy of Pro Football Reference.