Terrell Owens Once Tearfully Defended Tony Romo; Now He Throws Shade at the Former QB
Football isn't a game for the weak, nor is it a game for the weak-hearted. For the NFL's most dynamic players, rivalry and resentment are a part of the sport just like winning and losing. Terrell Owens, commonly known by his nickname "T.O.," built his career on both fierce competitiveness and raw athleticism. He also had some well-known locker room disputes that continue to define his time in the NFL long past retirement.
The loss that destroyed Terrell Owens
One of Owens' most passionate outbursts came at the end of the Cowboys' 2008 playoff run. Throughout the season, Dallas had gone 13 and three. Their incredible performance throughout the 2007-08 season, which many predicted would end with an appearance in Super Bowl 42, gave Dallas a first-week bye and home-field advantage in the second week.
If ever there was a time for the Cowboys to reclaim their former dynasty, this was it. What followed was a nail-biting, 21-17 loss to the NY Giants. No one thing went wrong; the loss was a combination of factors. The incredible synergy that had existed all season between Owens and quarterback Tony Romo fell flat and disappeared.
The Giants put T.O. into double and even triple coverage to lock him down and force the superstar receiver out of the equation. When Owens did manage to get free of defenders, Romo just couldn't place the ball correctly, coming up short of an incredibly fast Owens. In the end, the team just fell flat, and the defeat was a crushing blow. 
A tearful presser
RELATED: Terrell Owens Lost Almost $80 Million Following a String of Bad Decisions
After the game, an emotional, humble, and penitent Owens appeared on camera at the team's press conference to address the unexpected loss. With his eyes hidden behind a pair of opaque sunglasses, everyone could still tell that Owens was crying. 
Shaking his head back and forth, voice quivering with emotion, Owens said, "You guys can point the finger at him [Romo], you can talk about the vacation, and if you do that it's really unfair….that's my team, my quarterback…and we lost as a team!"
Despite allegations that there was a growing locker room rift between Romo and Owens, which would fit the receiver's problematic behavior with other teams, Owens appeared to defend his teammate following the heartbreaking loss. It was a rare moment of solidarity from a player that fans had come to expect to be self-centered. That feeling of unity didn't last, however. 
Water under the bridge for Owens and Romo?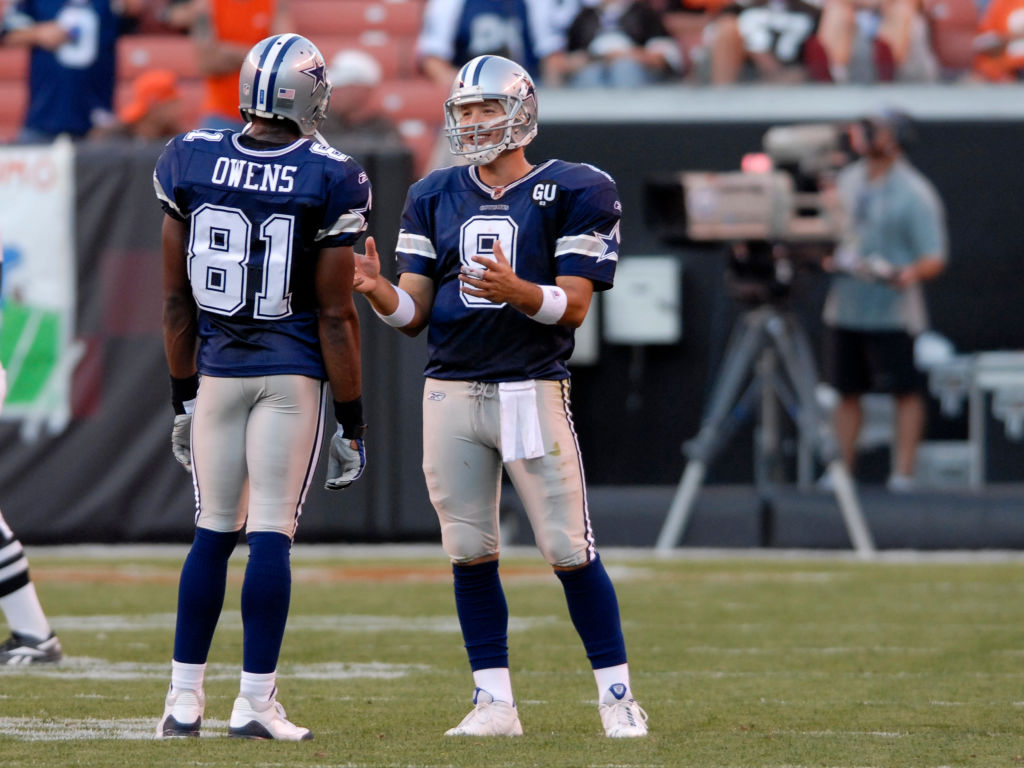 RELATED: Tony Romo Is Smart Not to Talk About His Record-Breaking Contract
Time heals all wounds, right? In the case of Owens and Romo, time has done the opposite. Years after their crushing playoff loss to the Giants, Owens has reversed his position regarding the game and Romo's role as a quarterback.
Not one to mince words, reports the Spun, Owens tweeted back in 2016 about his former teammate's new role as a very successful sportscaster for the NFL. Owens said, "Great job, but it's a world of difference in that booth and actually in the action. You would think that [Romo] would have been the ultimate QB with these pre-snap reads/predictions." Ouch. 
Owens went on to twist the knife deeper in an interview with the NFL Network, saying, "He has situations where he always threw interceptions late in the games…It's all about execution… if the ball is not delivered accurately for a receiver to catch it, then that play doesn't happen."
Gone is the tearful Owens of 2008. Despite being one of the greatest receivers to ever play the game, it would seem that his passion often eclipses his legacy.