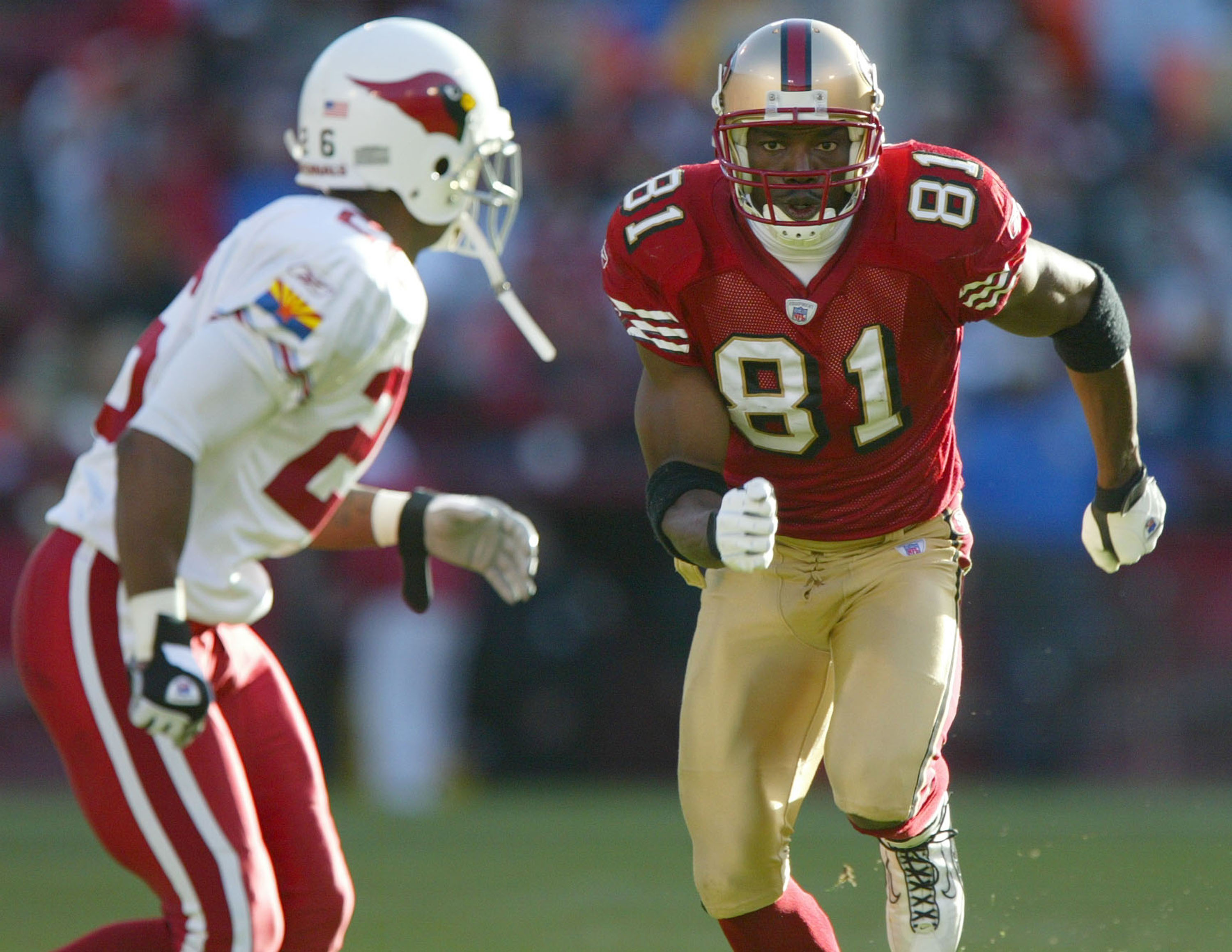 Terrell Owens Reveals Why He Can't Stand Cris Carter: 'I'll Never Forget It'
Pro Football Hall of Famer Terrell Owens reveals why he's not a big fan of Cris Carter.
Terrell Owens never forgets. He'll also hold a grudge. Owens, a six-time Pro Bowler who began his Hall-of-Fame career with the San Francisco 49ers, remembers the day. He recalls when Cris Carter belittled him after a game, and Owens hasn't liked the former Minnesota Vikings receiver ever since.
Terrell Owens and Cris Carter are both Hall of Famers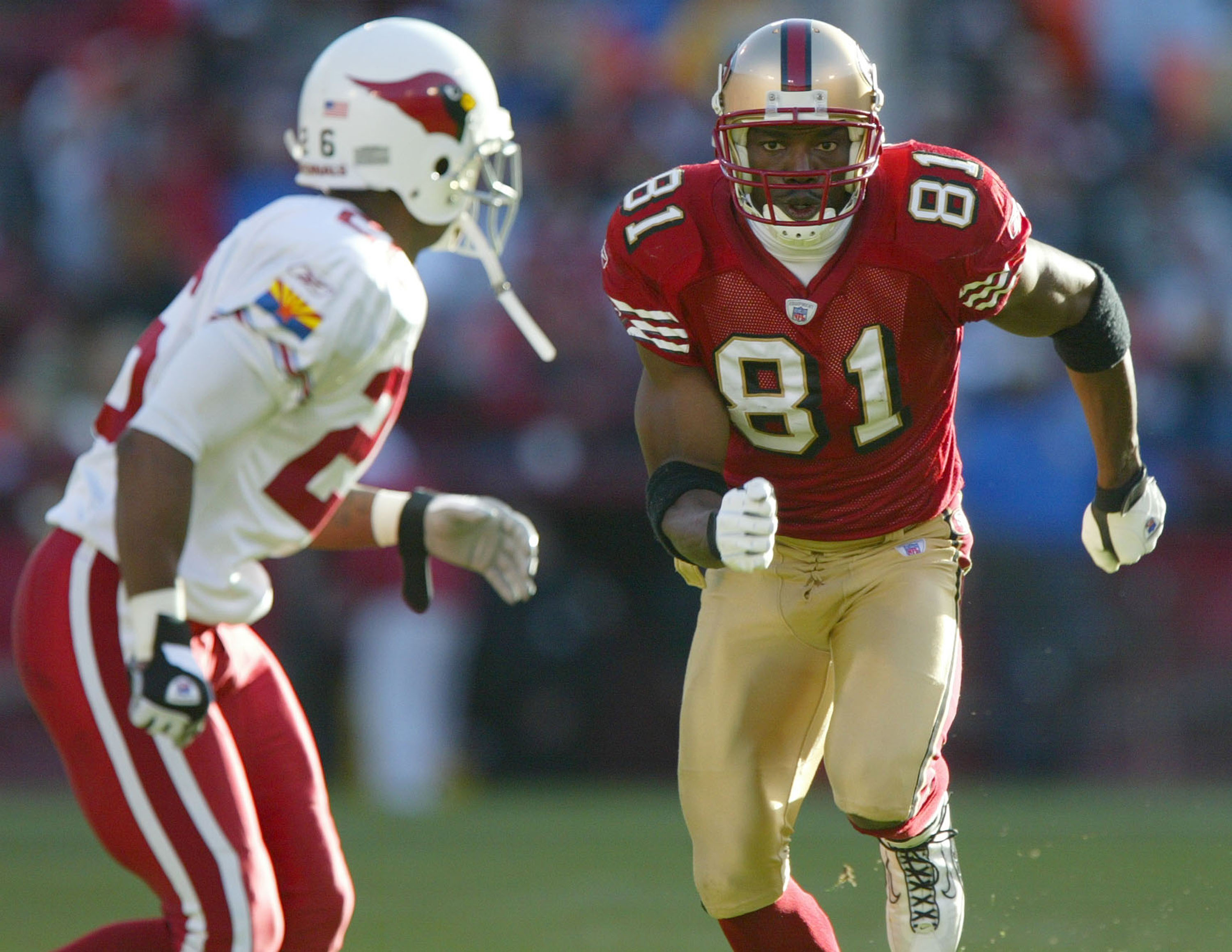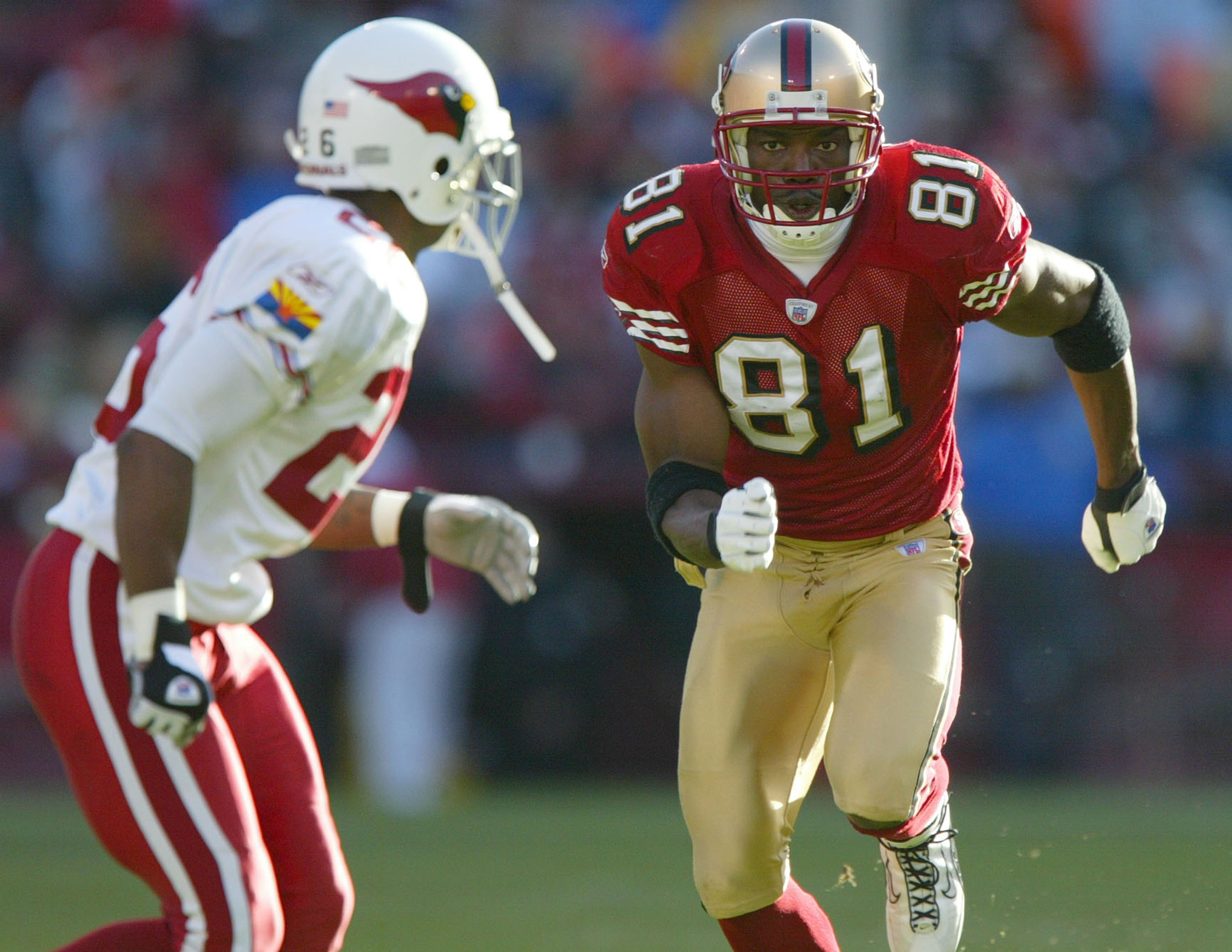 Neither Terrell Owens nor Cris Carter expected to make their way to the Pro Football Hall of Fame. Owens was a wide receiver drafted in the third round out of little-known Chattanooga. He hardly played in high school. Carter was cut by the Philadelphia Eagles after three years in the NFL.
Owens blossomed in the NFL. Drafted by a team that already had the legendary Jerry Rice, Owens made a name for himself in his third season in the league. He had his first 1,000-yard year and racked up 14 touchdowns in 1998. Owens made the first of his six Pro Bowls when he had a career-high 1,451 yards and 13 touchdowns in 14 games. Three times he led the league in touchdowns, and he had nine 1,000-yard seasons. Owens was inducted into the Pro Football Hall of Fame in 2018.
Carter's NFL career took off after he was signed by the Minnesota Vikings, and it wasn't until his fourth season with the team when he had his first 1,000-yard season. In 1993, Carter finished with 1,071 yards and nine touchdowns, making the first of eight straight Pro Bowls. Carter led the league in touchdown catches three times, and he had eight 1,000-yard seasons. He was inducted into the Pro Football Hall of Fame in 2013.
Terrell Owens remembers the game where he began not liking Carter
Terrell Owens was in his second year in the NFL. He had just finished the regular season and put up some impressive numbers. Overshadowed by perhaps the greatest receiver ever to play the game in Jerry Rice, Owens was starting to make a name for himself.
During the 1997 season, Owens came into his own. He caught 60 passes for 936 yards and eight touchdowns. Jerry Rice was injured most of the season and was limited to two games. It was up to Owens and J.J. Stokes to fill the void Rice left.
Without their biggest offensive weapon, the 49ers still managed to go 13-3 and were unbeaten at home. They made it to the NFC title game where they were beaten by the Green Bay Packers. It was the game before that, however, when the Niners hosted the Minnesota Vikings that Owens had a problem with Cris Carter.
Owens labeled 'mediocre' by Carter
To this day, the comment is still fresh in Terrell Owens' head. Back on Jan. 3, 1998, the San Francisco 49ers had just put a hurting on the Minnesota Vikings in the playoffs. The offense racked up 38 points in a 38-22 victory. What was impressive about the offensive numbers was it was done with Jerry Rice on the bench.
"Jerry had gotten hurt that year so it was basically me and J.J. (Stokes)," Owens said on his Getcha Popcorn Ready With T.O. & Hatch podcast. "We played the Minnesota Vikings and they had (cornerback) Dwayne Washington and (Corey Fuller). "I had one or two touchdowns (he had one). After the game, we won and we're in the locker room and one of the reporters came over to my locker.
"He's like, 'I just came over from the Vikings locker room and Cris Carter said his DBs made two mediocre receivers look like Pro Bowlers today.' Mediocre. Dude, I'll never forget it. So I never forgot it. I've never liked him ever since."
All stats courtesy of Pro Football Reference.