Terrell Owens Wants to Renew Heated Donovan McNabb Rivalry in a Boxing Ring
Philadelphia Eagles fans were excited when the team signed Terrell Owens ahead of the 2004 NFL season. The opportunity to pair one of the greatest wide receivers of all time with Pro Bowl quarterback Donovan McNabb was simply too good to pass up.
Owens clashed with several teammates, including McNabb. Thus a rivalry was formed between wide receiver and quarterback. After 17 years, the Hall of Famer of ready to renew the rivalry again.
Terrell Owens and Donovan McNabb did not mesh in Philadelphia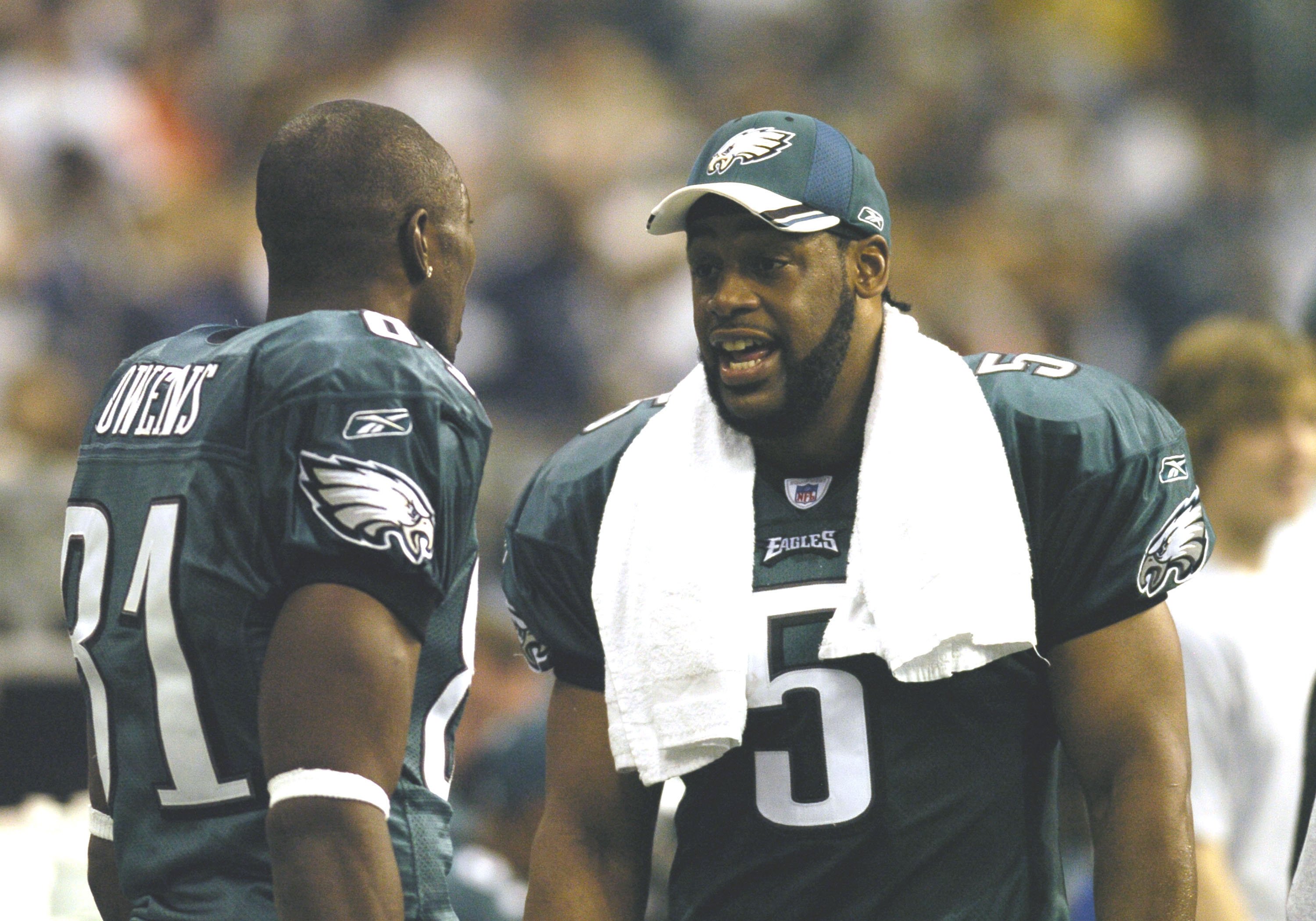 In eight seasons with the 49ers, he caught 592 passes for 8,572 yards and 81 touchdowns. To some, he was the second coming of Jerry Rice in San Francisco. In an interview with Shannon Sharpe, Owens said he felt "undervalued" by the 49ers organization.
The fallout prompted T.O. to test the free agent market. When Terrell Owens joined the Eagles in 2004, he was entering his ninth NFL season. Under head coach Andy Reid, the Eagles became one of the best teams in the NFC. The team won at least 11 games in four straight seasons and secured three NFC East titles before Owens arrived.
After multiple playoff letdowns, the front office added a Pro Bowl wideout to an already talented offense led by Donovan McNabb and a talented trio of running backs. The idea of Owens playing in Philadelphia seemed like a perfect match.
From the outside looking in, everything was working. The Eagles finished with a 13-3 regular season record, good for first in the NFC East. The Chattanooga alum recorded 77 receptions for 1,200 yards and 14 touchdowns en route to his fifth Pro Bowl selection.
Owens recalled a moment where the relationship with McNabb started to sour. During a play, the wide receiver ran a route, ending up wide open. Instead of hitting the open man, the signal-caller threw the ball to a different receiver. T.O. said he went back to the huddle to see why he didn't get the ball. "He told me to shut the f*** up," Owens said of McNabb's response.
The veteran receiver felt disrespected. "I'll never forget it," he said. Despite having success on the field, it appears their relationship never recovered.
Terrell Owens challenges Donovan McNabb to a boxing match
Owens appeared on an episode of Shannon Sharpe's Club Shay Shay podcast. After poking fun at Nate Robinson's failed attempt, the 47-year-old mentioned that he's been fielding calls about participating in celebrity boxing matches.
T.O. mentioned that he went to Chad Johnson's fight, and it got him excited. Johnson's I Am Athlete podcast co-host Brandon Marshall reached out to Owens to see if he wanted to fight him for $2 million. The Alabama native didn't take him seriously and responded to Marshall hilariously. "I'll knock you a** out for an extra $2 million," he said.
When sitting ringside at Johnson's fight, people asked Owens who he would like to fight if he had his choice. His response was Donovan McNabb. "I'm dead serious," he said. "Shannon, I'll knock him out."
The two former Eagles teammates have a history together, and the five-time All-Pro wants to settle it in the ring. "There would be a fire burning inside of me," said Owens of his feelings about a potential bout.
He proceeded to take another jab at McNabb and his Chunky Soup sponsorship. "I'll knock Chunky soup from him, from 2004," he said.
Terrell Owens would get up for a boxing match with McNabb. The ball is now in his former quarterback's court.
Owens dishes on his locker room fight with Hugh Douglas
Donovan McNabb wasn't the only Philadelphia Eagles player that Terrell Owens was at odds with. Hugh Douglas spent 10 seasons in the NFL as a defensive end. He played for the Eagles from 1998 to 2002 and made three Pro Bowls during that span.
The front office brought him back in 2004, which would ultimately be his final season in the league. Owens said the Eagles brought him back to be a "team ambassador." Douglas and McNabb had a close relationship, so the wideout believes that things became personal.
Owens revealed the details of an altercation he had with Douglas during the season. The All-Pro said he was getting treatment in the pool when Douglas approached him. "He said something to me, and I didn't like it," he said. Owens got out of the pool, and the two became involved in an altercation. "I'm not no punk," he continued.
As good of a football fit that Terrell Owens was with the Eagles, it wasn't a team fit. Between the rifts with Donovan McNabb and Hugh Douglas and a falling out with Andy Reid, the parties ended the marriage sooner than expected.
Based on his tone, Owens may gladly accept a boxing match with both of his former teammates.
All stats courtesy of Pro Football Reference.