NFL: Here's Why Terrell Suggs Didn't Return to Baltimore
Terrell Suggs is one of the best Baltimore Ravens of all-time. He was a free agent this offseason and opted not to return to Baltimore, signing a contract with the Arizona Cardinals.

After such a long career with one team, it surprised some Ravens fans that one of the franchise's all-time greats would leave after such a rich history with the team. What caused Suggs to depart? Let's take a deeper look at his career as well as the off-the-field situation in Baltimore that caused Suggs to want to play elsewhere in 2019.

The Ravens drafted Terrell Suggs in 2003
The Baltimore Ravens picked Terrell Suggs 10th overall pick in the 2003 NFL draft. The pick was an unmitigated success. Suggs finished his Ravens career with 132.5 sacks, good for 13th all-time. He also had 854 solo and 601 combined tackles for his career. Suggs was a key defensive cog for their 2012 Super Bowl championship team as well.

On the franchise's list of all-time greats, only Ray Lewis and Ed Reed would arguably rank ahead of him.

Suggs set the Baltimore Ravens team record for games played, eclipsing Ray Lewis's old record. After 16 seasons, there's no questioning Suggs' place among the Ravens' all-time great players. His presence on the team is due in large part to one man in the Ravens front office.

Ozzie Newsome's tenure as Ravens GM
Ozzie Newsome is regarded as one of the great executives in league history. Ravens president Dick Cass calls Newsome "the most important person at the Ravens." He was the GM who presided over two Baltimore Super Bowls. Since 2002, he has been responsible for overseeing the Ravens draft picks and is responsible for drafting all of the Ravens greats from that era, including:
Joe Flacco
Dennis Pitta
Torrey Smith
Marshal Yanda
Haloti Ngata
Newsome was also the executive responsible for drafting Suggs in 2003, only his second year on the job. After assuming GM duties, he selected Terrell Suggs not long after. The careers of the two men — Suggs' career on the field, and Newsome's career off it — are inextricably tied together.

What are Terrell Suggs and Ozzie Newsome's statuses with the Ravens?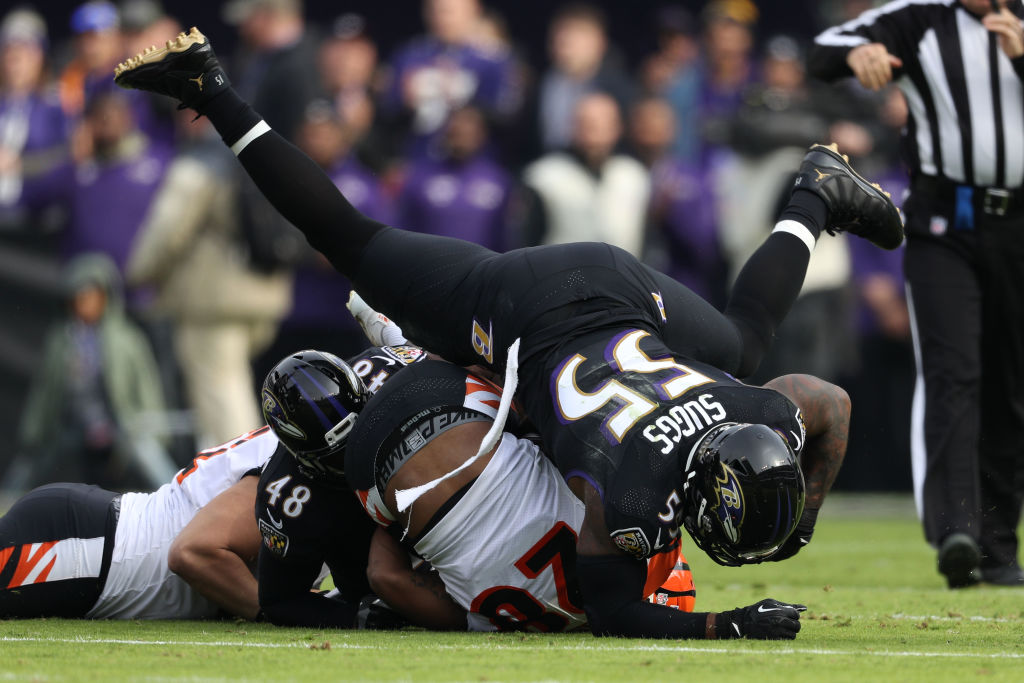 Suggs' decision to move on from the Ravens was surprising to many. The move shocked many of the Ravens' faithful, including coach Jim Harbaugh. Harbaugh said he understood Suggs' reasoning for leaving when he heard it.
Suggs wasn't the only departure, however. Before the star defender leaving town, Newsome decided to step down as GM to make way for assistant GM Eric DeCosta to take the reins. Newsome will remain with the team but will assume a smaller, more behind-the-scenes role where he doesn't lead the front office. That was hard news for Suggs, who was close to Newsome.

The reason why Terrell Suggs didn't return to Baltimore
Newsome and Suggs' careers as GM and player, respectively, occurred at the same time. That's why it's not very surprising that when asked why he opted to leave Baltimore this offseason, he pointed to Newsome's departure as the main reason he left:
"Through and through I'm an Ozzie Newsome guy," NBCSports Washington reports Suggs saying. Once I knew Ozzie was going to step down as GM, you know, I kind of had to question my future in a Ravens uniform."

Suggs was uncertain about a Baltimore team led by someone other than the man who drafted him, and that's why he'll suit up for a team other than the Ravens for the first time in his professional career.