Terry Labonte and 2 Other Old-School, Hard-Luck NASCAR Daytona 500 Drivers
Richard Petty did it seven times. Cale Yarborough collected four trophies. Ten other NASCAR premier series drivers claimed multiple Daytona 500s.
How hard is it to win one?
Just ask Terry Labonte, Ricky Rudd, and Mark Martin.
Three elite drivers.
Three Daytona duds.
Terry Labonte, 32 Daytona 500 starts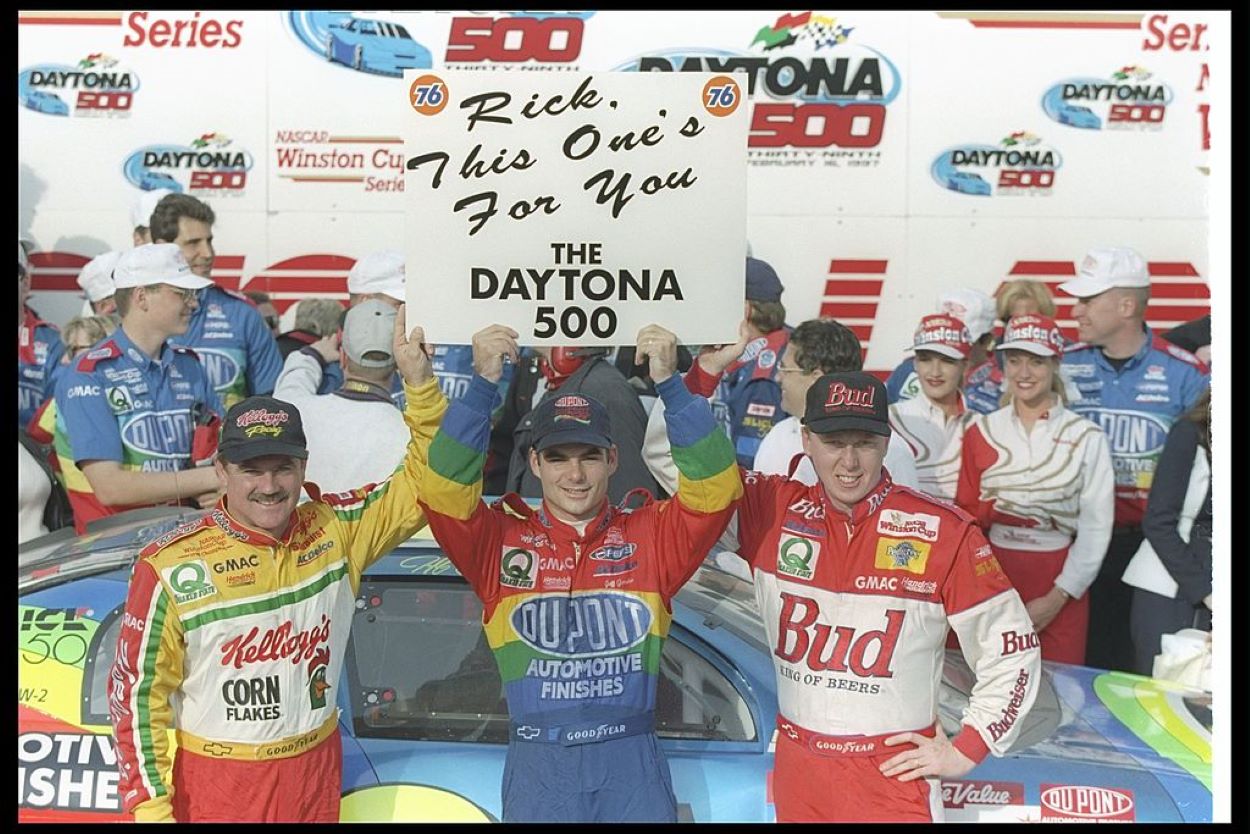 Rick Hendrick, that one was for you.
Despite his long, frustrating career at Daytona, Labonte's third runner-up finish was a bit easier to handle. At least he was in good company. Labonte's two Hendrick Motorsports teammates, Jeff Gordon and Ricky Craven joined in on NASCAR's version of a podium, placing 1-2-3.
At 25 years old, Gordon, a future Hall of Famer, captured his first NASCAR Super Bowl, breaking Richard Petty's record for being its youngest winner. "The King" was 26 when he visited Victory Lane in 1964.
Gordon, who drove with a dark side, took advantage of Dale Earnhardt Sr. rolling his No. 3 Chevrolet after a collision with No. 28 Ford of Ernie Irvan. Earnhardt and Irvan were part of a four-machine fight for the lead with 12 laps remaining.
In the end, Labonte couldn't catch his young teammate.
Labonte, who collected 22 wins in 890 premier series starts, also placed second in 1986 and '90.
During his 37-year career, Labonte made 63 starts at Daytona International Speedway, completing 93.3% of 11,156 laps. He collected 11 top-five finishes but 11 DNFs.
Ricky Rudd, 29 starts 
The 1981 event is best remembered as Richard Petty's seventh and final Daytona 500 triumph.
Insiders recall how NASCAR officials released new regulations late in the teams' setup processes. The industry was "downsizing" the cars, highlighted by 110-inch wheelbases instead of 115 inches. Crew chiefs scrambled to get the set-ups and handling secured.
Buried deep in the 1981 stories of "The King" reigning again and how drivers will continue to adapt to the new cars (sound familiar?), Rudd finished a career-best third.
It was race's best underdog story, but it failed to trend among newspaper headlines. The previous year, Rudd did not have a full-time Winston Cup seat. His first four efforts at Daytona were nearly complete washouts.
Following a debut DNQ in 1976, he placed 22nd, 37th, and 31st over the following three season openers.
Oh, and after his 1981 breakthrough effort, the next year, he ran 35th.
Outside of Daytona, Rudd enjoyed a 32-year career. Nicknamed "The Rooster," he claimed 23 races and 194 top-five finishes in 906 premier series starts. A 2006 inductee of the Virginia Sports Hall of Fame, Rudd just never figured out the Daytona 500.
In 29 career starts, he finished 30th or worse eight times, including two races in the 40s.
That's nothing to crow at.
 Mark Martin, 29 starts
Martin appeared in control of the 2007 edition. With two laps to go, he held the lead and blocked any potential move from Kyle Busch, who was searching for an opening.
The trouble was, Martin didn't fully protect his flank. On the outside, Kevin Harvick discovered a high groove and passed seven machines to steal the checkered flag from Martin.
Like Michael McDowell benefiting from a fiery last-lap collision to capture last season's Daytona 500, Martin and Harvick were left to drag race to the finish line after a multi-car accident. Martin lost by 0.02 seconds.
One of the most consistent drivers during his 31-year career, Martin claimed 40 wins and 453 top-10 finishes in 882 starts.
But at Daytona, he struggled, and not just during the season-opening events. Fifty-five times Martin started a race on the beach. He collected more DNFs (12) than top-fives (10).
In his opening eight races, he finished running twice. During the 1994 Daytona 500, he ran out of gas.
In 2015, despite his Daytona difficulties, he was enshrined into the NASCAR Hall of Fame.
Like Sportscasting on Facebook. Follow us on Twitter @sportscasting19.
RELATED: Aric Almirola, Ty Dillon, and Daniel Suarez Among NASCAR's Most Unlikely Drivers Who Could Actually Win the Daytona 500