Tests Reveal that Buffalo Bills Legend Jim Kelly Is Cancer-Free Once Again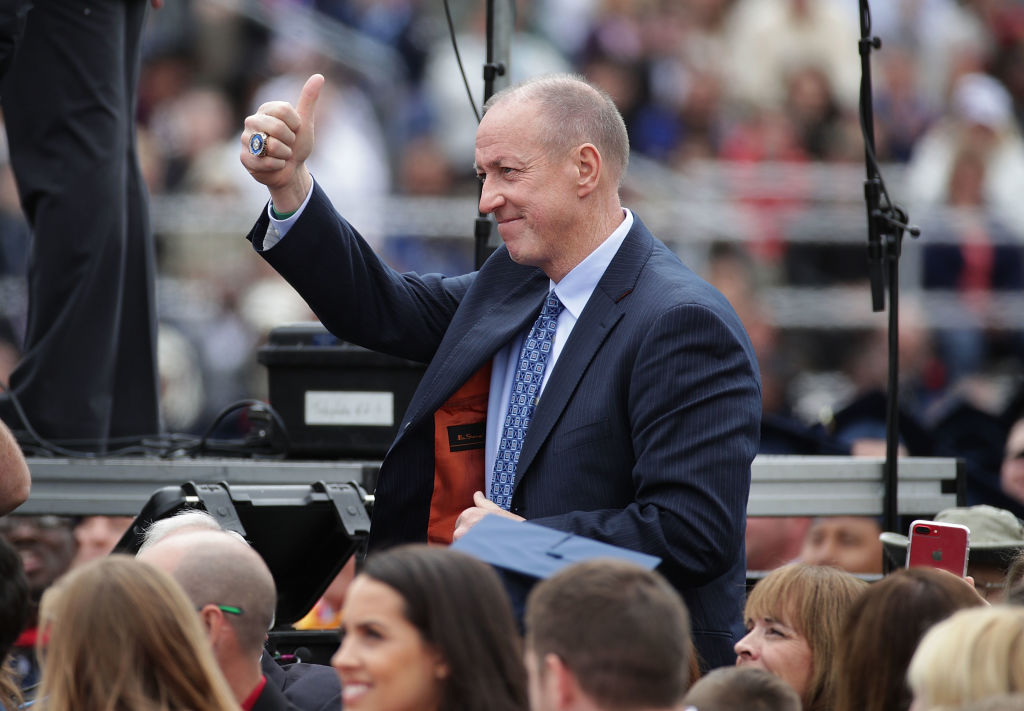 Buffalo Bills legend Jim Kelly received some good news after his most recent tests showed no signs of oral cancer.
The Hall of Fame quarterback's wife, Jill Kelly, made the announcement via Instagram on Wednesday, July 25, with a photo of her husband and one of his brothers giving the thumbs up.
"MRI and CTScans are clear," she wrote. "Still working through major pain management, but PRAISE THE LORD, no evidence of cancer, she captioned the post. "And can I just say, Jim's brothers are amazing! I've watched them stand with Jim in good times and bad. I've witnessed a love between siblings that is remarkable. What a blessing to be part of such an amazing family. Thank you Pat, Ray, Ed, Danny and Kevin for being an example of what a loving, devoted family should look like. Add your humor and faith to the mix and we have everything we need. Love you guys so much!"
Upon hearing the news, Kelly's old team, the Bills, took to social media to congratulate the 58-year-old and spread the word to his fans.
Kelly was diagnosed with squamous cell carcinoma, a form of oral cancer, in 2013 and underwent surgery. However, in 2014, doctors found that it had spread to his nasal cavities. He then had to undergo another surgery and went through months of chemotherapy and radiation treatments before being declared cancer-free later that year.
On March 1, 2018, Kelly announced that the cancer had returned again. Later that month, doctors performed a 12-hour procedure to remove it and reconstruct his upper jaw. He had an additional follow-up surgery in June and was scheduled for a checkup next month but decided to see his doctor early when "something came up."
Kelly, who was the most successful quarterback in Bills history having led the team to four straight Super Bowl appearances, was honored with the 2018 Jimmy V Award for Perseverance at the ESPYS on July 18. He delivered an emotional speech when he took the stage.
"Make a difference today for someone who is fighting for their tomorrow," he said. "When I look across this arena and when I talk to people and I look at people, you don't need to be a Russell Wilson, an Aaron Rodgers to make a difference out there. Every single person in the room can be a difference maker. You can be just a normal person that gets up every morning and goes to work but you can be a difference maker. Put the smiles on those faces.
"My kids and my friends, when they came in to see me not once did they ever have a frown on their face. So, I just urge anybody out there, if you have somebody out there that's suffering, it doesn't have to be cancer. It could be somebody not having a good day. It could be your mom or your dad. It could be your grandparents. What you say to them, the smile that you have on your face, that could be the difference in them making it to the next day. Remember that. Always, always persevere. Like Jimmy V said, 'Never, ever give up.'"
Kelly's fans know he never will.