Texans' Deshaun Watson Puts up Historic Performance vs. Falcons
The Houston Texans have once again taken control of the top spot in the AFC South behind yet another stellar performance from their star quarterback Deshaun Watson, who is easily one of the best talents from his draft class. Watson's lights-out outing in the 53-32 win over the Atlanta Falcons has also put him in elite company in NFL history.
Deshaun Watson's rise to stardom
Through his first two-plus seasons in the NFL, Watson has established himself as one of the league's most tantalizing young quarterbacks.
He has helped elevate the Texans into a legitimate playoff contender with the potential to vie for the Super Bowl. Watson has been able to continue to find much success despite Houston's struggles to provide him sufficient protection upfront on the offensive line.
Watson has already added notched several NFL and Texans all-time records in his short time in the league. He's the fastest player to reach 6,500 passing yards and 500 rushing yards in only 26 career games. He is also the quickest to record 50 passing touchdowns and 10 rushing touchdowns in 27 games played, and the first player to have multiple five touchdown pass outings in his first two seasons.
Watson is off to a historic start to his NFL career, which makes it no surprise that he added another impressive feat to his resume in Week 5 action.
Deshaun Watson's career-best performance
In a game where his mother was named an honorary captain, Watson played like a quarterback with a chip on his shoulder as he put together a career-best performance against the Falcons.
The 24-year-old lit up Atlanta by completing 28-of-33 passes for a career-high 426 yards with five touchdown passes to zero interceptions along with a 158.3 perfect passer rating, adding to a breakout fantasy football season. It made him just the third player in the Super Bowl era to record at least 400 passing yards, five touchdown passes, and a perfect passer rating in a single game, according to ESPN.
The Falcons had no answer to Watson's pinpoint passing that featured wide receiver Will Fuller as his primary target, racking up career highs with 14 catches for 217 receiving yards and three touchdowns. Fuller's receptions and receiving touchdowns in the contest tied Andre Johnson for the most in a single game in Texans history.
What was just as mind-boggling was that he had just as many touchdown passes to interceptions in the contest. He was also the first player to pass for 400 yards with five touchdowns and five-or-fewer incompletions in a single game.
It was yet another statement game for Watson that shown he is widely heralded by many of his peers around the league.
Texans' outlook for the rest of 2019 season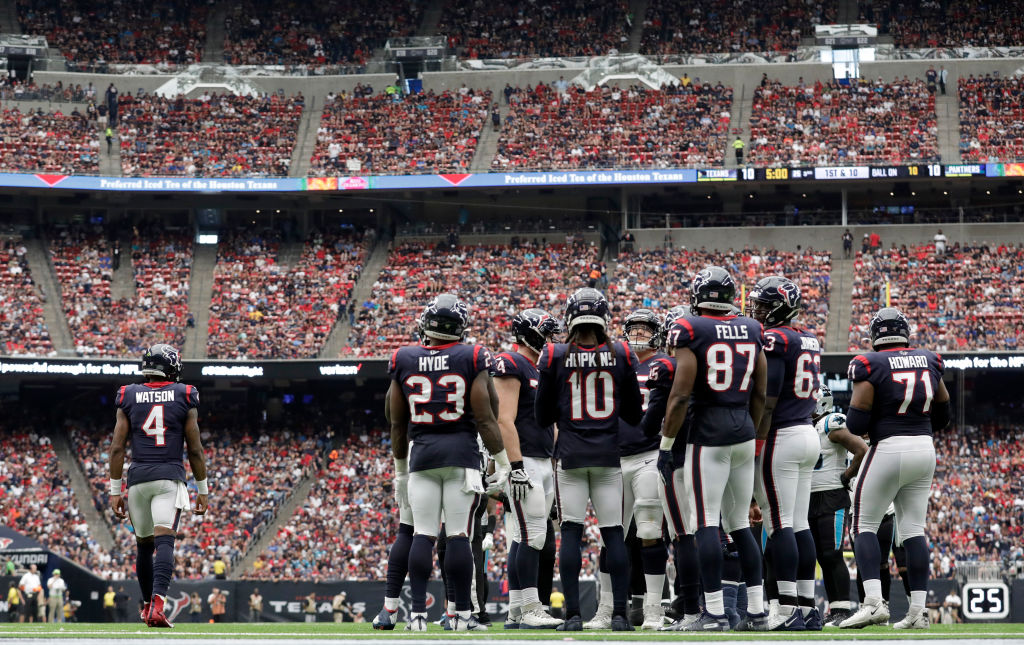 The Texans grabbed a much-needed win in Week 5, but it's still a jam-packed divisional race for the AFC South title. If the Indianapolis Colts can top the San Francisco 49ers on Monday night, it puts them in a tie for the lead.
However, Houston appears to possess the benefit of having the most talented quarterback in the division that has proven he can lead the team to success behind his arm. Watson and the Texans will be put to the test over the next two weeks on the road facing the Kansas City Chiefs, led by reigning MVP Patrick Mahomes followed by the Colts.
It may still be quite early in the season, but Watson has a chance to help the Texans create some much-needed separation in the standings in the AFC South. He also has the opportunity to truly engrain himself as one of the league's top young quarterbacks.
Ultimately, the Texans' playoffs and Super Bowl aspirations will only go as far as Watson is able to lead them.