Texans Head Coach David Culley Falls to the Bottom of the NFL Head Coach Rankings: 'He Feels Like a Placeholder'
There is little doubt that press rankings can be tough on sports teams. Recently, CBS Sports offered up its NFL head coach rankings for the upcoming season. The list was kind to some but especially harsh for Houston Texans' new head coach, David Culley.
Who tops the NFL Head Coach Rankings?
The rankings are not meant to be a "legends list," according to CBS Sports, but rather a combination of each of the coach's past accountings and potential for the future. Take the current teams out of the picture. Instead, build a team and then pick the best coach for that team.
A note was made that half of the current top 20 head coaches have only served in a head coach capacity for five or fewer seasons. CBS's top five from fifth to first include Sean McDermott, Sean Payton, John Harbaugh, and Bill Belichick, with Kansas City Chiefs head coach Andy Reid at the top.
Pro Football Focus has a different take, although it also ranked Reid on top. The fifth position goes to Payton and the fourth to Sean McDermott; Matt LaFleur takes PFF's third spot, and Harbaugh places second.
Can't argue with Reid at the top. At the age of 63, he is in his ninth season with the Chiefs. CBS claims he can outcoach the rest with or without quarterback Patrick Mahomes. Reid, formerly with the Philadelphia Eagles, has a career record is 221-130-1, with a playoff record of 17-15. He won one out of two Super Bowls.
Why is David Culley's ranking so low?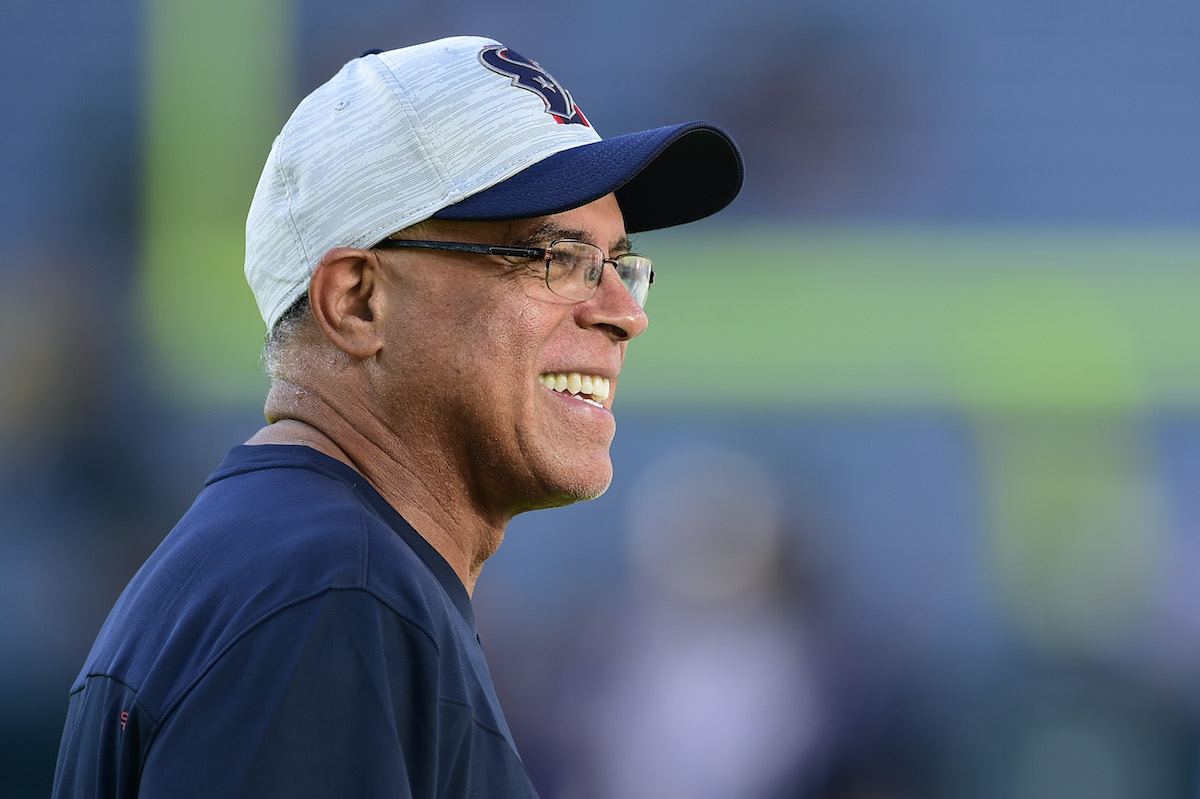 CBS admits that Culley has a "wealth of experience." He has worked with Reid, McDermott, and Harbaugh, but he lacks experience at the helm. At age 65, this is his first gig as head coach. Culley quarterbacked at Vanderbilt during his college career. The first Black person to do so. And he has an impressive coaching resume.
Before coaching in the NFL, he served as the wide receivers coach at his alma mater. He also held various coaching positions at several universities before making headway into the NFL.
In 1994, the Tampa Bay Buccaneers hired him as its wide receivers coach. He later went to the Steelers and the Eagles before hiring on with the Chiefs as assistant head coach from 2013-16. He moved to the Bills and became an assistant coach with the Ravens in 2019. Then Houston hired him.
While "he may possess strong character," CBS said, "he feels like a placeholder." Wait. What? The network admitted that the recent "dysfunction" of Houston could also be a problem for the new coach. But it also cited that Culley's coaching with the Bills and Ravens was nothing to write home about.
What to expect from the Houston Texans and David Culley
The Texans starting quarterback Deshaun Watson wants off the team. He may just get his wish. While the Texans are listening to offers for the $160 million-per-season quarterback, it may not matter if he gets traded. Sexual assault cases are piling up against him. ESPN reports that at least 10 women have come forward with police complaints against Watson.
No matter why Watson leaves, it could make Culley's job easier this season. The team needs work and therapy. They did pick up former Chargers' quarterback Tyrod Taylor in March on a one-year deal worth $12.5 million. The 31-year-old veteran will have to stay healthy to be an asset for Culley.
But others also don't see Culley as the one up to the task of a better season for the team. SB Nation gave its No. 1 reason for Culley's hire being that no one else wanted the job. Ouch! That's harsh.
At the time of Culley's hire in January, Texans GM Nick Caserio said, "Heading into this process, it was imperative to find a head coach that our entire organization could rally behind and David is unquestionably that leader."
Culley will be a positive force for the Texans. The fact that he was willing to take on the job is to his credit. Reason No. 3 as a possibility for his hiring, according to SB Nation, is that "Culley really is an unpolished gem of a head coach." Let's go with that.
RELATED: Houston Texans Coach David Culley is in Denial Over Deshaun Watson in Frustrating Press Conference
Related post url: