Texas A&M and Notre Dame Lead a Pack of Dark-Horse Contenders for the College Football National Championship
The obvious choices for who will make this year's College Football Playoff are familiar names like Clemson, Ohio State, Alabama, and Oklahoma.
But which teams might surprise fans this season and emerge as dark horses who could make some noise?
There are only a handful. But if things fall in place for these teams, it could be their year.
Texas A&M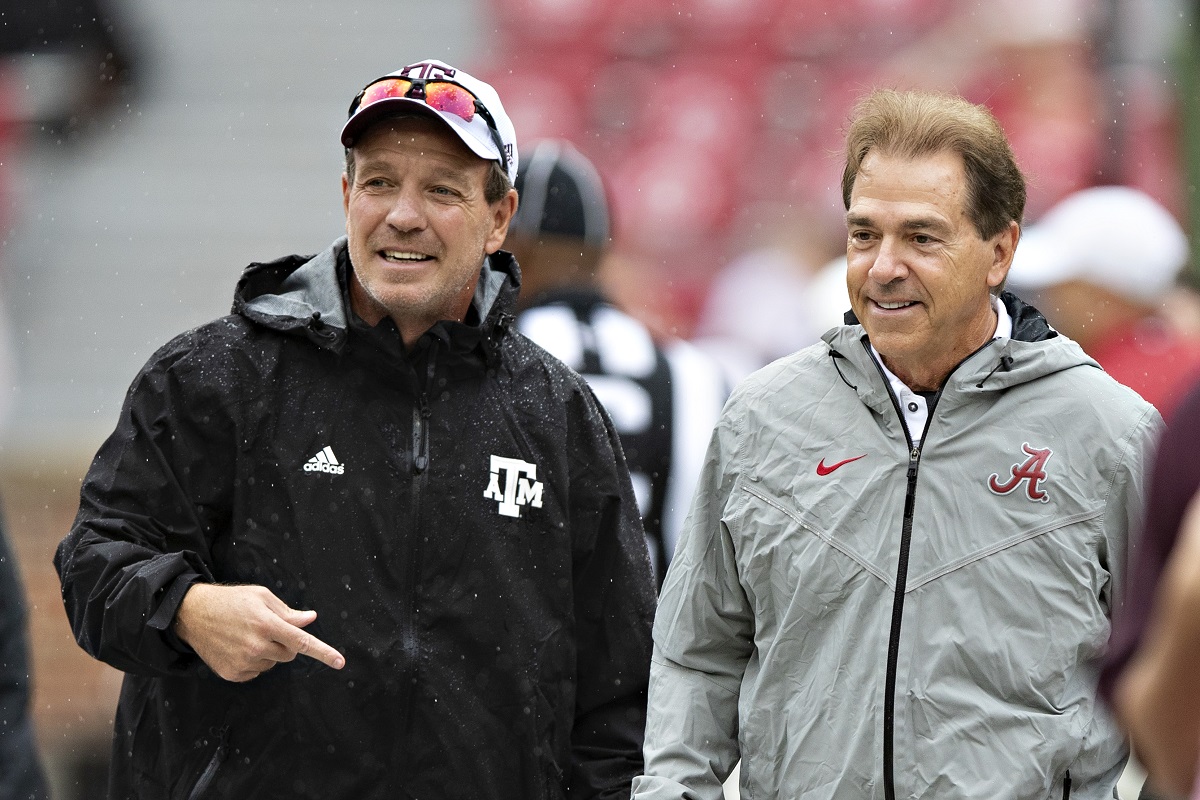 The Aggies were one step away from joining the College Football Playoff last season, and many college football experts thought they got hosed when they were left out for Notre Dame, according to CBS Sports. 
The Aggies made a solid case for themselves, finishing with only one loss to SEC champion Alabama and beating SEC East champ Florida.
The problem was the loss to Alabama was so bad that it all but eliminated them from the conversation. Had they won or even played Alabama closer, they more than likely would have gotten in. If the Aggies can find a replacement at quarterback with Kellen Mond off to the NFL, they once again could be in the mix.
Head coach Jimbo Fisher thought his team deserved to get in. Now can it come back and prove his belief was right?
"You're 8-1 in the SEC. We lost to the No. 1 team in the country [Alabama]," Fisher said, per the Dallas Morning News. "I want to see someone else go 8-1 in this league. We can play with anybody."
Notre Dame
The Fighting Irish were the only team to give Clemson a regular-season loss. Even though the Tigers returned the favor a few weeks later in the ACC Championship Game, Notre Dame's win provided the tiniest margin that got it into the College Football Playoff over Texas A&M.
The Irish will have to find a replacement for quarterback Ian Book, who is now with the New Orleans Saints, and most of their offensive and defensive starters too. Luckily for them, their schedule should give them an opportunity to gel throughout the season so they can make a serious run later in the year. 
Wisconsin
If the Badgers could ever find some consistency on offense, they could be a serious contender to compete for a national championship. But that's a big if.
The main reason the Badgers didn't get into the College Football Playoff last year, besides losing to Ohio State, was at times they didn't have a good offense. They did, however, have a pretty good defense.
The 2020 season was the fifth time in six years that the Badgers held opponents to under 18 points per game. 
If they can find any offense, they could be scary good.
Making the College Football Playoff takes not only talent but luck as well. These teams will need a lot of things to fall in place in order to be serious challengers.
And looking at the history of these playoffs, that's not an impossible feat.
RELATED: Notre Dame and Michigan Are 2 of the Most Overrated College Football Blue Bloods