The Texas Longhorns Are Facing a Pressing $20.6 Million Decision That Could Drastically Alter The Future of an Irrelevant Program
Article Highlights:
The Texas Longhorns are in freefall after a shocking home loss to Kansas
The Jayhawks recorded their first road win in Big 12 play since 2008 after defeating the Longhorns in overtime
Could the Longhorns fire head coach Steve Sarkisian after a single season? The answer is complicated … and expensive
In hindsight, the 2009 National Championship Game marked a pivotal dividing point in college football. The Alabama Crimson Tide, led by Nick Saban, officially began arguably the most impressive dynasty we'll ever see after defeating the Texas Longhorns at the Rose Bowl Stadium on Jan. 7, 2010.
As for Texas, things have only gotten worse as time has gone on. For years, college football fans have sat through narratives about how Texas is back. Let what we saw from Steve Sarkisian's team on Saturday, Nov. 13, officially dispel such a notion for good.
The Texas Longhorns' downward spiral has continued under Steve Sarkisian
Whatever Longhorns fans considered rock bottom, whether it's an 11-year-and-counting streak of not having a player selected in the NFL draft's first round or countless losses to Oklahoma, they still had quite a ways to go.
On the second weekend in November, Texas welcomed both blue-chip quarterback prospect Arch Manning and the Kansas Jayhawks to town. Keep in mind that Kansas, which entered as -30.5-point road underdogs, hadn't won a Big 12 road game since Oct. 4, 2008.
The 4-5 Longhorns apparently never received the memo. Texas trailed 31-14 at halftime before rallying back to force overtime. Although the Longhorns scored on their first OT possession, Kansas immediately matched the touchdown and went for two points and the victory. Jayhawks quarterback Jalon Daniels hit true freshman fullback Jared Casey for the game-winning score.
At 4-6, the Longhorns are already assured of their first losing regular season since going 5-7 in 2016. Texas needs a road win at West Virginia and a home victory against Kansas State to even be bowl eligible.
All of this reflects poorly on Sarkisian, the former Washington and Southern California head coach who spent 2019-20 as Saban's offensive coordinator. Failing to win eight or nine games is troublesome enough at Texas, but losing to Kansas is a new low.
The Longhorns need to strongly consider what the next step is with Sarkisian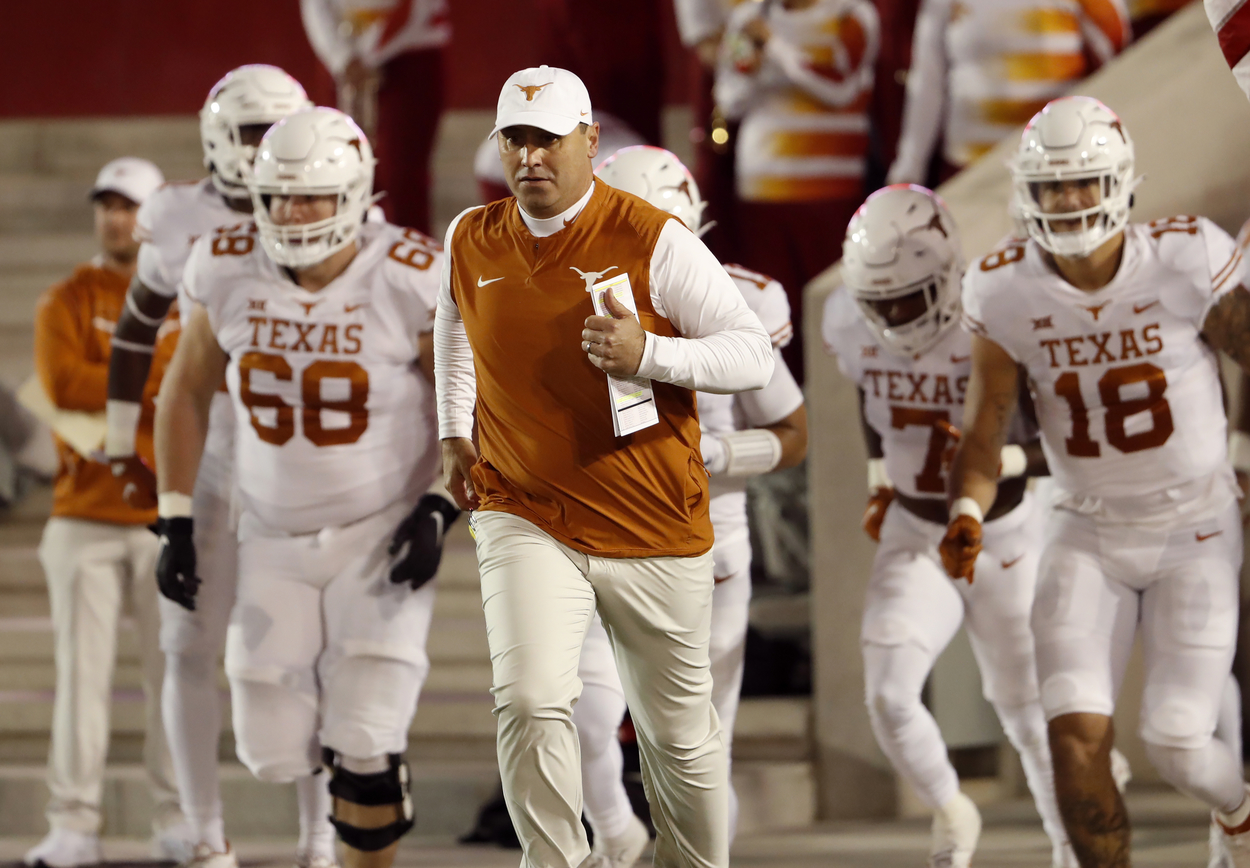 Unfortunately for Longhorns fans, the team is almost certain to stick with Sarkisian for the rest of the 2021 season. Bevo will have to wait his turn.
But could Bevo, or any other coach, get an opportunity to replace Sarkisian in the coming weeks? Texas is 4-6 and just lost to Kansas. Prior to Saturday night, the Jayhawks hadn't won a road in-conference game since current high school seniors were in preschool.
The deciding factor here, as it often is in college, is money. According to USA Today, the current buyout of Sarkisian's contract as of Dec. 1, 2021 is $20.6 million. If you think that's expensive, consider that Texas A&M would owe Jimbo Fisher $95 million if they fired him right now.
On the one hand, the Longhorns continue hitting new lows and remain a mostly-irrelevant program. Don't let their forthcoming move to the SEC fool you. Vanderbilt plays in the SEC, and no one would dare confuse them with a relevant college football program.
But on the other hand, $20 million is $20 million. Texas bought out Tom Herman and his staff for a combined $24 million in January 2021. As tantalizing as the idea of Ole Miss' Lane Kiffin or Louisiana's Billy Napier taking over the Longhorns is, the financial situation makes it a pipe dream right now.
Then again, Texas lost to Kansas at home. If there ever existed a reason to shrug and pay the $20.6 million buyout, that might be it.
Sarkisian is another example of how and why college coaching contracts are out of control
The fact that we live in a world where head coaches have buyouts of over $20 million is, on its own, a ridiculous reality. The current coaching climate doesn't create the impression that these contracts are going to change, either.
Coaches understandably want as much financial protection as possible, and we don't blame them. This is on the schools for creating a system where nine head coaches, including Saban and his $9.75 salary, are earning over $7 million in 2021.
As of publication, FBS schools have committed to more than $46 million in buyouts to fired football head coaches, and that number will only increase in the coming weeks. Consider that the Cleveland baseball team had a $23.5 payroll as a team in 2021.
We'd say we're living in strange times, but Texas being an irrelevant program is nothing new. Not even a coaching trio of Sarkisian, Bevo, and Gia the monkey could fix things in Austin.
Like Sportscasting on Facebook. Follow us on Twitter @sportscasting19.